Million Dollar Baby - User Reviews
Thank you for rating this movie!
Read your review below. Ratings will be added after 24 hours.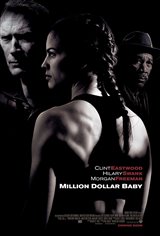 3.86 / 5
User Rating
Based on 8191 votes and 140 reviews
---
Please rate movie 1 to 5 stars
Showing 1 to 50 of 140
August 24, 2017
One of the best films ever made
January 01, 2009
A classic!
August 06, 2006
this was an amazing movie!! It`s so touching ..clint eastwood did a great job
July 31, 2006
Everything about this movie is so amazing, inspirational and loving that it cannot be described in words. Character development, vocal, cinematography, and screenplay rocked!!! Hilary Swank, and Clint Eastwood were magical as well as Morgan Freeman who doesn`t need an introduction. The movie`s totally worth an Oscar!!!
July 30, 2006
Excellent movie. It deserved all the Academy Awards it won!! 5 stars.
April 07, 2006
one word overrated
March 13, 2006
This movie is one of the most emotional and inspiring movies I`ve ever seen. I loved every minute of it and it deserved all the Oscars it got!!!
January 22, 2006
Very inspirational & emotional. The 3 main actors did an excellent job.
January 10, 2006
I really enjoyed this movie. I think the end is so sad, but this is just a movie and the actors are soooooo GREAT.
January 04, 2006
This movie had an ending I did not expect It was very sad but it was an awsome movie!!!
November 15, 2005
Better fights Better than all the Rocky movies.
September 17, 2005
kay, someone forgot to tell us just how freaking sad this flick is. Ya, it`s good, but hello!!!!!!! Kleenex!!!!!! Nough said
September 09, 2005
It`s award-winning for a reason!
July 25, 2005
The movie was captivating and moving. Very inspirational and sad. The movie made such an impact on me, with her perserverence and motivation,... she was a true fighter that fought with heart not fury.
July 21, 2005
The people who thought this was a bad film should stick to Shrek and Finding Nemo. This movie was excellent and the acting superb.
July 15, 2005
One of the best movies I`ve ever seen..5 stars!! I am a female boxer who started in my 30`s so I know the movie is dead on. Have great respect for Clint who filmed in 37 days. It couldn`t be improved on. I didn`t know the whole story and was expecting a hollywood ending so I was surprized with the plot. Have a box of kleenex handy. Great job to everyone.
June 26, 2005
i want to buy it
June 23, 2005
It was one of the most controverical movies I`ve seen done in a while. This story had you from the moment it started & I hate dramas.
June 04, 2005
Clint eastwood (if not already) would come to occupy a place among the great directors in the history of cinema..
May 23, 2005
One of the best movies I have ever seen. No wonder it won so many academy awards. Definately a must see.
May 20, 2005
Its okay, could use some more relief though
May 11, 2005
I thought it was excellent - the rapport between Clint and the priest was hilarious; Morgan Freeman was amazing as usual. I have never been a fan of Hilary Swank but I have to give credit where credit is due - she deserved to win the Oscar - I thought it was an amazing movie with a wonderful storyline. It was so nice to watch the relationship grow between Clint and Hilary`s character - and it was especially nice to see a love story with no sex in it!!! I would see it again. Christina
May 04, 2005
What total crap. Totally a waste of time. Not worth the price of admission. Watch it at home, rather.
May 04, 2005
quite a different story than I imagined. Heart warming, and light at times. Pleasantly surprised.
May 03, 2005
it was the second moive that i had ever saw
April 30, 2005
It`s the best movie i have seen in a long time i loved it sooooo much... i want to see it over and over again its awesome.
April 29, 2005
**** I enjoyed this movie, thought it was wonderful, sad & inspiring. Great performance by Hilary Swank.
April 27, 2005
A legendary actress to come... Hilary Swank is perhaps one of this generation`s great actresses and only at a young thirty with more things to do...The always talented Swank is right up there with Bette Davis or Meryl Streep. This just goes to show, when Hilary is handed a good-script, she makes it a wonderful masterpiece. She is a master artist of her craft and her performance was phenomenal in this movie as well as Boys Don`t Cry.
April 22, 2005
Fantastic ACting....horrible movie.....painful to sit through. You could totally tell that it was stretched out from a short story, which it is.
April 15, 2005
The kind of movie that was made before the target market was "THE MTV GENERATION", who have the attention span of a gnat.
April 11, 2005
Practical and Inspiring movie
April 06, 2005
Good but hard feeling movie to watch and take to heart
April 04, 2005
this movie is all i can think about since i`ve seen it.it is the best movie i`ve ever seen in my life.the acting was amazing,and story was unforgetable!it truly deserved the award for best picture,and i think clint deserved an award for best actor,but Jamie Foxx deserved it just as much.When you watch this movie take into consideration that it is based on a true story,cause that will make you cry even more.Go see this movie,its worth the money.I can`t wait till i can buy it.
April 03, 2005
How did this win and the Aviator didn`t? Aviator was so much better.
April 01, 2005
This is definitely the best movie I have seen in a long, long time. I bawled and bawled!
March 31, 2005
Probably one of the best movie i`ve seen so far this year..Well acted...
March 30, 2005
omg i cryed like a baby when i saw this movie with my dad at frist i thougt that id hate it but i loved it. if i now u and u saw ths movie with out crying i would pay u for that. go see it for a treat it awsome. graet movie. luv la clint and hilary!!
March 28, 2005
This movie was very good. the acting was great. Before this movie i have never been fan of clint eastwood but he out did himself in this one. It was a good movie definatley worth seeing.
March 28, 2005
I fell in love with this movie!!!!! My all time Favorite.
March 27, 2005
awesome movie. awesome story. awesome cast. clint eastwood, morgan freeman, and hillary swank are amazing. it is the type of movie that leaves something special behind and encourages everyone to try their best at everything. i cried throughout the whole thing and also clint eastwood was so sweet in the movie.:D:D:D:D a must see!!!!
March 27, 2005
Great movie but would have preferred a better ending.
March 25, 2005
What a story, all lead characters where brilliant.
March 25, 2005
Absolutely brilliant!
March 22, 2005
This is the best movie i ever seen......some happy moments and some sad moments that would just make you cry! When I first saw this movie I thought it would be a boring and made no sence but after then it came to the boxing it started to get exciting....this is the best movie i`ve ever seen in the movies! Thats why you should go see it too!
March 21, 2005
Hilary Swank is brilliant and so is the movie!!!!
March 20, 2005
This is the best movie I`ve seen in a long time. I can`t wait for it to get to video because I will be first in line to purchase it. I believe that Hilary Swank did an awesome job as well as Clint! If Clint would have won over Jamie Foxx for best actor at the academy awards, I wouldn`t have minded since I was rooting for Jamie!! Clint did his best work!! I`ve seen this movie three times already and every time it`s made me cry as if watching it for the first time.
March 20, 2005
Clearly the best picture of 2004. Its one of those rare movies that stays in your mind for days afterwards.
March 19, 2005
Very good story, and excellent acting by all. Sad story but well done. Glad to see it get so many oscars!
March 18, 2005
If your looking for a pick me up... don`t bother. depressing for no good reason.