Minions - User Reviews
Thank you for rating this movie!
Read your review below. Ratings will be added after 24 hours.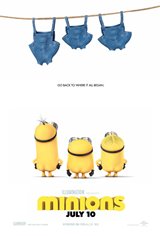 ---
Please rate movie 1 to 5 stars
Showing 1 to 43 of 43
December 11, 2019
movie was not bad at all but despicable me 2 and 3 were better.
May 13, 2017
Actually laughed more to this one than Despicable Me.
December 11, 2015
Bring your " funny kid side of you " along to see this and you will enjoy it
December 09, 2015
The laughs were few and far between, lacked the humor they had in despicable me
October 26, 2015
I like these movie
September 17, 2015
Funny for both children and adults! I have seen it twice with my daughter and loved it both times!
September 05, 2015
My Kids loved this movie. Me, it was ok
September 05, 2015
This movie is awesome
September 02, 2015
second best movie ever
August 21, 2015
Sandra Bullock at her best.
August 18, 2015
good movie
August 18, 2015
I want a Gru movie!
August 15, 2015
Not many jokes for adults. Despicable me was much better.
August 12, 2015
Such a Great Movie. I love the Minions!
August 12, 2015
Refreshingly silly. I don't think Bullock will win an Oscar for this one though.
August 05, 2015
Love the minions!!
August 04, 2015
Cute movie but the Despicable Me movies were better, I think.
July 28, 2015
Wonderful silly fun happy movie sure to pick you up if you are feeling down. The mixed languages were awesome as are their voices!
July 27, 2015
wonderful movie !!
July 24, 2015
I was looking forward to seeing this movie and it did not disappoint.
July 23, 2015
I love the Minions so my expectations were high. It had some funny moments but it was just ok for me.
July 19, 2015
Too scary for little ones, and not supremely well done for any age group. Not the best way to spend a Sunday afternoon.
July 15, 2015
I'm 18 years old. And I still thoroughly enjoyed this movie. The wit that the movie conveys with little dialogue from the main characters (minions). Its astounding. Some of the scenes were silly but kids under 10 will still laugh.
July 13, 2015
Good and funny movie, the minions are adorable #banana #bedoo
July 13, 2015
This was a wonderful movie for both parents and children. Great idea fr a prequel. Minions make for great humor. Hoping for another one.
July 13, 2015
Such an adorable film!
July 13, 2015
We went to this movie because we loved the minions in Despicable Me. It was a cute movie, but the first 20-30 minutes described how the minions came to be. That part could have been left out. It's hard to enjoy a movie when there is very little dialogue but it did have some very funny moments. I just expected more from this movie and was a little disappointed with the storyline. I did like the ending as it made the connection to Despicable Me.
July 12, 2015
They are cute and there were some good moments. But wasn't as good as I thought it would be.
July 12, 2015
great movie:) seen it in 3D loved it and funny:) and great movie for the kids and I have seen it two times
July 12, 2015
The Minions was super cute and very entertaining. I think all ages will enjoy this one.
July 10, 2015
So many laughs! I couldn't stop laughing throughout the movie! It is a great movie for all ages!
July 10, 2015
I'm a big kid at heart and thoroughly enjoyed the movie. Interesting to see where the Minions had originated from. And nice to see how they tied it in to Gru. I would go see again and again
July 10, 2015
its the no-brainier type of movie with loads of laugh even for adult,plus I found the Easter egg the first around.
July 09, 2015
Save your money. Watch the "Despicable Me" movies intstead.
July 09, 2015
Minions was fantasic. It was funny from the beginning, with jokes enough for adults and children. The music and story in it were perfect. A definite must see for the whole family.
July 09, 2015
Very good movie. There were lots of good adult jokes in the movie along with fun for the kids. I highly recommend seeing it. A good movie for all ages to see.
July 09, 2015
The Minions is a cute, funny, make-me-laugh-out loud movie! Kids will love it!
July 09, 2015
Not a bad movie. I think I just expected a little more from it. First half an hour was all you have see in the trailer, so that was kinda boring and the rest of the movie had just too much happening in it with just a few funny moments. My 3-years old daughter said she even got scared closer to the end. Not to many characters, so it was easy to follow the story, and good quality of 3D though, can't complain about that.
July 09, 2015
I was very disappointment. The best I can say about the movie is that it was cute. It only had a few good chuckles and it needed a stronger story. Wait to see it the cheap theaters or once it's released on DVD.
July 09, 2015
The Minions Movie was a great family outing. Our kids loved it! It was very funny and had a great mix of action. It was also fun to see how the Minions started and see their lives before the Despicable Me series of movies.
July 09, 2015
The minions ate finally the main characters , can't wait to see a new movie!
July 09, 2015
They are finally the main characters. The minions are cute and adorable, can't wait to see another movie of them !
July 09, 2015
What a wonderful evening ... the movie was funny and great ... the kids loved it ... they were also very excited about getting a Minion t-shirt and keychain .... Thanks again !!!!!