Miss Peregrine's Home for Peculiar Children - User Reviews
Thank you for rating this movie!
Read your review below. Ratings will be added after 24 hours.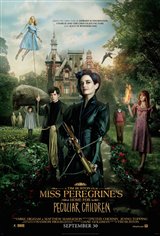 ---
Please rate movie 1 to 5 stars
Showing 1 to 32 of 32
January 15, 2017
Refreshing from movies you cant watch with your kids.
December 13, 2016
Loved this movie!!
November 17, 2016
FIVE stars -Pure magic..I didn't know there was a book, so my view is strictly on the magic of the movie...great animation/CGI, diverse characters, and it just captured my attention.
November 11, 2016
Interesting
November 08, 2016
Too bad they didn't stick closer to the book. Got way to ridiculous.
November 04, 2016
It was an enjoyable movie reminiscent of classic storytelling and fantasy. It possessed an engaging subject that proves entertaining to both children and adults alike. It's purely magical and is well worth seeing.
October 22, 2016
I loved this movie.
October 19, 2016
Great movie..great story..great fantasy with lots of wonderful lessons and tender moments. Whether you have kids, grandkids..or not. Go see it. Great fun!. Maybe a little scarry at times but my 7 yr old had not problems and loved it..as did the 13 yr old. the kind of movie youngers should be watching these days and not all that other heavy violent and rude stuff out there.
October 15, 2016
I loved it when the girl flew
October 15, 2016
This movie followed the book to a point, then developed an entirely new ending. My 10 year old daughter loves the books ,but the movie freaked her out and my husband took her out of the theater halfway through. The books have a much better ending. Acting was good.
October 14, 2016
I thought it was great fun. Sets and special effects were awesome. Just the right touch of Tim.
October 13, 2016
Good movie. A little draggy in the middle. As for being scary for children...I don't think so...however younger children might be bored. It is always nice to watch a movie with no vulgar language.
October 13, 2016
I cant believe people are saying this movie is scary for kids!! That's hilarious to me...it weird...but in the Wonderful Tim Burton way!!! Awesome movie my kids loved it and so did I ....but for parents whining about it being too scary for young children, it is rated PG-13...hello???
October 13, 2016
Loved this movie!!!! Tim Burton-ish movies are always fantastic and this one is one of my new favorites
October 09, 2016
We enjoyed about 15 min of the movie. The rest was boring. Don't waste your money. Pick a different movie instead.
October 07, 2016
Very scary , not for kids at all . 8&10 year old were freaked out . Had to leave hoping they didn't have nightmares. Disappointing. PG is not the appropriate rating. Should have looked into further.
October 07, 2016
Love it.
October 07, 2016
Burton's best since Dark Shadows.
October 06, 2016
Not suitable for young children, 6 yr. old needed to leave theatre but the 10 & 11 yr. old grandkids liked it. For myself, not great & I normally love Tim Burton movies.
October 06, 2016
Samuel L. Jackson is terrific but he can't save this clunker.
October 04, 2016
Boring and pointless
October 04, 2016
This movie is extremely weird, however weird is good and this is definitely worth watching. The special effects are good for the most part aside from a few obvious CG scenes.
October 02, 2016
are you kidding x men avengers is better then this movie don't waste money and time dumd movie ever boring
October 02, 2016
The children aren't half as peculiar as she is. 1/5
October 02, 2016
I think the movie was extremely well done however I completely disagree with the rating. This is not a children's movie. Very gruesome at times and not a movie I would have ever taken my children of 8 and 10 to if I had known. I encourage caution to parents.
October 02, 2016
This was slow starting but once the action starts it's good, love the characters & the plot.
October 01, 2016
Very good movie excellent
October 01, 2016
Good movie although it dragged at times. Chris O'Dowd did a great job using an American accent -- but I missed his Irish accent!
October 01, 2016
Two Thumbs Up
September 30, 2016
I loved how the show followed the book (which I made sure to read before seeing this movie). As much as they basically started out the same, the ending of the movie was a slight twist, which was great. Thought this was very well done.
September 30, 2016
It was very pleasant good performances, excellent creatures and very unusual abilities