Mission: Impossible - Rogue Nation - User Reviews
Thank you for rating this movie!
Read your review below. Ratings will be added after 24 hours.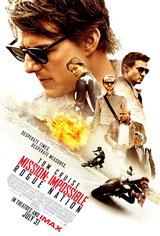 ---
Please rate movie 1 to 5 stars
Showing 1 to 50 of 65
December 29, 2015
very entertaining
September 30, 2015
This was the best Ethan Hunt performance ever! the plot, the motorbike chase and entire movie was fantastic.
September 18, 2015
Awesome hi energy movie with stunts galore! Refreshing to see a movie without foul language. Enjoyed the suspense mixed with humour. Great nite out... Tom does not disappoint! Great motorcycle chase scene...
September 10, 2015
My husband and I went to see it twice. It was entertaining, exciting, humor, full of actions. Good plot. Good dialogue. Most of all great casts, good chemistry, with Tom Cruise as usual at his best. Newcomer Rebecca Ferguson - hope to get her name correct, she is excellent. Can't wait for next one. Thank your for great entertainment. Highly recommend.
September 08, 2015
Saw it twice and loved it twice as much the second time. Simon Pegg adds the perfect comic relief and the girl is gorgeous and a great fighter too. Proof that no swearing or nudity needed to make a great flick.
September 07, 2015
If you like ACTION packed... this was it! The acting was excellent... the plot sufficiently twisted to hold one's attention... and I felt the female lead was superb... much of the story was filled with impossible feats, and the long "chase" scene incredible... but I think thats all part of the "Mission" of this series... and it was totally fulfilled. Enjoyed it... more than I expected to!
September 06, 2015
Mission Impossible: Rogue Nation is a great movie!! Lots of action!
September 05, 2015
So far, I have never been disappointed with the excellent plot, acting, and Action in a Mission Impossible movie. And this one is NO exception. Great entertainment!!!
September 04, 2015
Great action movie and very entertaining! Great Job :-)
September 04, 2015
Awesome!! Great action! Must see!
September 03, 2015
Great movie, the best of the mission impossible franchise
September 02, 2015
As usual, Cruise shines again! Fantastic movie, fast action, on the edge of your seat suspense! Great story line.
August 30, 2015
I enjoyed the movie. I'm an huge fan of th me Mission Impossible Franchise in my opinion Ghost Protocal is my favorite but this came close. Tom Cruise is easily one of my favorite actors.
August 29, 2015
Excellent action movie. Rogue Nation and Ghost Protocol are the best ones so far....looking forward to what they come up with in MI6.
August 27, 2015
Non-stop action that fits right in with the Mission Impossible series. Loved it!
August 25, 2015
This movie was great!!! Even if I hadn't seen the 4 other movies, I understood everything. Really worth seeing.
August 24, 2015
Love all of the Mission Impossible Series but this one is A++++++
August 24, 2015
Good action comedy with TC but not as good as MI3 or Ghost Protocol.Some scenes were pretty farfetched. where he is racing the motorcycle at a high rate of speed and ends up crashing it and doesnt even get a scratch. Yeah right. Some good fight scenes,but over all time to call it quits.
August 22, 2015
they try to make it too impossible but in fact, it is not a good movie
August 22, 2015
do not expect too much of it. this is one of the worst Mission Impossible that have ever seen
August 20, 2015
The best after the first Mission Impossible.
August 19, 2015
Good movie - worth seeing.
August 17, 2015
Its so amazing to all the action!
August 16, 2015
I loved the movie and supprised the women had such a equal role
August 12, 2015
I can't stand TC, but I got free passes and I have to say, I was impressed. Its a good action movie with comedic moments and I thought it was well done.
August 12, 2015
Good action. Good actors except for Tom, who sneers and runs a lot. Worth the visit.
August 12, 2015
So much for so little! It was a formulaic Cruise film that even though there were the usual daring tricks, it all became completely boring. This has been done over and over and over and he's the same in them all. Save your money.
August 10, 2015
excellent movie, seen it at the Imax, going to see it again at VIP simply because it is a really good movie and they have beer. See it!
August 10, 2015
Excellent action, stunts, story and cast once again. Difference from last one being you get to see the bad guy all the way, and he's super evil, which makes for good action movies. Bunch of cry babies on reviews here bashing movie based on 'tom cruise said this or that or he's arrogantly' crap. This is a MOVIE REVIEW, not actor biography review. If you don't like his movies why are you here writing reviews?
August 10, 2015
Best Mission yet! Great music, action, clean language, awesome believable stunts and fight scenes. Loved the racing motorcycles, they put you right on Cruise's bike and you ride along, awesome movie!
August 10, 2015
Awesome! No swearing and no sex! About time!lots of laughs and action packed thrills!
August 10, 2015
My husband and I loved it. I don't care how arrogant Tom is, his movies are great. Pegg was perfect for providing comic relief which was needed to keep it from being totally tense. A reviewer said Tom and Jeremy should have reversed roles. No way. Some interesting twists I didn't expect. The girl was awesome too. We'll see it again.
August 08, 2015
This is a typical narcissistic Tom Cruise "look at what I can do" movie. I guess he figures if he doesn't do the stunts, we won't go see the movie. He just likes to pump up his own ego.
August 07, 2015
My daughter and I went to see this together. She normally hates the Mission Impossible franchise, but wanted to keep me company on a father-daughter outing. My take away = great action picture with a great story line. I certainly exceeded my expectations and I found it worth seeing. My daughter's take away = she enjoyed it, and came out of the theater saying that it was much better than she was expecting it to be.
August 07, 2015
I'm a big mission impossible movie fan and I love this movie. A little more comedy and or sex scene would have made this movie a notch better but overall it was awesome. One question, imdb have an image where cruise wears handcuff, but I didn't see this in the movie?
August 06, 2015
Such a fantastic movie. Great writing and full of action. Can't wait to see it again.
August 06, 2015
really good and kickass movie.........
August 05, 2015
I honestly don't know what people saw in this movie. I found it confusing and boring. The female lead was ,without doubt, beautiful.No, she was more than that.
August 05, 2015
The plot is full of holes and inconsistencies; but the actors are okay and the action is there. Rebecca Fergusson, who plays the MI6 secret agent, is ultra beautiful. Simon Pegg is still funny. Tom Cruise is getting old and predictable. Jeremy Renner should have played Ethan Hunt, and Tom Cruise should have been the boring CIA executive played by Renner.
August 05, 2015
I liked the movie. It was well done.
August 05, 2015
I loved Ghost Protocal better, but this was crazy good too. Cruise should go against Jackie Chan for the craziest stunts!!! The Motorcycle chase scene had a unique view which separates it from any other chase scene in the movies period! But the opera was reminiscent of James Bond same scene. And it seems the Mission series is dangerously close to Americanized version of Bond flicks. Too many o the same ideas. Right down to using BMW's in their flicks.
August 04, 2015
Well, the action scenes were thrilling, and Tom Cruise was fantastic as was the female protagonist, but there were too many gaps between. I thought it would be more nonstop action. I like the techie explanations - just too many & too long. Still was entertaining. Got quite a few belly laughs.
August 04, 2015
I agree with the person that said "this is what Tom Cruise is good at". Because he is. This round of Mission Impossible does not disappoint. Action packed from beginning to end. Love Simon Pegg as well. Good story, moved along and great action. Just the film to fill a summer evening.
August 02, 2015
On par with MI2. Tom Cruise, this guy just gets better with age. Great script. Great acting. Lots of action.
August 02, 2015
Decent but not great
August 02, 2015
Best Mission movie yet incredible to watch!!
August 02, 2015
Had all the elements of something intriguing but missed it somehow. Found it rather slow in parts.
August 02, 2015
Sorry I rate this movie one star is because it didn't attract me at all- whatsoever. I already knew the movie will not totally get me, but my family wanted to see it. So, what the heck. Honestly, I almost fell asleep in some parts of the movie. I wish I could have. One more thing, I'd rather see Jeremy and Simon not in the movie. To me, Jeremy is better with the Avengers as Hawkeye, and Simon- I don't know- in a different movie? Go figure. Sorry, MI-RN.