Moana - User Reviews
Thank you for rating this movie!
Read your review below. Ratings will be added after 24 hours.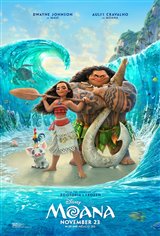 4.93 / 5
User Rating
Based on 15284 votes and 187 reviews
---
Please rate movie 1 to 5 stars
Showing 1 to 50 of 187
October 10, 2018
Surprising I went in accidentally and enjoyed it..not usually an animation viewer..but loved it.
April 02, 2017
I loved this movie, it was uplifting and funny. It delivered many positive messages.
March 03, 2017
Great songs Nice story line The characters are relatable(as much as you can relate to a demi-god) and funny! The Rock/Dwayne Johnson (Maui) & Auli'i Cravalho (Moana) are great in this movie. Also fantastically animated.
February 17, 2017
Great movie! :) I loved it! :)
February 17, 2017
Great family movie! The songs are fantastic, and it really is a great story.
February 12, 2017
Totally loved this movie
February 11, 2017
100/100
January 31, 2017
Really good movie. Loved it!!!
January 28, 2017
Moana was so good, fantastic music
January 25, 2017
One of the best Disney movies out there. The music is the best part.
January 24, 2017
Awesome Disney Movie
January 22, 2017
Moana is going to be a classic, great film.
January 22, 2017
I found the movie adventurous and funny. The animation was breathtaking, story line was great. Love the message it showed about the earth. The characters were great, funny and had entertaining personalities. Recommend watching it.
January 21, 2017
The animation of this movie is absolutely breathtaking and the plot line is very refreshing. A must-see.
January 19, 2017
Amazing animation and great story
January 18, 2017
I love this movie because it is awesome!!!!! #coolest movie ever!
January 18, 2017
This was really good. I liked it a lot.
January 17, 2017
10 STARS AND TWO THUMBS UP
January 17, 2017
NICE JOB DISNEY
January 16, 2017
AWESOME SOUNDTRACK AWESOME SOUNDTRACK
January 16, 2017
Lovely, kept my heart racing throughout!
January 16, 2017
It's a great family movie
January 16, 2017
I LOVE this Movie!!!!!!
January 16, 2017
This was one of the cutest kids movies I have seen for years. Took my Grandson and he went back two days later with his Mom to see it again! Highly recommend.
January 16, 2017
The plot was very confusing.
January 16, 2017
I'm a big kid at heart so I lived this movie
January 16, 2017
Disney at its best, my daughter loved it.
January 16, 2017
I loved this movie! So inspiring! I give Moana a 10/10
January 16, 2017
I've seen this movie twice... and loved it more the second time... I loved the songs... the animation and the characters... Best Disney movie I've seen since Tangled...
January 15, 2017
The movie was fantastic from beginning to end. Well done Disney!
January 10, 2017
A classic in the making. I loved everything about the movie.
January 06, 2017
Best kids movie since The Princess and the Frog. Great sound track.
January 05, 2017
Very good - great music. Great storyline for both boys and girls to see - featuring a strong girl lead/hero. I didn't love all the emphasis on demi-gods, etc - thought that aspect of the story line had too much emphasis.
January 05, 2017
Enjoyed very much. My two granddaughters (ages 6, and 7) laughed and danced in their seats.
January 02, 2017
Fantastic movie! Best animated movie I have seen in a very long time. Picked me up out of the post holiday blues. Visually amazing. Music is great. My 4 yr old son loved it as well.
December 31, 2016
Original and fun. I like Auli'i Cravalho as Moana
December 30, 2016
So awesome!! Visually amazing to watch, such great music too :) I bought the soundtrack after this.
December 30, 2016
Really!?! Blow dart in ma butt cheek @!@
December 30, 2016
Amazing movie!!!!!
December 30, 2016
I was not interested in seeing this because the previews seemed uninteresting but I am so glad I saw it because it was awesome!
December 29, 2016
Loved it! Wonderful animation and music! Would consider seeing it again!
December 28, 2016
Very good movie??????
December 27, 2016
One of the beast animated movie this year! Very good story with beautiful songs.
December 27, 2016
AMAZING MUSIC AND ANIMATION.
December 26, 2016
Its stupid why did john cena not star in it
December 25, 2016
Very good story and animation. Both my granddaughter and I enjoyed it.
December 24, 2016
Great movie! Personally I love animated movies and this tops my list of favorites. ALL the music is lovely and the story line is beautiful. A definite must see with the kids.
December 24, 2016
Wonderful story! The animation is excellent, as expected. Good songs and memorable characters. Go see it!
December 23, 2016
it's good and best one yet