Monster's Ball - User Reviews
Thank you for rating this movie!
Read your review below. Ratings will be added after 24 hours.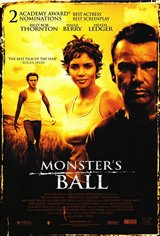 ---
Please rate movie 1 to 5 stars
Showing 1 to 29 of 29
June 12, 2009
esta muy bien la historia
September 18, 2005
watched it, liked the first few minutes, then got bored. the main plot (berry falls in love with thornton, who was involved in her husbands execution) was left until the last minute. could have made compelling viewing if this story surfaced much sooner.
February 05, 2005
This movie is a shame !
October 24, 2004
Good movie, Halle Berry hot, probably not deserving an AA, but a solid performance nonetheless
August 01, 2004
Acting was awesome on both parts, needed a bit more action but was an fabulous movie, loved many parts, a have to see movie
September 21, 2002
Incredible acting. Was disapointed with the ending. Did anyone else think that we were going to find out that Halle had actually killed her son instead of him getting hit by the car?
September 21, 2002
There was no action, nothing was moving in this movie. The time was so long, I though I would stop it. But I listen it and at the end I was so disappointed of the way they end the movie.
June 15, 2002
So bad. What a disappointment! We were bored the whole movie, even considered leaving at times, but stuck it out, only to wish we had left! Billy Bob is a great actor, whose skills were totally wasted. don`t waste your money, even on the video.
May 17, 2002
i have not seen it so I do not really know. I rated it a 4. Because halle berry was in the movie!0
May 04, 2002
Great Show. Good acting by Halle and Billy Bob
April 04, 2002
It was definitely one of the best movies I`ve seen in years. The acting was superb, they definitely did a great job casting for this movie.
March 31, 2002
good movie....billy bob acting was excellent, hally berry was good at playing a black woman(go figure)no award performance tho!peter boyle could have stolen the show if had more screen time(you gotta whatch out for stuff like that)....loved the ending
March 31, 2002
the acting was wonderful, however the movie tended to drag, very slow.
March 25, 2002
Wonderful....just absolutely wonderful.
March 23, 2002
This was probably one of the worst movies I have ever seen! One of those movies that you think "this has GOT to pick up..." Don`t even bother renting this one!!!
March 20, 2002
This is one of the best movies I have seen this year. It shows how getting caught yp in the human conditon can be overcome by openning up your heart. Billy Bob Thorton did a wonderful job, and Hally Berry was perfect casting.
March 10, 2002
Superp acting, elxellec scrip and wonderful direction. A perfect example how people need each other. Love will prevail and tolerance is the answer. I recommend everyone see this film.
March 04, 2002
An amazing movie about breaking the unhealthy cycle of a family in pain and hatred. Billy Bob should have been nominated for best actor. The messages in this movie will stay with you, long after you leave the theatre. Very heavy.
March 03, 2002
Very well done. It`s nice to see a movie for a change that isn`t predictable and contrived. Billy Bob Thornton and Halle Berry actually make a good screen couple. Maybe it`s just tragedy that brings them together but it`s good.
February 28, 2002
Absolutely amazing movie. Billy Bob Thornton was robbed not getting an Oscar nomination for this movie. Very moving picture.
February 28, 2002
very entertaining and rich.
February 25, 2002
Very well done, but extremely heavy and dark.
February 24, 2002
Awesome!!!!
February 20, 2002
I thought it was original and not predictable.
February 11, 2002
And the Oscars go to... Halle Berry, Billy Bob Thornton and Peter Boyle... just the best acting this side of Olivier...
February 06, 2002
This is the best movie I`ve seen in years. It`s about time someone made a movie that was worth seeing. Truly gripping performances from everyone involved.
February 05, 2002
Great movie! Aw man watch this!
February 04, 2002
A widow (Berry) falls in love with a racist corrections officer (Thornton), not knowing that he was involved in her husband`s execution.
February 02, 2002
It seems as though Billy Bob Thorton can`t do anything wrong.