Moonlight - User Reviews
Thank you for rating this movie!
Read your review below. Ratings will be added after 24 hours.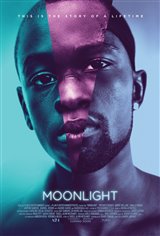 ---
Please rate movie 1 to 5 stars
Showing 1 to 50 of 50
July 09, 2017
Because there are so many garbage movies currently playing I took a chance on this one. Hey, it won Best Picture. It has to be good, right? Wrong. Slow, boring, gratuitously far fetched (come on, who questions a 6 yr old on his sexuality? No one!) bad acting - this turkey has it all. REALLY BAD. The Academy gave this Best Picture if only because they felt they had no choice but to pick a movie, any movie. Mission accomplished. Unless you are hopelessly sympathetic to all things gay (I am not; I could care less) AVOID AT ALL COST! For those who gave this dog 5 stars ( or more than 1) - grow up. Its no one's fault you were born confused. But misrepresenting this as 5 star is wrong on so many levels. Shame on you.
March 18, 2017
WOW. ...a powerful movie,great acting...absorbing. ...
March 18, 2017
Coming of age is even harder when you are gay, black and your mom is a crack addict, but Chiron finds unlikely help in Liberty City i the 90's, Miami's toughest section. Wonderful acting and sensitive in its look at homosexuality where it is least tolerated.
March 15, 2017
I liked the brilliance of the director's creation of intimacy. I loved the characters. I loved the casting and acting. The only thing I had trouble with was believing that the last actor in the grown-up phase of the protagonist's life was the same physical person as the younger actors in the boy's earlier life. You just have to forget the physical differences. I think one of the greatest scenes was the young man and his mother,her honesty in acknowledging her neglect of him. this was a compassionate and intimate movie with great character portrayals and emotional depth..
March 13, 2017
Terrible movie! Do not waste your time or money. Cannot believe it won best picture!
March 13, 2017
DISLIKED ALL OF IT! WORSE MOVIE OF THE YEAR!!!!!
March 13, 2017
The kind of movie that opens your eyes. Amazing cast. Music that reflects the atmosphere beautifully. Stunning to watch this one particular child grow up. I was thrilled it was recognized at the Oscars.
March 11, 2017
I didn't like this movie at all it really confused me. I wouldn't see this movie any more I didn't think it was good at all.
March 11, 2017
A good movie but it doesn't deserve to be the golden globe winner for best picture
March 11, 2017
This is what film and characterization should aspire to be. Making ones way towards self realization under very difficult circumstances. And a really great score.
March 10, 2017
Good acting, decent idea but storyline didn't flow. Lots of holes, slow-moving. Was expecting more.
March 07, 2017
How could this movie ever have been chosen as Best Picture??? The Oscars have absolutely no credibility.
March 07, 2017
Probably the worst movie that has ever been selected as Best Picture in the history of The Oscars!!!
March 07, 2017
Saw it recently because of the Oscars and some of my favorite actors are in it. But sorry to say I didn't enjoy it. Had no sympathy for the characters. Thin story line and characterization. Confusing in many places. Never a fan of the shakey camera technique either. The dialogue was often hard to understand. Very disappointed and would not recommend it. See Hidden Figures ! It's the best movie of the year.
March 07, 2017
Expected to see a great movie since it was nominated best movie! Wasn't impressed. Did not see any redeeming value in the subject! Not my pick for best movie. I would have chosen The Shack, Fences, etc. anything but!
March 07, 2017
There must have been some redeeming value but it didn't come through. Depressing, but similar to Manchester by the Sea -- slow and depressing.
March 07, 2017
Review below keeps changing because it is not even worthy of one star. Boring, Bad acting, How did this win an Oscar????
March 06, 2017
I keep trying to rate this movie 5 stars but it keeps changing. Rated 5 stars!
March 06, 2017
I agree it was boring and slow. Still not sure why M. Ali won best supporting actor for this. His role was short and OK.
March 05, 2017
If you want to see something more exciting and entertaining go and watch paint dry. The Oscars have officially lost all credibility. Winning one obviously means nothing about the quality of a film.
March 05, 2017
The real Oscar night mistake for best picture of the year, was giving it to Moonlight. This was movie was slow, boring and missed the mark when trying to make a social statement of a given community. The continuity of the film just wasn't executed well. Scenes were so disjointed it almost seemed as if it was mis- edited. No great memorable scenes or acting here either. If this movie received such acclamation while Hidden Figures was passed up at the awards as it was, then there is a bigger problem in Hollywood than led to believe.
March 03, 2017
Over-hyped load of twaddle.
February 28, 2017
No plot. I couldnt watch the whole movie. Boring
February 27, 2017
boring ,boring,boring!!
February 27, 2017
I feel that this would have been more deserving of Best Picture, but that's just me.
February 26, 2017
Whenever I look at my watch several times during a movie and keep asking myself when the story is going to start is when I know I'm looking at a boring movie. The acting was great but a good movie is not just about the acting.
February 17, 2017
Everything I wished Boyhood would've been.
February 15, 2017
introspective.... bias is in every community. behave yourself and be nice. you most likely have similar views as the bigots and racists, of other communities. this story should move your mind toward understanding human nature. most individuals may not recognize their likeness to those they fear. get some help with your insecurity. *****
February 05, 2017
Boring. The only reason I gave it one star was because there was no provision for no star.
February 05, 2017
What was the point? No plot line. Long, boring.
January 27, 2017
No real plot and too much sexual content very dissatisfied would not recommend it
January 23, 2017
I feel very bad for the person who gave it 1 star and said that it was boring and that he didn't get all of the 5 star ratings it was getting, down below.
January 12, 2017
GREAT MOVIE
January 12, 2017
Beautiful storyline...Beautiful cast...BEAUTIFUL!!!
January 12, 2017
Beautifully acted, written, filmed and directed. Definitely recommend!
January 12, 2017
A beautiful masterpiece.
December 27, 2016
Moonlight interweaves dialogue, silences, looks and gestures to reveal several experiences through characters. These characters nudge Little from Chiron to Black. The crucial philosophy in Moonlight is the caretaker, which is everyone's hand minus a fingertip--the gap that the protagonist must fill in to grow into himself. Once he listens to all of whom he is, Black becomes the dawn to that moonlight.
December 20, 2016
I found this ,ovine to be emotionally draining due to the outstanding performances. It really hits home during the current political climate & opiate epidemic.
December 14, 2016
Vey disappointing movie - very boring. I cannot understand all the 4 star ratings it gets
December 03, 2016
I grew up in a very poor black neighborhood in the 80's and NOBODY dressed the way the characters did. The housing was not anything like portrayed here. The relationship between crack heads and the dope dealers was not real here either. I never remember anyone questioning a 6-8 year old about their sexuality either. The gay black men that I remember had very feminine and promiscuous. This movie is way off base upon reality and written by someone who did not have any idea as to what really happened. Some one is trying to soften the reality of growing up poor and the life of a junkie.
November 25, 2016
'Best movie of the year' hype is a bit of an overstatement. Solid character study. Nicely filmed. Well acted. Interesting mix of soundtrack.
November 22, 2016
I have already seen this movie twice and am hoping to go see it a third and fourth time. It's an absolute knockout. When the movie ends, you'll wish there was at least another half hour. A very poignant and thought-provoking film experience. And what a cast and musical score ... MASTERPIECE!
November 22, 2016
Best movie I have seen in YEARS ... an instant classic. Gorgeous storytelling that never tries to shove any message or agenda down your throat. If you're into car chases, explosions and special effects - stay away. If you're into character studies, this is the movie for you.
November 18, 2016
Very slow, really not much of a story line. About being gay kinda. Would not recommend. Can't see how anyone gave it 5 stars.
November 17, 2016
Its time that the movies actually represent struggles real people go through. LOVED! approach and the open-endedness of the film. Definitely re-watching!
November 16, 2016
Elegant and knowing treatment of how difficult it is to grow up gay in hyper-masculine cultures without becoming hard and disillusioned or worse. This film suggests rather than exploits the problems and uses cinematography to mediate the expression for viewers, softening and making iconic by turns. Uses a delayed audio feature that is worthy of further consideration. Occasionally pious and stereotypical but that doesn't seem to undermine the effort. Very internal story. Requires commitment from viewers but film gives much in return.
October 24, 2016
get out your brooms people; Moonlight will sweep the Oscars!
October 19, 2016
One of the top 3 or 4 movies I saw at TIFF this year, I can't wait to see it a 2nd time when it comes out soon.