Mortdecai - User Reviews
Thank you for rating this movie!
Read your review below. Ratings will be added after 24 hours.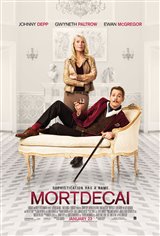 ---
Please rate movie 1 to 5 stars
Showing 1 to 36 of 36
June 27, 2015
NOT FUNNY :( I didn't care for the story at all.
May 30, 2015
Didn't really like , not what I thought I was gonna be
May 16, 2015
The dvd/blu-ray combo pack of the year!
February 13, 2015
Painfully unfunny
February 13, 2015
Not worth renting - sucked!
February 13, 2015
Had to walk out - not a single laugh. This movie isn't even good enough for DVD never mind the theatre. What were they thinking?
February 06, 2015
Depp is spectacular! Jack who???
February 06, 2015
Impossible to dislike! A movie with its heart in the right place.
January 31, 2015
Funny and original. Loved it!
January 31, 2015
Loved it!! The people who don't like it are people who don't understand british comedy of the pink panther era. It's not the movie for them but it's awesome if you understand and enjoy that type.
January 29, 2015
The best movie out there. Go and have a great time.
January 29, 2015
I never really cared for Depp but MORTDECAI has swayed me to rethink that position. Also, Jeff Goldblum is hilarious and Paltrow's a total babe.
January 29, 2015
Highly recommended caper comedy for kids of all ages. 5/5
January 29, 2015
A smart comedy for the discerning viewer. If you don't find this amusing you must be uncultured.
January 29, 2015
Hilariously funny movie! I chuckled and laughed throughout. Johnny Depp was superb as Charlie as was Gwyneth Paltrow as Joanna. The best REAL comedy that I have seen in many years.
January 28, 2015
Absolutely TERRIBLE movie: juvenile humour, ridiculous plot, horrible set-up scenes, un-original to the max. I wouldn't even watch it on TV, it was truly agonizing to see such talented actors in this farce. We left half-way through and I still feel I lost an hour of my life to the misery of experiencing this so-called "movie", just awful.
January 28, 2015
Theater was full and laughter ensued.
January 28, 2015
A thoroughly engaging, globe-trotting romp with a cast that's eager to please.
January 28, 2015
We didn't see such a pitiful movie for long time. Mr. Depp and Ms. Paltrow, are you so desperate to engage yourself in such trash ???
January 27, 2015
Fall down funny!
January 27, 2015
Fans of British humor will take to this like ants to a picnic table. Good fun with some surprisingly human moments along the way!
January 26, 2015
Uproarious highbrow comedy with a genuinely clever mystery at its center. Impossible to catch all the jokes with just one viewing.
January 26, 2015
This movie is like sooo much fun! Great looking cast, too!
January 26, 2015
I'm a Depp fan so I loved it. Gwyneth did a fab job. It was funny and entertaining. I would totally recommend it to anyone who wants a good laugh.
January 26, 2015
No DON'T go...... really don't
January 26, 2015
yes, the last comment was right on, guaranteed all of these 5 star comments are from one person, someone interested in promoting this awful silly and poorly made film, why who knows, maybe they are paid or just being silly......but there must be a way in getting true reviews or customer comments.......please figure a better system out.
January 25, 2015
The funniest movie in a long, long, time! This may in fact be the best thing Depp or Paltrow have ever done, and there's plenty more of Mortdecai's literary adventures to plunder for future movie adventures. Fun, fun, fun!
January 25, 2015
B.S. anyone who has wasted their time seeing this movie will tell you that it is not at all funny, terrible acting, silly story and absolutely no funny line throughout this movie, these people who are rating this movie more than 2 stars are part of the film industry or theatre owners.....don't waste your time seeing this show.
January 25, 2015
Great movie! Really fun and enjoyable, would totally recommend if you're looking for a good laugh!
January 25, 2015
worst movie I've ever seen, not even one person laughed the whole movie, do not waste your time
January 24, 2015
We couldn't stop laughing and neither will you!
January 24, 2015
I don't believe these other reviews are from real customers, because this movie was not funny nor entertaining, the movie theatre I was in was silent if not sleeping, the car's were the only thing of class in this whole movie another bomb for Johnny Depp & Gwyneth Paltrow, and her acting was terrible.....waste of time and money.
January 24, 2015
Excellent movie, funny, witty, exuberant, well worth the watch.
January 24, 2015
Total waste of time and money. Plot was weak; dialogue was poor. Attempt at comedic farce totally failed. Jokes were hackneyed and not at all funny.
January 24, 2015
Definitely enjoyed this movie, Paltrow and Depp are awesome.
January 24, 2015
Depp hasn't been this good since Dark Shadows. 5/5