Moulin Rouge - User Reviews
Thank you for rating this movie!
Read your review below. Ratings will be added after 24 hours.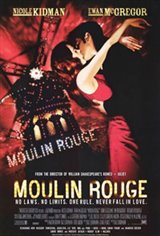 4.27 / 5
User Rating
Based on 2654 votes and 112 reviews
---
Please rate movie 1 to 5 stars
Showing 1 to 50 of 112
March 04, 2019
Weird that people hate it or like it. IT WAS SO GREAT! How wonderfully amazing. If you love music, The Beatles, Elton, Police, or Madonna, treat yourself to this movie. A wonderful twist of awesome. If you don't like the first 5 minutes, you better just leave. I've rewatched this many times and it's a tear jerking wonderland!!! XOXOXO!!! The whole movie is great and no plastic surgery on Kidman is a plus.
February 25, 2018
I usually don´t stop watching movies at the beginning even if they are nothing special. But this was so weird and boring at the same time I couldn´t finish it.
July 12, 2007
you cant call something a musical when all they do is steal songs from other people! they hired 100 of the worlds best ballroom dancers only to not show them at all in the movie. i was completely let down by this movie, the only saving factor was the song roxanne. this movies version far surpased the police's original song.
March 10, 2007
SpeCtacular sPectacular!..the movie aMazed me...
February 24, 2007
a very good movie.Im a sucker for the song "Roxanne"
January 04, 2007
it is fantastic!!!
November 25, 2006
Amazing! I loved the music, singing, costumes...everything! It had a very unique and creative director. Simply amazing. Also, it teaches how love is the most important thing on Earth.
July 18, 2006
OBI-WAN-KENOBI SINGS!!! This Movie was MIND BLOWING! I`ll take his version of(`Your Song`-correct title?) over Elton Johns anydaY! And to that guy who said he got up after 5 minutes of the film; Than how do you know it sucked...? Wow...I still can`t get my head around Obi-Wan singing out, "The hills are alive with the sound of music....!"(Did anyone here correctly what the narcoleptic suggested before dropping back on the bed? "The hills are vibrant with sonic rythems..." or something equally outragious. I died lafin). My new most favorite musical next to the TRUE, ORIGINAL Willy Wonka & the Chocolate Factory & Chitty chitty Bang Bang(tha
April 28, 2006
c`est tres bien luv sophie and katie
January 24, 2006
this was one of the greatest movies of all time
January 14, 2006
it was wierd
December 28, 2005
i love this mmovie..in the past week i have watched it five times. i have also memirized almost all the diolague. i love it i love it i love it. and omg ewan is hawt!!
December 24, 2005
I Am So In LOVE with this Movie i know all the song and i just can`t stop watching it over and over again my favorite place in the movie was the elephant love scene and the elephant love melody is my favorite song.
December 13, 2005
i jusl loooOOOooove that movie! evertime i see it, it just makes me cry!
December 07, 2005
This is probably my favorite movie of all time. I don`t know exactly what it is - the music, the scenes, the love story - maybe it`s just an overall combination. One thing I know for sure is, is that I love this movie and I`ve watched it enough to have it basically memorized (My sister and I sing the Meadley all the time). I`d recommend it to anyone - but you might have to watch it twice..the first time is just..bam!
November 23, 2005
So artistic! So creative! I`ve never seen a movie as good as this in my life and it changed my whole perspective on life, love and thew world in general. By doing a production of this on the stage I also managed to fall in love with another cast member, without this movie my life would not be where it is today. Thank you Baz, thank you so much.
October 27, 2005
I LOVED THE MOVIE!!!! I CAN"T REMEMBER WHAT ROLE DAVID WENHAM PLAYED...LOVE THAT MAN!!!
August 17, 2005
Ignoring all the glitz and eye candy...the movie, from a writer`s standpoint is EXTREMELY well-written. The story is beautiful, if tragic, and just from a writing point of view, it stands on its own. The film is well-cast, particularly John Leguizamo. It is edited well and the soundtrack is marvelous. A great, great movie. Anyone who thinks it is awful just doesn`t "get it."
August 15, 2005
This movie is so friggin` awful that it makes me mad to even discuss how terrible it was. The people who say the music was great should spend more time listening to the original songs that Baz "the plagarist" Luhmann ripped off and turned into a "soundtrack". It`s a miracle that guy isn`t in jail for the worst cast of music piracy since Napster.
July 22, 2005
It`s one of my fave movies of all time! It made me realize how important love really was, and Ewan McGregor was awesome in it!
June 18, 2005
Moulin Rouge made me want to love again and carry on my dancing x i dont know what i do with out it x it was the best movie i have eva seen no doubt about it x
June 10, 2005
Best movie Ever!!!!
May 12, 2005
I absolutley loved the story line and music. Nicole Kidman and Ewan McGregor were amazing with their singing. It gave me goosebumps. Being a hopeless romantic, the plot was charming romantic and suspenseful. It made me cry.
April 09, 2005
If you have 126 minutes to spare, and have the choice between watching this movie and stabbing yourself in the leg, choose the stabbing. Trust me. It will be less painful.
April 04, 2005
I was amazed at the vocal talents of Ewan McGregor and Nicole Kidman.
April 03, 2005
I think this is the gratest film in all world, becouse there played Ewan McGregor. He have very good voice. I like songs in Moulin Rouge, becouse i very love music.
March 25, 2005
collest love story
March 10, 2005
excellent it was my favorite movie
January 25, 2005
excellent
January 22, 2005
I loved this movie!!!! Ewan McGregor and Nicole Kidman sound amazing together!!
December 03, 2004
I love it! She`s a great actrice. We always want to see more of her.
November 28, 2004
spectacular
November 09, 2004
Just watched the DVD for the tenth time and loved it just as much as the first time! Why didn`t Ewan get a Oscar nomination? Or Baz for that matter? Brilliant. This movie will and deserves to be famous long after other bigger box office smash movies are forgotten.
November 02, 2004
the sogs were amazing and the singing voices were so good
August 06, 2004
Baz Luhrmann did a great job with directing moulin rouge and putting all the different kinds of music together in the scenes. Ewan McGregor is really hot and Nicole Kidman`s career should have been picked up on many years ago. They`re both great singers and everytime i hear them I fall in love with them. I`ve seen this movie three times and i love it! The best part in the movie is when they are singing "Come What May"!
April 30, 2004
What a great movie - so much talent, with a story to be told. I can`t help but smile when I see Ewan and hear the great way he handles the songs in the movie.
April 09, 2004
i thought the movie was brilliantly made. the actors all did a marvolous job. the songs are amazing. i just love it, i own it and watch all the time.
March 07, 2004
it was the best thing that i have ever seen the costumes were gr8
December 13, 2003
THIS WAS THE WORST MOVIE I HAVE EVER SEEN IN MY LIFE DONT SEE THIS MOVIE U R WASTING UR MONEY ON UR TIME IT SUCKED SO MUCH I LEFT IN 5 MINUTES!!!!!!!!!!!!!!!!!!!!!!!!!!!!!!!!!!!!!!!!!!!!!!!!!!!!!!!!!
November 12, 2003
It`s up there with the best of them!
August 24, 2003
I love the movie at first I thought it was weird but as it got into the movie I got more into it.
August 11, 2003
The Best Film of the Year! Ewan Mcgregor and Nicole Kidman are Dazzling!
July 11, 2003
WORST MOVIE EVER
May 04, 2003
Totally ranks as my favorite movie of all time!
March 03, 2003
wwwwwwwooooooooooooooooooooooooooooooooooooooooooooooooooo......the best movie in the world. i have seen it about 20 times. i told everyone about it and they luv it to.i have the sound track and everything. nicole has become one of my favourite actors. ewan and nicole sing like angels. spectacular spectacular was one of the funnest things i have seen in years. it was one of my favourite parts in the movie. huh i cried and cried at the end. for all you moulin rouge go to moulinrougeclub.com wwwwwwwwooooooooooooooooooooooooooooooooooooooo watch it
January 10, 2003
It was an excellent movie, which was full of excitment! I loved this movie. I`ve seend it many times, the songs went well with the scenes, the actors were perfect for their part.
December 26, 2002
it was the best movie that i`ve ever seen in my entire life!!!!!!!!!!
November 01, 2002
the best movie ever in the history
October 16, 2002
the best movie ever in the history of the world!!!!