Mr. Deeds - User Reviews
Thank you for rating this movie!
Read your review below. Ratings will be added after 24 hours.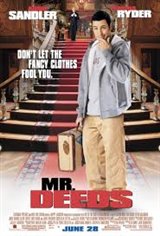 4.11 / 5
User Rating
Based on 2859 votes and 153 reviews
---
Please rate movie 1 to 5 stars
Showing 1 to 50 of 153
October 14, 2006
I like when Adam Sandler is playing such simple characters. So I liked this film. It was my favourite Adam Sandler film until I saw The Longest Yard. I even didn`t mind Winona Ryder.
December 11, 2005
HILARIOUS!!!
October 18, 2005
very god
February 08, 2005
it`s (one of)the most film(s) i`ve ever seen!!!!!!!!!!!!!!!!11
June 10, 2003
It Was My Favourite Movie
November 10, 2002
Good movie! Very funny!! 4 1/2 stars!!! **** 1/2!!!!!!!!!1
October 26, 2002
It was very funny
October 26, 2002
It was very funny
October 26, 2002
awesome movie. Winona is extremely beautiful with that hair. seems a lil short though.
October 19, 2002
i reallie enjoyed watching it~
September 21, 2002
funy... even though i never saw it!
September 20, 2002
very nice movie we just love it
September 14, 2002
This movie was one of adam sandler`s funniest and wel acted part on his behalf. Chris
September 14, 2002
bloody fantastic
September 07, 2002
i think mr.deeds is a great movie
September 06, 2002
Not one of Adam Sandlers best movies. He is putting to much romance into his new movies. 3 Stars
September 03, 2002
horrible, terrible, boring...
August 31, 2002
It was the best movie I have seen in a long time everyone who likes comedy should deffinitely see this film!!!!!!!!!!!!!!
August 30, 2002
It was cool when Adam came out on top of the bad guys
August 30, 2002
The coolest part was when Adam Sandler saved the cats.
August 27, 2002
mr deeds rocks!! it is a laugh out hillarious comedy that all kids should be sure to enjoy!! i give mr deeds a 5/5!! adam sandler is amazing!!
August 17, 2002
Mr.Deeds was halarious!!!I couldn`t stop laughing!Adam Sandler rocks!!
August 13, 2002
You wont stop laughing. The plot is not bad either. Overall it is a pretty good movie.
August 10, 2002
it`s ok.........not the greatest movie ever
August 06, 2002
this is the worst movie eva been taken!!!!!!!!!!!!!!!
August 01, 2002
It was really funny!! You should see it!
July 31, 2002
The funny`s movie since tommy boy
July 31, 2002
prity gooD! funni
July 31, 2002
The funniest movie I`ve seen in ages! Adam Sandler is one of my favorite actors, and this movie was easily one of his best (and personally my favorite). See it now!
July 30, 2002
I loved Mr Deeds it was so funny you must see it!!!!!!!!!!
July 29, 2002
I loved Mr.Deeds!! An excellent movie!! It was funny , interesting and really very sweet!
July 29, 2002
Sweet movie! Anybody who is an adam sandler fan like me, you HAVE to see this one. It is very `sneaky sneaky` in grabbing your attention with funny remarks. Some funny parts are his black foot and when he is beating up the guy who is pretending to rob the lady from winchestertonfieldville (lol) it`s hilarious, i reccomend anybody who is a comedy fan, or a romance fan to see it. And if you are a romance fan, maybe this movie will give you the kick in the pants you need to be a comedy fan. TTFN!
July 26, 2002
mr deeds was funny and interesting but it looks better in the previews......adam sandlers other movies were better......
July 26, 2002
Mr. Deeeds was so funny!
July 23, 2002
This movie was so funny
July 22, 2002
I thought that Mr.Deeds was a great moie but near the end it was pretty boring i fell asleep
July 20, 2002
cool movie,if I was Adam I would have done the same things he did . you rock!!!!
July 19, 2002
Mr. Deeds was GREAT!!!
July 19, 2002
I Really Enjoyed This Movie,it was fanny.
July 18, 2002
John Turturro is hilarious as Emilio. Very sneaky sneaky and very funny funny. Worth going just to see him shine!
July 18, 2002
It was a good and funny movie . . . but not as good as the previews put it up to be and it wasn`t as good as the other adam sandler movies.
July 18, 2002
Funny all the way from beginning to end, especially if you`re an Adam Sandler fan like I am. Wynona Ryder is very likeable as well, and John Turturo is very funny. Of course, part of the credit goes to the director and his team for getting those great performances out of the actors.
July 17, 2002
I found that the only part that really made the movie any good was the ending, the rest of the movie.. in my personal opinion.. sucked.
July 16, 2002
The script was week. Not nearly as funny as previous Adam S movies.
July 15, 2002
sexy and romantic!!!!! i luuuuuvvv adam sandler!!!!!!!
July 15, 2002
It WaS SwEeT!!!!!!!
July 15, 2002
It was funny and cute, but definetly a $6.00 rental, not a $11.00 trip to the theatre.