Mr. & Mrs. Smith
Thank you for rating this movie!
Read your review below. Ratings will be added after 24 hours.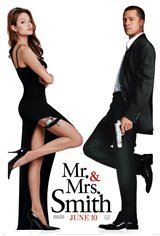 3.83 / 5
User Rating
Based on 5739 votes and 260 reviews
---
Please rate between 1 to 5 stars
Showing 1 to 50 of 260
August 01, 2009
I do not find it amusing that this movie glorifies violence to the degree that it shows it being hip, cool, and fun to be an assassin. AND, whoopee, it's a great way to save your boring marriage, too. It was so exciting that I kept falling asleep while they were trying to kill each other... over and over and over and over and over and over and over again. Finally I just wished they'd both get shot and die. The End.
November 04, 2007
Super duo as The Bonds....
May 24, 2006
couple are fantastic...............
May 15, 2006
this is fantastic movie because there are anjelina jolie and my favourit actor brad pitt .. they are both sexy and famous model for me.........they worked vey nice in this movie...
January 30, 2006
Mr and Mrs Smith is a great movie! Set to be one big action movie, this later changed as the producers decided to concentrate on the couple and there relationship! cutting out many ideas and scenes! It ends up as a romantic comedy with action signs incorpurated into it! its LOVE getting lethal! The institution behind it is known to be 20th century FOX, but new regency actually did most of the work and financed most of it! This film is a must see! suitable 4 both the sexes and recommended to watch it with your other half! Stewart B. MDRT student
January 15, 2006
I really enjoyed this movie for what is was entertaining. I thought that Vince Vaughn was hilarious like usual however I would have liked to see a little more of him.
January 09, 2006
i REALLY ENJOYED IT.
December 31, 2005
This was an okkkk movie.
December 25, 2005
THIS MOVIE IS SOOO AWESOME!!! GREAT CHEMESTRY BETWEEN ANGELINA JOLIE AND BRAD PITT!!!
December 07, 2005
Brad Pitt and Angelina are hotttttttttttt
December 06, 2005
this movie sucked
November 27, 2005
omgggggggg the movie wuz sooo awasome they rocked sooo bad! lol. its coming out in 2 dayz !!! yes!!! it was so great, funny and everything. it wuz just reli good. angelina and brad wrked reliiii well 2gether. they did a reli great job!! and omg the soundtrack is soooo good!omg MONDO BONGO!!! I LOVE THAT SONG! lol i think ppl get the point! lol watch the movie it wuz awsome! homie
November 16, 2005
i love this movie a lot, i can`t get enough of it, i love both of them Brad Pitt and Angel. Jolie, they are so hot him and her are hot hot and hot and Brad Pitt i love him a lot .
November 01, 2005
A great movie...loved it! Angelina Jolie and Brad Pitt makes a good team.
October 28, 2005
Great Movie.
October 11, 2005
My husband and I were the featured dancers in the dance scene with Brad and Angelina. They were a delight to work with. Very down to earth and truly friendly. The movie was very entertaining and I am happy that we had the opportunity to be a part of it. Anne Vardanian
October 06, 2005
awesome!! I loved it
September 24, 2005
There was a lot more comedy than I first expected and the two leading actors had a lot of chemistry and the bantering was awesome. The action was terrific as well and all of the actors in the movie carried off their roles extremely well. The only reason I didn`t rate it at 5 stars is because I thought they could have done more with the secondary characters. Still, leaving the spotlight to Jolie and Pitt works remarkably well, too.
September 17, 2005
Absolutely great! Love all the action!
September 17, 2005
not what i accepted i thought it would be totally different meaning mor action. it took a long time to get to the main part of the movie:(
September 16, 2005
Only went to see it for Brad Pitt. Tina
September 12, 2005
good movie. wasn`t that enthralled with the plot but it had great action sequences and it was funny as well. see it.
September 12, 2005
It was much funnier than I expected, and no matter what you thought of the movie...watching those two is very nice
September 07, 2005
Good Movie
August 30, 2005
wasn`t what i expected but it was still really good
August 27, 2005
although not quite as good as I had anticipated it to be, I still thought it was a great movie. angelina jolie was great in this; she made the film alot better! ****
August 20, 2005
This movie was released June 10th but just made its way to our sleepy little theatre this week. Not a bad movie overall. If your looking for a solid storyline, a good shoot em up flick, or a mushy chick flick this is not the movie for you. The acting is well... substandard, the storyline is shakey at best and Brad and Angelina`s chemistry could be better. What saves this movie is its use of humour. If you go and see this movie, go for sheer entertainment and just roll with it. Overall it wasn`t bad. I`ll give it 2 and a half to 3 stars out of 5
August 14, 2005
this movie pretty good. lots of action and they incorporated lots of humor between brad and angelina. you can tell that they have a connection when filming together. overall i enjoyed. an evening well spent.
August 14, 2005
Tipical summer popcorn movie. Nothing much to think about. Just close your mind and have fun.
August 11, 2005
Not even interested in seeing it. It seems unrealistic, com`on two spies who are husband and wife and are suppose to kill each other. sounds unrealistic and boring. Brad Pitt and Angenlina Jolee are getting just as weird as Tom Cruise and batman`s girlfriend, what`s her name?
August 10, 2005
it was pretty good thought it would have been better though...
August 10, 2005
I went into the theatre thinking that this movie will be like wine with water, meaning that it will look good but in the end will be extremely dissapointing. I was pleasently suprised. Angelina Jolie and Brad Pitt had amazing chemistry, you can feel the sexual power and slo the love between them. No one can pull these roles as well as them. I loved that Angelina was portrayed as this powerful women, who was better at her job than any man (however it wasn`t too obvious). I don`t want to go in detail because some poeple who will read this haven`t seen it yet. All I have to say is that the movie was great. It was relaxing as well as energizing.
August 09, 2005
Adam Brody is le sexy
August 08, 2005
Put this movie as well as every other Brad Pitt and Angelina Jolie movie together (except for Snarch, great film oddly enough), and you get overated actors starring in thinly stretched out films. This film was a sorry excuse to capitalise on the Pitt and Jolie scandoulous relationship. Stupid plot and a lot of over/underacting
August 07, 2005
it`s funny but stupid..
August 07, 2005
over rated
August 06, 2005
although i don`t really like Angelina Jolie, but she did well in this movie. should i say that this movie will be better if Jennifer A. star it?
August 06, 2005
This movie was somewhat entertaining. I dind`t find Brad and Angelina had good chemistry. Worth renting but definitely not worth 13 bucks to see at a movie theatre.
August 04, 2005
I really don`t like Angelina Jolie. All I know about her is that she likes to seduce her handsome co-actors! Yes,she`s charmful and sexy, but I don`t think she`s beautiful. I don`t like her big face and thick sausage-like lips!!!!
August 02, 2005
worst movie ever, man this is hollywood crap at ITS WORST.
August 01, 2005
IT WAZ TODALLY AWESOME!
July 29, 2005
My god who told BIG LIPS she could act.This movie SUCKS BIG TIME.
July 28, 2005
Hollywood must think we`re stupid
July 25, 2005
it was a lot of fun to watch. I got all I wanted from a summer blockbuster
July 24, 2005
I HATE IT :D
July 24, 2005
I loved it. I thought that it was a really good story line and Brad looked gorgeous!
July 23, 2005
This movie really rocked I thought that Brad Pitt did a great preformance and Angelina Jolie did Amazing as well. I also thought Brad looked really looked hot
July 22, 2005
I didn`t laugh or really have any sense of emotion throughout the entire movie. Predictable and typical cheesy hi-tech tools. Action that was similar to the A-Team (thousands of bullets and few injuries). Plot was thin too... Don`t get me wrong I like Angelina and Brad (and the A-team), but this movie is a rental at best....