My Cousin Rachel
Thank you for rating this movie!
Read your review below. Ratings will be added after 24 hours.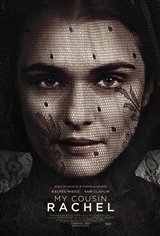 ---
Please rate between 1 to 5 stars
Showing 1 to 12 of 12
August 06, 2017
Disappointing sequel to MY COUSIN VINNY misses Pesci and Tomei big-time. 2/5
June 16, 2017
I thoroughly enjoyed this movie. The acting was superb and the scenery was so inviting. The story was cleverly written to leave you just not knowing in the end. Great suspense.
June 16, 2017
Great ?? movie but didn't understand why he had and affair with his cousin. Very weird. But worth to go and see it.
June 16, 2017
filming sites lovely, but, movie long and boring. I fell asleep
June 15, 2017
Fantastically filmed, awesome acting. Just lacked the supreme tension and ambiguity of resolution that is the beauty of Dumaurier's classic.
June 14, 2017
Very enjoyable, turn of the century mystery, excellent acting, well worth seeing.
June 14, 2017
Well done, gothic mystery thriller. Good acting, good period piece. This is for mature movie lovers.
June 13, 2017
This film is a MUST SEE!!! Ten stars out of five :)
June 11, 2017
Long boring? Who said that? Whoever said it belongs at a comic book movie for 12 year olds. Perfect movie,suspenseful, not like most if the C--P you see today.
June 11, 2017
An enormously well made film based on Daphne DuMaurier's novel. The script, acting, direction, and plot are almost perfect. This very suspenseful movie was made for adults who appreciate a well made film. No special effects, no bloody murders, no juvenile humor etc. The key to this film's sucess is the pacing of the script. The film slowly, but artfully, builds suspense from the first scene to the last. Rachel Weicz turns in a great performance along with Sam Claflin who will be a rising dramatic film star. One of the best films of 2017 along with "Maudie" and "I, Daniel Blake". I hate to say it, but the British and a few Canadian filmmakers are making the best films. I prefer the depth of well-constructed dramas to movies based on comic books and cartoons that rely far too much on special effects and blood and gore. These films that I recommend really require a IQ above 90!
June 10, 2017
Long, boring,not worth going to.
June 10, 2017
True Gothic on the big screen-thoroughly enjoyed it!