My Life in Ruins - User Reviews
Thank you for rating this movie!
Read your review below. Ratings will be added after 24 hours.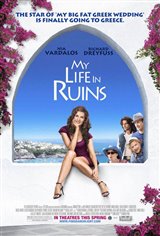 ---
Please rate movie 1 to 5 stars
Showing 1 to 28 of 28
June 01, 2010
While not the funniest movie I've seen, it was very cute. A good rental.
August 22, 2009
such a great chick flick!
August 14, 2009
I LOVE this movie! Nia,,,keep doing on what your doing, girl! Winnipeg Girls RULE!
August 06, 2009
If you were going to see the movie because you wanted it to be all about Greece, you likely were disappointed because it could have been staged in several locales with just a few reference changes, but if you were going to see a lighthearted chic flick, it was worth while.
July 15, 2009
I liked it. Very good, funny and interesting. good product.
July 12, 2009
A DISASTROUS FILM AND A SHAME TO GREEK CULTURE AND HISTORY WITH SOME NEGATIVE CONNOTATIONS THROUGHOUT THE FILM. THIS IS COMEDY? - WHAT A JOKE NIA DO US ALL A FAVOUR AND STOP WHILE YOU ARE AHEAD
July 07, 2009
Such a good cute movie! Loved it! A new favourite... We never laughed so hard!
July 07, 2009
Fun, romantic - made me want to go to Greece
July 07, 2009
The theater in our little town was filled. We all laughed till we cried. Why isn't it considered a big hit? People are too realistic, no action, killing. Its simple, romantic, funny! LOVE IT!
June 23, 2009
What a good movie, will defenitly be buying it when it comes out on DVD.
June 19, 2009
IT WAS AWSOME!!!!
June 17, 2009
It was an amazing movie!!!
June 17, 2009
i liked it - a cute fluff movie
June 14, 2009
We walked out of this movie about 45 minutes into it as it was so so so bad. Sorry but the jokes never hit us and the audience. Maybe next time.
June 14, 2009
Great movie! Not sure why people keep saying there was no "magic" or "chemistry" between the characters?? This movie was full of that and more! So cute :)
June 13, 2009
Very boring, bad acting, poor script. Only saw it because I had passes to the premiere.
June 13, 2009
What a disappointment! My sister and I were really looking forward to this movie, but it fell very flat. The actors in it all did their best, but the script itself was the problem. It was very bland and predictable, with no sparkle at all. Even the beautiful scenery couldn't raise this movie to where it should have been.
June 11, 2009
The cast was excellent. The script was fun. However, the characters were disappointing and the chemistry between the two stars was non-existant! Over-all very sad. Dreyfuss' character was the one bright spot. He was wonderful. Wait for the DVD!
June 10, 2009
Great movie !!! Thoroughly enjoyed it.Really good cast chemistry.Another hit for Nia.
June 08, 2009
if you're greek, you;ll like the movie.
June 08, 2009
I liked the movie - it was a good, lighthearted comedy with lots of laughs. Thoroughly work the $'s
June 08, 2009
One of the year's ten best! What a wonderful movie!
June 07, 2009
I liked the movie, it is a feel good movie and gives you a back door/vicarious way of experiencing Greece with all of its good and bad attributes.
June 06, 2009
Please wait for the DVD!!! Save your money and time!
June 06, 2009
Sooooo Booooring!!!!! Really bad movie, slow and empty!!! Don't waste your money on it!
June 06, 2009
Barely entertaining... Barely stayed awake... there is ZERO magic!!! ZERO of the wit that made My Big Fat Greek Wedding so great...
June 05, 2009
Cute, predictable ... got better further into it