Napoleon Dynamite - User Reviews
Thank you for rating this movie!
Read your review below. Ratings will be added after 24 hours.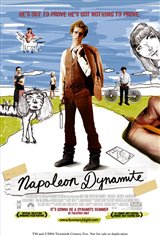 4.03 / 5
User Rating
Based on 3394 votes and 163 reviews
---
Please rate movie 1 to 5 stars
Showing 1 to 50 of 163
August 26, 2019
It's unique. There isn't really a movie quite like this with the lovable characters. Definitely for all those who had hard times in school. You really just end up cheering for everyone. You want them all to make it. (well, except for that one blond bully)
December 24, 2017
This movie is a funny and all around family friendly.
November 29, 2006
best movie ever
October 03, 2006
i love Napleon Dynamite<3<3<3
September 29, 2006
One of the best comedies I have seen in years. When it originally came to the theatres, I refused to see it. From the trailer I watched, I was not too impressed. When it came on DVD, a friend of mine rented it while I was at his place. I couldn`t believe how funny the movie was, especially the quirky charactors. I went to high school with a guy who acted like Napoleon, perhaps that is why I enjoyed the movie so much. It really reminded me of high school and how much I didn`t enjoy it. I plan to buy the "Special Edition" DVD, "Napoleon Dynamite". As great as the movie was, I really hope they don`t make a sequel. This movie stands on i
August 05, 2006
The work of a comedy genius. However, I am still at a loss to understand exactly what, if any, was the meaning of this film. Given that it was probably made on a shoestring, its comedy value is immeasurable. Jatz
July 11, 2006
This was a comedy?!
June 09, 2006
Not for general consumption; it seems to attract young people but I`m not sure what the draw is!
May 22, 2006
Movie rocked….. Excellent collage of incidents, and characters made this a movie a 'Must-See'
April 14, 2006
that is the best movie ever it is hilarious
March 13, 2006
i think it is the greatest movie in the world and it was so funny
February 01, 2006
God this movie was so freakin stupid you freakin idiot
January 25, 2006
If your into dumb humour, watch this movie
October 22, 2005
It was so funny! Jon Hedar is the greatest actor ever!!
September 27, 2005
a terrible terribe film. ITS NOT COOL TO LIKE INDIE FILMS FOR THE SAKE OF IT!
September 20, 2005
Do I ever love Napoleon gosh he is like so cool...Heck ya he is. Vote Pedro. Will you bring me some chap stick my lips hurt alot?...You Idiot!! lol gosh that`s the best movie ever, Heck ya it is...
September 19, 2005
duDe dO u waNt yOur tOts!!dUde i look almost exactly as debb! i <3 that movie so much... it should go down it tV history!!
September 16, 2005
do i love Napoleon? heck yes he has so many great skills, and he does woteva he feels like doing GOSH lol i really beleive there is a napoleon out there 4 every girl hes everything a girl cud want
September 12, 2005
he is the best ever GOD!!!!!
September 08, 2005
Very stylized. You have to tune in to the fact that certain actors (Napoleon, Pedro, Kip, Deb) were told to act completely stiff and unnatural. At times I wasn`t sure Napoleon was even awake, he often had his eyes closed and his mouth hanging open. But even so, there`s something about this movie that kept me watching and I`m glad I did -- it`s not your average Hollywood movie but worth seeing. Could have done without the animal cruelty though, that wasn`t funny at all.
September 08, 2005
Don`t miss the ending (hint: it comes AFTER the credits). It`s sweet!
September 04, 2005
I find it dry and slow but very funny!! Napoleon is the new kind of hero 4 sho.
August 31, 2005
Napoleon is the new crack of movie films
August 23, 2005
The movie was like totally tibular...it was so flippen awesome...gosh
August 02, 2005
only saw a bit but what i saw was a smash
July 31, 2005
great movie. I had a lot of fun watching it...
July 18, 2005
i thought Napoleon Dynamite was flipp`n awsome!!! Yesssss
June 18, 2005
Sweet as Movie. it was awesome!
June 18, 2005
Funny! Gosh idiots! Ever take it off any sweet jumps!
June 14, 2005
it was flippin sweet it was rthe best movie ive seen this year
May 16, 2005
I think this movie was flipp`n awsome!! It was so funny i
May 16, 2005
I saw the movie and thought it was really funny but kind of boring. I still like it though.
May 15, 2005
Worst mouvie i have ever seen it is so BAD!!!!!
May 13, 2005
yea it was funny, but it was very very very very very very boreing. It also had no plot. It was like a few days in a geeks life. As my brother would call it-snore fest.
May 09, 2005
I loved the 7o`s theme going through the entire movie!! Could really relate to the humor!!
May 03, 2005
this movie is awsome it is 1 of the best movies ever !!!!!how can u not give it a 5 napolean is so hott...the movie was so funny i was laughing my a** off.i gave it 5 stars because a movie cant get much better ...GOSH well i hope there comes another Napolean Dynamite movie because that would b hott i luv u napolean dynamite!!!!
April 28, 2005
I only have to say that this is the best movie ever >>> GOSH!!!
April 21, 2005
It was so kewl !! Napoleon You are so Hot i want to meet him!!! why does he have to be married?? I LOVE NAPOLEON!!
April 13, 2005
it was so funny and Napoleon is so hot
April 10, 2005
That movie was SO funny! One of my favorites! It was pointless but yet funny! Hopefully there will be another!!!
April 07, 2005
THIS MOVIE WAS GOOD. I GAVE IT A 4 BECUZ SOME PARTS WERE SO STUPIS IT WAS HILARIOUS AND SOME PARTS WERE SO STUPIS IT WAS JUST STUPID LOL. BUT OVERALL THE MOVIE WAS FUNNY. I WATCHED IT IN SKOOL WITH MY CLASS AND WE WERE ALL LAUGHING OUT LOUD !!!!! EVEN THE TEACHER. I LIKED THIS MOVIE IT WAS REALLY FUNNY !!
March 28, 2005
Napolean Dynamite is one of the flipen greatest movies in all time. It was sweet and had large talents (just like the chickens) heck yes you should get this movie
March 27, 2005
From the time Napoleon appeared on screne until it the movie was over I laughed. At best the movie was stupid but it was funny.
March 27, 2005
i love this movie! it is the best movie ever!i wish they would make a sequal!
March 18, 2005
This Movie Had Its Moments Some Were Dum And Sume Were Funny - But Let Me Ask A Question, What Was The Plot Again ???
March 18, 2005
Napolean Dynamite is the best movie in the whole world! It is sosososososososo FUNNY! Great movie!! U have to see it!!!!!!!!!!!!!!!!!!!!!!!!!!!!!!!!!!!!!!!!!!!!!!!!!!!!!!!!!!!!!!!!!!!!!!!!!!!!!!!!!!!!!!!!!!!!!!!!!!!!!!!!!!!!!!!!!!!!!!!!!!!!!!!!!!!!!!!!!!!!!!!!!!!!!!!!!!!!!!!!!!!!!!!!!!!!!!!!!!!!!!!~~~~~~~~~~~~~~~~~~~~~~~
March 17, 2005
i`m sorry, but this movie was so lame. someone tell me how this movie could be funny, i mean come on. i guess this wasn`t the kind of funny i like. to me it was retarted.
March 14, 2005
How could anyone not give this 5 stars?! It was truley the best I`ve ever seen! If there was a 100000000000000000000000000000000000 star option, that would be too low! it was that good!
March 13, 2005
i guess you have to be a high schooler or at least as immature as one to like this film
March 12, 2005
LOL this movie is so funny and its 10x more funny if ur high u gotta watch ...Gosh!!