Night at the Museum: Battle of the Smithsonian - User Reviews
Thank you for rating this movie!
Read your review below. Ratings will be added after 24 hours.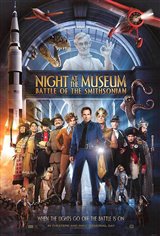 ---
Please rate movie 1 to 5 stars
Showing 1 to 50 of 58
February 12, 2010
Absolutely the WORST movie I have ever seen
December 06, 2009
They should have left well enough alone.This was painfully boring. Same old corny jokes .
December 03, 2009
Very boring, lousy movie. First part awesome, this one - disgrace
August 30, 2009
junk remake for money.
August 13, 2009
i't is hilarious
August 02, 2009
Night at the Museum: Battle of the Underdeveloped Plot and Characters
July 27, 2009
hilarious! my favourite line was one about cous cous-i dont want 2 spoil it. definetly a family flick =)
July 12, 2009
interesting movie.
July 12, 2009
Should have left it alone after the first movie.
June 29, 2009
Not bad as far as light comedy goes. Lots of laughs
June 29, 2009
IT IS REALLLY ADVENTEROUS
June 28, 2009
great movie
June 20, 2009
best funniest movie ever, would see it more than5 times . lovedit!
June 19, 2009
I am ashamed to even give it 1 star. What a horrible movie!! Was the writer 4years old? Its official Ben Stiller will do anything for a paycheck.
June 15, 2009
Good movie! Very funny Pharoah...
June 15, 2009
really makes you wonder who's making the calls in Hollywood...''how much do you need to make this movie?? $120 Million?? No Problem..here you go!'' Recession?? Actors are getting paid so much to make garbage nowadays.
June 11, 2009
I was quite surprised that this movie was as good as the first. My kids and I thoughly enjoyed it. Can't wait to get it on DVD!
June 09, 2009
An early candidate for Best Picture.
June 08, 2009
great movie iwould tottally watch it again
June 07, 2009
its funy its cool it rocks
June 06, 2009
Absolutely a waste of your money! I loved the first "Night at the museum" and so did my 5 year old son. I was bored to tears with the sequel and my 5 year old fell asleep. I have no idea how so many reviewers here found this movie to be better than the first one?! This flick is an insult to intelligence, perhaps that's why?....
June 06, 2009
The jokes were similar, the movement of the story wasn't consistent, the ending was too short , and the story was incomplete. The first one was much better.
June 05, 2009
It was so funny
June 05, 2009
very funny.. first one was a little bit better though
May 31, 2009
This movie was just as good as the original, if not better. We laughed out loud quite a few times. It was great!
May 30, 2009
Major Disappointment. 5/10. One of the worst movies of the year.
May 30, 2009
it was a great movie!!!!!!!!!!!!!!!!!!!!!!!!!!!!!!!!
May 30, 2009
I couldnt help stop laughing, never disappointed with Ben Stiller! Full Price for me!
May 30, 2009
it is a sick movie
May 28, 2009
A true piece of comedy art work!
May 28, 2009
I loved the three little flying angels, thats the best part of the movie. Second best is the little einsteins, haha, funny stuff!
May 27, 2009
Fun movie! Lot's of good laughs, and action! Very cool!
May 26, 2009
Kids will enjoy this movie more than adults, 3 stars!
May 25, 2009
It has some very clever moments, but overall doesn't have the magic of the first one ( sequels rarely do ).
May 25, 2009
I learned a lot from this movie.
May 25, 2009
No where near as good as the first...Boring at times
May 25, 2009
THIS took out The Terminator?!?! What a strange world we live in!
May 25, 2009
GREAT MOVIE ,, MUST SEE,, amazing acting job done by all
May 25, 2009
I loved this movie and so did my kids we all agreed better then the first one loved the new charactors too... must see
May 24, 2009
A great movie to sleep through. Boring. Oh! by the way, this movie should have been terminated. Good night.
May 24, 2009
Ben Stiller and Owen Wilson was awesome in this one. Recommended to all!
May 24, 2009
This was an awsome movie I loved it it had a good mix of comidy and action. IT RULES
May 24, 2009
this movie rockz
May 24, 2009
SO FUNNY!!!!!!!!!!!!!!!!TO DIE OF LAFTER LITERLY!!!!!!!!!!!!!!!!!!!
May 24, 2009
it`s a kid film. what gives adults the right to criticize itÉ
May 23, 2009
Pretty good movie.
May 23, 2009
A MUST in IMAX!
May 22, 2009
The height of tedium.
May 22, 2009
This movie was so good, even better than the first. I totaly recomend it!!!!!!!