Nightmare Alley - User Reviews
Thank you for rating this movie!
Read your review below. Ratings will be added after 24 hours.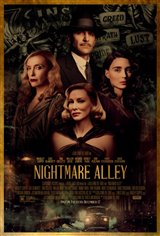 ---
Please rate movie 1 to 5 stars
Showing 1 to 15 of 15
February 15, 2022
Del Toro latest hack job is predictably awful. He is no filmmaker, just a gluttonous imposter. I have friends who have worked as crew on films Del Toro has shot in Canada. They said that he raided the craft services table, inhaled all the doughnuts in a disgusting display, and left no food for anyone else! What a pig! Miss the one. Best to stay at home and guard your food lest Del Toro is in your neighborhood.
January 22, 2022
Great cinematography! Very noir!
January 14, 2022
Yet another inferior remake. Yet another dud from one of the most overpraised directors ever.
January 05, 2022
Del Toro is a master of film. His pan s Labyrinth is one of my favorite movies of all time. His ability to present his characters as people with real emotions in so many forms is the best. The ending of the movie is fabulous. In this environment of films with special effects like monotonous explosions and and characters that no depth it is beautiful to see movies that Doesn't use that crap uses actors that have real human emotions and imperfections. FIVE STARS!!!!!! You
December 29, 2021
It was terrible and very depressing. I do not recommend it al all. . .
December 25, 2021
Gross scenes and unbelievable ploy.
December 23, 2021
Was expecting more..., fell asleep half way through the Movie! Sad....
December 20, 2021
Everything that Spider-Man: No Way Home should have been and more.
December 20, 2021
An instant classic! del Toro has done it again!
December 19, 2021
Gorgeous noir visuals and period detail, excellent performances. This new version goes deep into a dark and cynical take on the American dream. in which a man who starts with nothing tries to forget his past and start over, raising himself to the heights of success through talent and hard work -- only to forget what he learns at the carnival which gives him his start -- never believe your own b.s.
December 19, 2021
Dire. Fatboy fumbles it yet again.
December 16, 2021
Not a patch on the original film. Watch that instead.
December 14, 2021
Stylish and moving.
December 11, 2021
"Nightmare Alley" This time is in many ways the birth of modern America. In an era before television, the traveling carnival is the epitome of live, local entertainment for the masses. The visitors transformed one muddy, small-town field after another promising to mystify, provoke and make a hard life a little more magical. As much as they offered alluring fairy tales to audiences, beneath the paint, tinsel, and outrageous claims, they could be exploitive and dehumanizing to their performers. But they're also alternate communities for people who would otherwise be on the margins. Naturally drawn to the macabre and profoundly human world of carnival sideshows, Gresham's novel as autobiographical and wants to explore the murky lines between illusion and reality, desperation and control, success, and tragedy. With sharper edges than any movie, the film is a true hardboiled tale of crime, betrayal, and scathing comeuppance. It's a tale about the dark side of American capitalism. Indeed, in it's visceral realism, the film takes on the urgency of a moral fable; a of fate's bill coming due, structured to end with a bang. When an audience is invested in the story of a person's rise, their greatest fear is the fall and that fall can be very emotionally strong, "Nightmare Alley" is about fear, about greed, and it's about manipulation. The look of the film is, per usual, meticulously composed to set an inescapable mood. It has all the dark underpinnings of what seems to be a very polite society. The world of the carnival might have some trickery and deceit, but it has the beating heart of a true community. It's the high society in this film that is far more threatening and terrifying.
July 29, 2021
Talentless fatboy Del Toro is nuts if he thinks he can outdo Edmund Goulding. Goulding's corpse could direct circles around Del Toro, but they'd have to be really wide circles, considering Del Toro's enormous girth.