Nowhere Boy - User Reviews
Thank you for rating this movie!
Read your review below. Ratings will be added after 24 hours.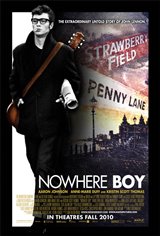 ---
Please rate movie 1 to 5 stars
Showing 1 to 28 of 28
January 26, 2011
Excellent movie
January 23, 2011
Interesting story
January 23, 2011
Very good
January 14, 2011
Loosely based on the early life of John lennon,the flick provides some insight into the soul and personality of the future superstar.
January 13, 2011
Great biography and period picture.
January 13, 2011
interesting story of John Lennon's early years
January 13, 2011
I really liked this movie. How John Lennon became a man he is. I love the 50's and the 60's.
January 12, 2011
interesting story of john lennon, learn a lot of stuff i didn't already know
January 07, 2011
A true story that made me have a little less respect for John. Too much self pitty, for someone with loads of talent.
January 06, 2011
This was a fascinating look at Lennon's young years and the formation of the Beatles with portrayal's of each member's teenaged personna. Thoroughly enjoyable and memorable.
January 06, 2011
Greatly entertaining. An interesting concept of life before fame.
January 06, 2011
Must be a Beatles fan to enjoy this movie
January 03, 2011
Loved it!
January 01, 2011
Extremely well done film. Even if not previously aware of John Lennon's formative years, the film provides a riveting storyline that would be of interest to the viewer.
January 01, 2011
lots of early history but not as much Beatles music as you might hope
December 28, 2010
Anything with a Beatles theme is sure to be entertaining; Thumbs up!
December 26, 2010
good for Beatles fans but not as much popular Beatles as I was hoping for
December 24, 2010
Interesting movie
December 23, 2010
Beautiful movie! John wass destined to be a star and an inspiration!
December 22, 2010
This movie does seem to portray Lennon's childhood. Well Done. If you're Beatles fan go and see this.
December 17, 2010
A box office disappointment, it's nonetheless one of the best films eligible this year. I'd love to see Anne-Marie Duff mentioned this year for her great performance. Kristin Scott Thomas and Aaron Johnson, as well as the rest of the cast, are a joy to watch.
December 06, 2010
Good one!
December 04, 2010
Really enjoyed this movie especialy around his 70 birthday. Learned a lot about John's tragic younger years. Both my friend and I shed tears which says how emotional the movie affected us
December 02, 2010
Very good emotional tale about his younger years. Aaron Johnson does a great portrayl.
November 23, 2010
Inspirational, poetic and sad at the same time. Great casting.
November 15, 2010
It was interesting to learn about Lennon's early life, but it was disappointing that we didn't hear more of the music that made the Beatles popular. I found that I did not like the young John Lennon. It is a relationship movie and would not appeal to someone wanting something a little more exciting.
November 06, 2010
I would like to rate this movie. But it missed coming to Winnipeg.
November 04, 2010
Excellent depiction of a little known part of John Lennon's life. Kristin Scott Thomas and Anne Marie Duff were fantastic and Aaron Johnson was very good in a very difficult role. The director, Sam Taylor-Wood, did a marvelous job capturing the time and the emotional turmoil in the main characters lives. Really neat to see how John, Paul and George got together to start the path to music history.