Ocean's Twelve - User Reviews
Thank you for rating this movie!
Read your review below. Ratings will be added after 24 hours.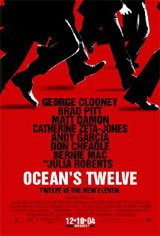 3.81 / 5
User Rating
Based on 9606 votes and 180 reviews
---
Please rate movie 1 to 5 stars
Showing 1 to 50 of 180
October 10, 2011
One of the best sequels ever!
July 18, 2009
Best one yet!!!
October 14, 2006
The problem with Ocean`s Twelve was that everyone was expecting something amazing because the first one was amazing. But this one was just not half as good. The cast was the same, but I just did not like it.
August 15, 2005
Signs that this will be an awful move: 1) The directing makes you seasick. The cameraman must have been having constant seizures throughout the filming. 2) Oceans 11 was already a remake of a Brat Pack movie. Hello? You have the gall to make a sequel to REMAKE? 3) Julia Roberts plays a woman pretending to be Julia Roberts. And she still can`t act the part.
June 16, 2005
So bad! The previews don`t LIE!
May 28, 2005
This movie (if you call it that) is probably the worst I have ever seen. The cast was there but it goes to show even your better actors and actresses can`t save a poor picture. The music and sound was terrible it seemed the loudest when dialoge was taking place. The negative comments here are good descriptions about this so called movie. 64& rate this a (5)? Who is kidding who!
May 26, 2005
Oceans Eleven Was way better than this one but it was still a good movie
April 25, 2005
Good movie, but not as good as Ocean`s Eleven.
April 18, 2005
not bad, not great, the first one was better.
April 11, 2005
Great Movie!!!!!!!!!!! One of the Best! Brad Pitt was great! As usual!
March 16, 2005
its allright
March 05, 2005
This movie was pretty good. Kind of like Ocean`s Eleven. Maybe not all that I thought it would be, but still funny and a few twists and turns. ***
February 26, 2005
Forget the all star cast. The movie itslef was the Star!
February 22, 2005
Oceans 12 was a disappointment from Oceans 11. The plot was uninteresting and the ending was weak. The movie sure didn`t make good use of the talents of the high profile cast.
February 22, 2005
Shamefully Bad, Save your Money and watch a good movie.
February 17, 2005
Only Steven Soderburgh could screw up a movie with this kind of cast!Sloppy camera work, erratic editing and a story that starts off barely plausible and spirals down into a frantic, incoherent mess. Why they would even bother to follow up a fantastic film like Ocean`s Eleven with this typical lackluster sequel is beyond me. Julia Roberts was even worse than usual and when you stand her beside Catherine Zeta-Jones you wonder how she became famous in the first place. Pathetic movie...
February 13, 2005
terrible i love brad pitt but that was one of the worst movies ever made!
February 10, 2005
With all the money they put out on stars in this movie I am shocked at how BAD this was. Usually when I see bad reviews and go see the movie, I really like it...NOT THIS TIME! I have to say this was a huge waste of time and money! I kept waiting for something to happen and then it was over, unbelievably BAD!! Do yourself a favour and see something else!
February 10, 2005
Brad Pitt is beyond hot! this movie was a laughfest, I had a great time watching this show...heck, it was so good I went twice! the chemistry that this all star cast has is so awesome...a definite MUST SEE!!
February 05, 2005
The original movie was so much better, was truly let down by this movie
February 04, 2005
I enjoyed the film very much. The plot was complex, -maybe those who down rated it were`nt smart enough to follow the plot. I thought Julia Roberts pretending to be herself was hilarious. All in all- great.
February 04, 2005
simply terrible. a sheer disappointment. somebody sue these people for exploitation and waste of our time, right from the boom operator to the executive producer!
January 29, 2005
What a disappointment, and very confusing at times. Don`t go, wait for the video!!!
January 26, 2005
it was ok....but not asmuch action then the original and it was more comidy then action.
January 25, 2005
Yikes, this movie was a true letdown. I think the only people that would would like this film would be people that prefer Eye Candy, to actual substance.
January 24, 2005
It was a total let down.The movie never really got to a point seem to go on and on with no real plot.
January 24, 2005
I was expecting this movie to be a good movie, but it was so terrible, I couldn`t stand sitting through this, I wanted to go home, what a waste of money, well the popcorn was good. do not see this movie, yucky.
January 18, 2005
REVIEWING OCEAN`S ELEVEN IS A MUST BEFORE GOING TO SEE. I SAW IT WITHOUT AND DIDN`T LIKE IT AT ALL. I WATCHED THE FIRST ONE AGAIN THEN WENT BACK TO SEE AND I ENJOYED IT A LOT MORE THE SECOND TIME. LIL .... BARRIE, ON
January 16, 2005
Three Words, Bad Bad Bad. The original was quite amusing. the remake had its charm and that`s when it should have ended. This is clearly milking the franchise without having a decent story to go on. Consider this story. The " 11 " in a series of misfortunes have all lost their money and must now reteam for one more crime of the century. Catherine Zeta Jones is a top C.I.A. operative that is tipped off and begins investigating. Have her perpared in a more seductive manner such as she was in Zorro. Next have the team try an unprecedented target such as the Louvre in Paris, for say the Mona Lisa. It just wouldn`t be hard to come up with a better
January 16, 2005
Just plain Awful, The tess/julia roberts things is without a doubt the stupidest thing I have ever seen in a movie. A veteran cast like this should know better than to make such a bad movie. The original rat pack must be rolling in their graves.
January 15, 2005
For the person who wrote this (D). You need a lesson in English also. ""To the person that wrote in: "i disnt saw the movie i feel to sleep" First of all, wow. Learn how to speak and type in english before you submit in something like that. And i agree with most of these reviews on here, this movie is alright but not as good as the first. D"" Don`t knock somebody who wishes to express his views as long as you understand it. As for the movie it`s an Okay!
January 15, 2005
It was a good movie. Just as good as the first one.
January 14, 2005
A horrible movie. I was really disapionted that such a talented cast would produce this ...well waste of time. The homour was corny Julia Roberts/ Tess thing. The movie was also very perdictable...Frank Sintra is probably turning over in his grave. At least the guys where hot,
January 14, 2005
Shamefully Bad, The "tess", julia roberts thing was so stupid it defies description. Save your money for a good movie instead.
January 13, 2005
A Horrible waste of time. An attractive cast in a pointless, uninspired flick.
January 11, 2005
That was the best movie I have seen in years!!!! All those critics who said it was too confusing must have an IQ of 2 because that movie was amazing. Smart, and yes it did keep you on your toes, however isn`t it better then some movies that leave all too simple clues that are illogical and simply expect you to follow along for the ride. This movie puts you in the front seat. If movies like this could win Oscars, this one would definately sweep.
January 11, 2005
I really Enjoyed the Film allmost as good as the 1st one all most
January 09, 2005
Not that good. Fairly boring timewaster, some good stand alone spots, but as a whole, the movie was quite disjointed and hard to follow. (2 stars )
January 09, 2005
The film deviates entirely from its original style, without breaking new ground in an interesting way. The characters have been transformed into pathetic exaggerated parodies of their original incarnations. For the most part, the comedic attempts and jokes are lame and uninspired. Also; for apparently no reason Bruce Willis shows up to play himself and confuses Julia Roberts` character with the real-life Julia, this leads to pointless consequences (aside from a pop-culture aesthetic) that are at best stupid and not at all related to the plot . The reality is, the film poses as ambitious and complex and yet the payoffs defy the rules the f
January 09, 2005
To the person that wrote in: "i disnt saw the movie i feel to sleep" First of all, wow. Learn how to speak and type in english before you submit in something like that. And i agree with most of these reviews on here, this movie is alright but not as good as the first. D
January 09, 2005
Awsom movie!!
January 09, 2005
I enjoyed the movie to a point but it was somewhat of a disappointment when compared to the 1st one "oceans 11." Not as clever as the first one and many of the jokes where not funny, all in all i`d say go see this movie if u have some spare change and time to kill.
January 09, 2005
Can`t say that this was the best movie ever but how can you go wrong staring at a big screen with Brad, George & Matt consistently there. With movies such as The Aviator in theatres now it is a balancing act - great eye candy in Ocean`s 12(not that Leo is hard to stare at) or a true Oscar contender in The Aviator.
January 08, 2005
We really enjoyed this movie. So many twists and turns it keeps you interested.
January 08, 2005
Horrible...The Tess, Julia Roberts thing was embarrassing to watch.
January 08, 2005
I think the first one was a bit funnier but this is still just as good! =)
January 08, 2005
it Was The Best Movie Ever And Way Better The Oceans 11 And That Was One Of The Best Movies Ever
January 07, 2005
I loved this movie, have e little of everything, action, funny and romantic
January 07, 2005
This movie is the worst I have seen in years. The story is extremely boring and completely disconnected.
January 05, 2005
Bad! What a waste of a great cast. Very disappointed.