Oculus - User Reviews
Thank you for rating this movie!
Read your review below. Ratings will be added after 24 hours.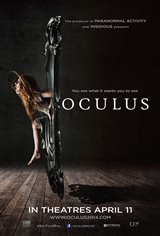 ---
Please rate movie 1 to 5 stars
Showing 1 to 23 of 23
October 22, 2016
The best American horror film since George A. Romero's DAY OF THE DEAD. Very scary and surprisingly sad. A horror masterwork.
May 22, 2016
Finally a different kind of scare!!!
September 13, 2015
The lead, a female protagonist, is very well written. Lots of fun!
July 04, 2015
best horror movie I've seen in years
October 09, 2014
What a pointless, confusing, just plain BAD movie.
August 10, 2014
Great Movie!
August 09, 2014
A complete waste of time!
July 05, 2014
Just about had it...but...not quite there.Creepy tech music makes it better than average.
May 17, 2014
great scary movie. kept me engaged the entire time. ending gave possibility of a sequel. gave it extra stars for originality.
April 27, 2014
Loved the psychological twist into the past messing with their heads. Mind twisting evil. Well done.
April 26, 2014
If you love horror and scary movies and all frightening and disturbing plots DO NOT WATCH THIS MOVIE ....even an episode of Are you Afraid of the Dark or RL Stine's Goosebumps or The Haunting Hour is better than this crap. THEY CALL THIS HORROR?! WHAT WERE THEY THINKING?
April 26, 2014
Really enjoyed it! Psychological thriller that's original. Go for it!
April 25, 2014
Better than its given credit for. It's a good psychological thriller, with less emphasis on the jumpy scenes. Go see it!
April 24, 2014
I like this horror movie. It had an interesting storyline involving the past and present. I thought it was well done. It kept me on the edge of my seat.
April 23, 2014
STUPID!!!!
April 22, 2014
boring, too much talking & flashbacks. very confusing,
April 18, 2014
Crappy. Not scary at all.
April 18, 2014
This was the first horror movie I have ever seen in theatres, and it was the worst I have ever seen. Not only did I laugh during the film with my friend, but so where others in the theatre. Only once did a single girl in the audience scream. This move sucked 0/10. Don't watch it even for free. Waist of time and 7.50& TOTAL RIP OFF
April 16, 2014
Solid and creepy first half of the film is totally destroyed by ridiculous narrative time jumps. Total mess of a movie that most of the audience was giggling at when it was supposed to be scary.
April 14, 2014
found myself drifting off thinking about other things that i needed to do that day,not a very exciting movie,really didn't care about the cast or what was happening to them.
April 13, 2014
This movie is very boring and long. Not that scary. I wanted to leave the theatre after half an hour but stayed for the entire movie hopefully the next hour is more interesting
April 12, 2014
Save your $$$$. Go and see another movie. What a mistake, I should have stayed home and slept. Watch the trailer, it is a lot better than the move and it only costs you a few minutes of your time. One other thing -- time is your most precious commodity, use it wisely, and learn from my mistake to go and watch this movie.
April 11, 2014
awesome movie..scared the living shit out of me