Old School - User Reviews
Thank you for rating this movie!
Read your review below. Ratings will be added after 24 hours.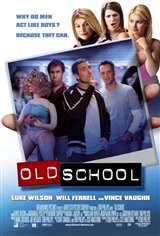 4.27 / 5
User Rating
Based on 3012 votes and 56 reviews
---
Please rate movie 1 to 5 stars
Showing 1 to 50 of 56
June 14, 2006
One of the funniest movies I have ever seen. More comedies need to be like this!
July 11, 2005
That movie was freakin hilarious. I am a huge will ferrell fan and I loved every minute he was on screen. I also loved the andy dick cameo and the whole wedding scene with the wedding singer. Dude you got a freakin dart in your neck...you`re, you`re crazy man!!! Go see it!!!
June 08, 2005
awsome movie
March 31, 2005
Gave it a one star because it only had a couple of funny parts but a horrible plot. Can`t see what the hype was about.
February 14, 2005
What an Awesome Film, me and all my friends still love it after it has been out so long! i See Old School! It`s Glorious!
July 16, 2004
I think that this movie is hilarious!!! it is the best ever!
March 30, 2004
Vince Vaughn is awesome..and what can I saw about Will? lol. The 2 of them together is soo great. How can it NOT be funny?
February 17, 2004
Best Movie since Cable Guy and before Bad Santa
October 05, 2003
i was laughing my head off..."EWWW, HE FRENCH KISSED ME!"
September 03, 2003
I thought this was one of the funniest movies all year!!
August 05, 2003
I thought it was really hillarious. Luke Wilson is better than ever in this movie. Lots of funny things in the movie. I thought that the plot was very juicy with lots of excitment. They couldn`t of chosen anyone better than Will Farrel and Luke Wilson. There were no boring parts or to much talking, it was just right. Luke Wilson is very handsome to so that made the movie great.
July 08, 2003
hillarious!!!!!!! lol LETS GO STREAKING!!!!!
June 19, 2003
it was great especially the part with kraig kilborne
June 15, 2003
Not as great as I was told. Funny in some spots but not a classic. Want to see a real funny movie see Private Resort with Andrew Dice Clay!
June 14, 2003
very funny movie but can get kinda childish even if i liked it i give it a 4 and a half star i recomend it :D
May 12, 2003
by far one of the classic comedies. Probbably the best since dumb and dummer
May 08, 2003
I havent` laughed that hard since There`s Something About Mary!!!!
April 29, 2003
Hilarious. Highly recommended!!
April 26, 2003
Dirty, and yet bloody hilarious. Jolly good show.
April 21, 2003
This was the funniest movie i have ever seen!! Trust me, go see it
April 18, 2003
i thought it was so funny. if i could i`d go see it again
April 15, 2003
it was so funny , i loved it
April 15, 2003
Did I ever laugh. If peeing your pants is cool, then I`m Authur Fonzarelli!!
April 08, 2003
It was hilarious. Full of comedy and made me laugh through the whole movie. A definate good movie to see.
March 18, 2003
I thought this movie was SO funny! It made me laugh really hard, and i needed that.
March 14, 2003
Not bad. Some very good jokes but the plot was weak.
March 14, 2003
old school was good it was funny in a stupid kind of way
March 13, 2003
stupidly funny movie. they could have made it more funny considering the actors reputation. i must say i cracked up big time. mmmmwwaaaaahahhahahahhahahahhahahah. yeah yeah.
March 13, 2003
ha ha it was reat and funny! yuck yuck yuck :>)
March 13, 2003
funny movie! even made potentially sad and sappy storylines laughable!
March 12, 2003
Really Funny ! Perfect movie to go see with the guys .
March 11, 2003
OMG this movie wuz kinda stupid but it wuz hillarious!!you will definatily like this is u like a night at the roxbury!!!u will LAF TILL U CRY!!
March 11, 2003
GREATEST MOVIE EVER!
March 10, 2003
greatest movie in the world. its stupid funny.
March 06, 2003
Based on my high expectations of Will Ferrell, I have to say I was pleased with his performance. The three main characters blended well together, but I have to say that this movie is not as good as I expected. It would be better if you didn`t know the plot before viewing the movie.
March 05, 2003
funniest movie i have ever seen
March 05, 2003
I think that this movie is very hilarious!!! I haven`t busted a gut like this in a long time. There isn`t much nice,funny movies. They are mostly GROSS!(ie.scary movie...)
March 05, 2003
This movie is one of the most funniest movies I have seen in a very very long time.
March 04, 2003
i laughed for the hole movie. will farel made me cry cause i laughed so hard
March 04, 2003
I loved the movie, it was very humorus.
March 04, 2003
It was not a good movie.
March 04, 2003
This movie was pure jokes. I haven`t seen a movie this funny in a long time.
March 03, 2003
This movie is all about being `Dawg`... simply `Dawg`.
March 03, 2003
This movie made me laugh out loud and i usually don`t... it was so funny and i will see it again for sure. Make sure you don`t miss it!
February 28, 2003
Amazing
February 26, 2003
This movie was the worst comedy movie I have seen yet to date. I think that they made fun of things that were not to be made fun of I feel that it was stupid funny and DO NOT recomend it to others.
February 26, 2003
jokes guy, jokes
February 26, 2003
This Movie is a "classic"...A MUST SEE!
February 25, 2003
this movie is pure jokes. OMG, the combination of the king Vince Vaughn with Will ferril is too much! The old school soundtrack with metallica and 80`s tunes was so funny im still laughing. being a fan of movies like Swingers, and shows like SNL, i found this movie hilarious. me and my brother had high expectations and the movie didnt let down one bit!