Oldboy - User Reviews
Thank you for rating this movie!
Read your review below. Ratings will be added after 24 hours.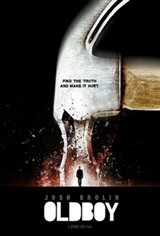 3.41 / 5
User Rating
Based on 3934 votes and 30 reviews
---
Please rate movie 1 to 5 stars
Showing 1 to 30 of 30
December 12, 2013
Actually this is a remake of an Indian movie called Zinda (2006) (with Sanjay Dutt
September 19, 2006
This was a horrible, disgusting, nasty movie. I just wasted two hours of my life.
November 25, 2005
The BEST movie ever made. Simply stated! Acting perfect, shots incredible, story spell binding, and twist nothing like anything anyone has ever seen! A MIRACLE OF A MOVIE!
May 22, 2005
This movie is not ridiculous... if you don`t like subtitles, don`t go to see a foreign film... duh!!! common sense? Anyways, this movie was awesome!!!!!!!!!!!!!
May 22, 2005
To the racist guy that said this movie is ridiculous and said that this movie is junk and passes for "art" in korea... your brain is too small to understand this movie. You think one movie represents one country? Don`t talk about a country if you don`t know anything about it. Korea happens to be a really nice country. Much more updated than here. Like I said... your brain is too small. You need to go to school.
May 22, 2005
This movie is really good. It`s a little wierd, but atleast it`s not boring. The acting is definately good. This movie should be seen atleast once.
May 17, 2005
Psycho Good!! WOW!! AMAZING!! Watch it while you can!! It will blow your mind!!!!
May 14, 2005
Trash. Absolute rubish
May 13, 2005
just great..... i wanna watch this movie again....
May 11, 2005
best movie in the world...
May 10, 2005
Wow. Amazing movie. Incredibly well written and acted. Choi Min Sik is great as usual (see Chihwaseon aka "Painted Fire" for more of him). Although Oldboy is 2 years old, it is great to see Korean cinema coming to North American theaters. Let`s hope more are brought in the future. [Note: "3-Iron" hits select theaters May 27. I haven`t seen this one but it should be good.] Two thumbs up!
May 07, 2005
This movie just became one of my favourite movies of all time
May 06, 2005
i decided to watch this film after seeing all these comments on how great the film is. now, i`m adding my own comment on how great this film is! pure cinematic genius! i love this movie and can`t wait `till it comes out on DVD. I`m definitely going to add this to my DVD collection. This was my first venture into South Korean films and now i`m interested in more.
May 01, 2005
Excellent movie - a must see. So good as a matter of fact, that we`ll see it soon converted in a holliwood flick starting brad pitt or other cute kid :P
April 29, 2005
goooooooooooooooooooooooooooooooooooooooooooooood
April 26, 2005
The best of the best movie!
April 25, 2005
The best movie I never see it before.It was so awesome~~
April 21, 2005
Korean Pride!! woo kick ass movie although I saw this movie before it even hit the movie theaters.. lol
April 21, 2005
this movie..is totally shocking.~!! twisted ending... that`s unpredictable..!!!!!
April 20, 2005
Ridiculous, quasi-intellectual, sub-titled, gory "honour & revanche" junk that probably passes for "art" in Korea. Don`t bother with this nonsense. You`re better off picking a theater by the number.
April 20, 2005
It`s so great!!
April 20, 2005
amazing and shocking the best movie i have ever seen this year
April 19, 2005
Mind-blowing....One of the greatest flicks that I`ve ever seen. Amazing actors, stunning plot. A must-see.
April 18, 2005
the asian pulp fiction. shocking, astonishing, gruesome, awesome a must see!
April 17, 2005
Amazing. I had no idea that Korean films were this good! This is not one of those "boring" foreign films. Very excellent movie.
April 16, 2005
one of the best films of the year!
April 15, 2005
guys. you MUST watch this movie. It is the best revenge flick ever. I can`t, or rather won`t, say much about it because i don`t want to ruin anything. It`s best to watch this film without knowing much. Given the choices of what opened this week, i recommend this one without a flinch. Be warned. This film is rated 18A for a reason. You rarely see any 18A movies in the theatres these days.
April 15, 2005
Yep! This Movie Totally Rox,When u watch Make Sure u be Mentally and Physicaly Perpared.. U will Won`t Know What`s going to Happen Next. ! Must Watch! 5/5 !
April 15, 2005
omg i can`t believe ppl are not giving this movie a 5 star~ itz an amazing movie~ a bit phycological itz very good movie plz watch