Operation Finale - User Reviews
Thank you for rating this movie!
Read your review below. Ratings will be added after 24 hours.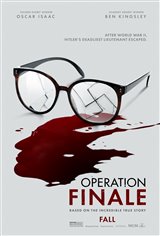 ---
Please rate movie 1 to 5 stars
Showing 1 to 20 of 20
February 26, 2019
Beautifully directed, even just the opening titles, Brilliant !
October 11, 2018
Why is it not playing in Toronto? Our friends and family would love to see it. We are a proud city of Toronto Film Festival, but can't watch a movie everyone is raving about?...Shamefull!
September 30, 2018
Can't Review it. Not playing in Toronto, Ontario Why??? Very disappointed it is not playing in Toronto. Wonder why not.
September 15, 2018
I wouldn't know since this film isn't showing in Canada's biggest movie market (TORONTO). Very odd...hmmm. I wonder why?
September 12, 2018
What did I think about this movie....I plan on seeing it again. It had me on the edge of my seat. Acting was wonderful. I remember quite a bit about the story as I am a senior citizen. I rate this film at least a 6.
September 12, 2018
True story! Great actors! Well done!
September 09, 2018
Great movie! Showed that Eichmann had no redeeming virtues. He was pure evil through and through. The Holocaust should never be forgotten. Historically accurate.
September 08, 2018
Needed a bit more backstory, but other than that well done action movie of secret mission to apprehend a Nazi war criminal.
September 08, 2018
Historical accuracy and an important reminder to never forget the victims of the Holocaust.
September 07, 2018
It's a must see movie
September 07, 2018
Brilliant! I have been studying the biography of Eichmann for nearly 30 years and consider myself something of an expert on this man. I was a bit skeptical at first if the film makers would get their fact correct and present Eichmann accurately. They did this though I wish they had not passed over Eichmann's years from 1945-1960 though the film makers were pressed on time. Not since Ghandi has KIngsley played such an outstanding role.
September 05, 2018
A good movie, at times slow moving but great acting by Kingsley and very good costumes as well as props and supporting actors. My only disappointment was that Eiichmann was portrayed not as the truly evil man he was. If I recall he had made a statement something like he would laugh in hell having killed 6,000,000 Jews......not the portrayal I saw of him.
September 04, 2018
Acting (especially Ben Kingsley) was outstanding. The story was very compelling and well told. I remember as a kid watching the trial on TV...didn't understand much of what it was all about (8 yrs. old) but I remember realizing it was something VERY important! Anyone who would thoughtlessly call someone else a Nazi as a pejorative because you disagree with their politics should have to watch this movie. Know your history...REAL history, not just PC garbage!
September 04, 2018
Acting and storyline was outstanding!!
September 02, 2018
Excellent dramatization of the true story. Ben Kingsley could score another Oscar nomination for his portrayal of Eichmann.
August 31, 2018
I love WW II movies and documentaries.
August 30, 2018
Exciting story.
August 30, 2018
Watched the trailer and thought...looks like a great movie. Found it to be boring...slow moving...all talk..no action. If you enjoy movies that will lull you to sleep, this is one for you !
August 29, 2018
Incredible! You won't want to miss this film!
June 29, 2018
HELLO GOOD AFTERNOON MOVIE FANS . THIS MOVIE OPERATION FINALE IS VERY GOOD MOVIE . AND I JUST GIVE THIS MOVIE FOR 5 STARS AND THANKYOU VERY MUCH .