Orphan
Thank you for rating this movie!
Read your review below. Ratings will be added after 24 hours.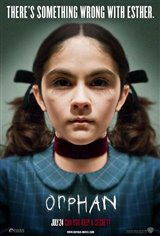 4.04 / 5
User Rating
Based on 430 votes and 124 reviews
---
Please rate between 1 to 5 stars
Showing 1 to 50 of 124
January 13, 2017
The seduction scene put it over the top!
August 18, 2010
I love this movie and love the actors including Ester she is so cute.
July 28, 2010
I was really impressed by this film and how well written it was and how well rendered the characters were. The deaf daughter, the son who's none too fond of a new sibling, the wife recovering from both a miscarriage and alcoholism, the husband of dubious fidelity all provide a strong backdrop for Esther's seemingly unmotivated evil shenanigans. The twist at the end of the film is a really really good one, and I get so worried everytime I talk about this movie with someone who hasn't seen it that I'll give it away. I'm anxious to see this movie again, knowing how it ends, and see how the pieces fit together all through the film. Esther is such a great villain, and I found it much scarier when
January 24, 2010
I really saw the movie and I gave it a 5 star because there is no movie like this with a very good twist at the end.
December 13, 2009
This is one of the best movies I have seen in a long time!!!
December 11, 2009
Firstly I would like to say that to all the people that gave this movie bad reviews because they didn't like the storyline, why the hell did you go see the movie. Secondly Unlogical is not a word. Thirdly people who say that this is a waste of time and bad were probably texting during the movie and only looked up when the scary music came on, and thought what's happening. Fourthly to the person who spent thirty dollars at the theatre please tell me you either failed grade 1 math or bought tickets for three people because the most expensive price for one ticket out there is ten ninety five. To conclued this movie was amazing and should be viewed by fans of horror/thrillers
December 11, 2009
all you people that didnt like this movie is crazy. you guys do not know wat a good movie is obviously, like yall can do better. this movie was good. (sarcastically) lets see you do better.
December 11, 2009
this was a great movie i loved every bit of it and i couldnt take my eyes off the screen
October 22, 2009
I liked this movie, there was suspense throughout the whole movie!And I would have never guessed the ending.
October 12, 2009
wow a good movie finally
October 01, 2009
Twist ending was great!
September 17, 2009
wow something NEW!
September 07, 2009
This was a great movie, always kept me in suspense. At some part I was actually holding on to my bf' hand and in one part I actually cried becauwse I thought Esther actualy killed the boy. I also liked how they involved a deaf and mute girl and showed how the family interacted with her perfectly fine. The story line was a good one. If you like scary movies, see it!
September 05, 2009
3/5 movie was kinda long, it had some funny parts, ending was ok
September 03, 2009
THIS MOVIE IS AWESOME !!!1
September 03, 2009
So many movie are the same can we count how many movies we in that show 1. Omen 2. Good son, 3. the unborn. That's only three I cab think of but I am sure there is more.
August 30, 2009
i compleatly loved this movie it has it's comidy and its horror and an Amazing ending
August 29, 2009
Boring, waste of my time, didn't wait to watch the surprise ending, although not much of a surprise, from what I picked up on her. Another story line should be the wife killing the wimpy husband! Don't waste your time, as I did.
August 22, 2009
orphan is one the best horror movies of 2009 its funny,scary,creepy as hell helerious freeking awsome oscar worthy.
August 16, 2009
My friends and I actually screamed here and there. The ending is something you wouldve never expected! A MUST SEE!
August 12, 2009
this movie was amazing went to see it with my friends we were all at the edege of our seats. The acting was really great this movie is a definate must see even thought the ending was a litttle wired the movie was still awsome:)
August 11, 2009
This is an excellent horror movie. I am big buff of horror movie. But most horror movies I've seen are stupid and childish. But this one "Orphan" seems somewhat different and outstanding over many others. I just like it so much. I especially like its ending, so surprising and out of my expectation. Thanks a million for all the actors playing in this wonderful movie. I would like so much to see a Orphan Sequel #2 or even Orphan Sequel #3, if the maker wants to continue. Thanks again!!!
August 07, 2009
this is a pimp movie i sugest everyone goes it has a shocking ending everyone must see
August 06, 2009
This is a remake of a movie called "What's Wrong with Esther". I did not realize this until the end which I remembered. I found this version quite good, infuriating at times due to the stupidity of the husband. Good suspense.
August 06, 2009
Simply Amazing, I loved it.
August 06, 2009
An Excellent movie, with amazing acting. Good for Lovers of horror/thriller, a little gore!
August 05, 2009
not only was it creepy and suspenseful, it was a great movie, with a good twist.
August 04, 2009
Creepy to the max.
August 04, 2009
A good twist at the end... one of those films that make you say "ahhhh?" or "come-on!". Mild fights with the typical sudden appearence of people in mirrors & behind doors. Very creepy kid....
August 02, 2009
Soooo scary, I loved it...great actor
August 01, 2009
WOW what a scary movie, it was great!!!
August 01, 2009
awsome movie ! so didn't expect the ending !
July 31, 2009
I really didnt enjoy this movie. I new some of the stuff was going to happen, except for the suprise ending which is messed. I mean, movies like this, its been done already many times.
July 31, 2009
Great movie and great acting by all. A must see movie!!!
July 31, 2009
excellant thriller!!! Very well done
July 31, 2009
1 Star....horrible. Contrived and predictable (aside from the laughable plot "twist/reveal" near the end of the movie.) So many plot holes (Who knew people weren't watched closely by hospital staff in ICU? Who also knew that cellphones can be turned on now in hospitals and nurses even leave them conveniently beside your bed? I also guess that 911 has a 25 minute delay in response time?) So many parts of this movie made people in the theatre laugh out loud...and they were not intended to be funny. Save your money...this one is a dud.
July 30, 2009
This is one of the most disturbing movies I have ever seen. But it was incredible I would recomend it to horror and thriller lovers as long as they can get past some gross scenes they will be fine NO ONE UNDER 14 AT ALL
July 30, 2009
SUPER SCARY!!! but loved every bit of it. One of the best horror films so far. Hope it makes it to the classics list!
July 30, 2009
Loved it! Kept me on the edge of my seat. One of the best horror/thriller movies I've seen in a while.
July 30, 2009
Great must see
July 29, 2009
pretty good movie... go see it!!
July 29, 2009
Entertaining. This girls acting was AMAZING. Very convincing.
July 29, 2009
great story, more of a thriller than a horror movie
July 29, 2009
awesome movie, creeped me out beyond belief. The girl that plays Esther is great and the movie itself keeps you on the edge of your seat the whole time.
July 29, 2009
Great Thriller movie. Good storytelling, acting, and great climax.
July 28, 2009
This movie was amazing! She actress who played Esther was fantastic and I was scared the entire time! Definitely worth watching.
July 28, 2009
Absolutely loved this movie. It's a "Buyer". Thought it would be another one of those movies where you see all the good parts in the previews - Noooooo way! Never jumped and/or sat on the edge of our seats during a scarey movie - and we see them all! This movie was PERFECT!!!!!
July 27, 2009
Very twisted and shocking, it gave me nightmares for a few days.
July 27, 2009
Awesome-This actress is fantastic, and will defintely scare you.
July 27, 2009
another horror flick.. the ending was a surprise