Our Idiot Brother - User Reviews
Thank you for rating this movie!
Read your review below. Ratings will be added after 24 hours.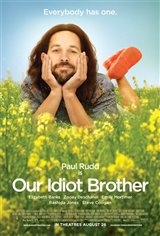 ---
Please rate movie 1 to 5 stars
Showing 1 to 50 of 66
June 11, 2012
not paul rudd's best work but funny how naive and gullible he is.
April 10, 2012
idiotic movie. not many laughs.
February 01, 2012
i felt like the bigger idiot thinking this movie was worth watching.
December 27, 2011
decent comedy
December 22, 2011
Not nearly as funny as I had hoped....a bit lame
December 13, 2011
A tad boring...at least it helped me fall asleep!
November 25, 2011
Paul Rudd outdid himself in this hilarious comedy about a man with unwavering sincerity. So boldly honest and realistic family matters,about how things can easily get convoluted, but love conquers all.
November 24, 2011
If you suspend your expectations from the previews, this movie is actually quite good. Interesting characters and great story
November 24, 2011
Not to funny,almost boring.
November 23, 2011
This movie was mildly entertaining. Paul Rudd is a great actor. I just wished for a better script.
November 21, 2011
Not as good as the trailers led me to believe.
November 20, 2011
funny... paul rudd is great
November 19, 2011
Good comedy! Some good laughs! Good acting!
November 19, 2011
Pretty believable performance by Rudd!
November 17, 2011
Not Rudd`s best but still...it`s Rudd!
November 15, 2011
A good movie without violence or horrific scenes.
November 14, 2011
Another comedy about family disfunctions, but a good one.
November 14, 2011
Just not that funny
November 12, 2011
Lots of families have someone like this.
November 12, 2011
Paul Rudd is outstanding in this film, which has some very funny moments. The film sometimes struggles between art-house quirk and mainstream comedy, and its ending feels tacked on, but it's still a fun ride.
November 11, 2011
Good characters
November 10, 2011
It shows that whatever you do still family loves you! Family is family!!!!!
November 10, 2011
It was a pretty good movie.
November 09, 2011
Nice to see a movie with a genuine person in it, who believes in people, someone who has complete trust, unconditional love and who is honest. Too often movies focus on the liars, cheaters and the rottenness of humanity, but this movie shows you that there are some people who grow up with that childhood innocence of honesty before it has the chance to get beaten out of them by the pressure of living like 'everyone else' in this, not so cool world. I would love to have a brother or a friend like this guy. Oh, and I liked the flick, funny and not full of violence, sigh of relief.
November 03, 2011
It was just ok Slow
November 03, 2011
this was a funny show, as well it wasn't a mean spirited show. i know i could relate to the story. it was meant to show people not to be in such a rush & enjoy today.
November 03, 2011
Very Sweet, Sincere and very funny!! A must see!!
November 02, 2011
don't we all have an idiot brother this reminds us of
October 30, 2011
A very funny movie.
October 30, 2011
Funny, touching.
October 29, 2011
Funny and more geared to guys.
October 29, 2011
Good movie, worth taking a look at
October 27, 2011
Sweet and funny
October 26, 2011
Guy acting very stupid!
October 25, 2011
Paul Rudd has still got it. Very funny.
October 23, 2011
quirky and funny with the right balance of pathos, ethos and stupidity.
October 23, 2011
I expected to be widely entertained, however, I found it to be only mildly humourous. Perhaps the trailers oversold the plot!
October 23, 2011
Unexpectedly enjoyable movie.
October 23, 2011
this movie is not as hilarious as hangover and all those popular comedy flicks but its definitely worth watching again because it talks about family and his love for his sisters
October 22, 2011
Good Movie
October 22, 2011
I thought this movie would be funnier based on the trailer. It's still not bad if just to see Zoey Deschanel.
October 21, 2011
The movie is goofy, but it is nice to watch a movie that doesn't make you think very hard and is just for fun.
October 21, 2011
Definately not worth the money, it was stupid, and not even funny stupid. However it did have a good theme.
October 20, 2011
Some funny bits but not the gut buster I had hoped for...still a good movie to see though.
October 20, 2011
I really enjoyed the movie, Paul Rudd, and the message!
September 24, 2011
A little disappointing. Thought it would be funnier. They could have done so much more with it. I gave this movie a 3 star as it was just okay.
September 14, 2011
Drawn out and extremely funny.
September 13, 2011
extreamly drawn out and not funny.
September 10, 2011
Comedy with some heart, and less vulgar (change of pace) than some of the other comedies this summer. A bit more original as well. We should all aspire to be so honest.
September 10, 2011
Not the worst movie ever but jeezz can it be any slower. Some funny parts but again point less plot. Rudd is still one of my favs.