Pacific Rim - User Reviews
Thank you for rating this movie!
Read your review below. Ratings will be added after 24 hours.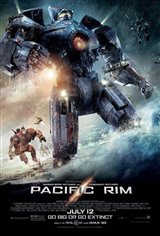 ---
Please rate movie 1 to 5 stars
Showing 1 to 49 of 49
December 04, 2016
A chiched, illogical mess. Even fans of FX films should be disappointed, as all the fight scenes are set during rainy nights, making this visually incomprehensible. It's time to tell the truth about Del Toro: his work is mediocre at best.
October 20, 2014
Won't appeal to people who are not already into this type of stuff. I don't understand why the robots, that do most of their fighting in water, look humanoid? Also why do they do they mostly do hand to hand combat when guns are available?
October 25, 2013
Boring. Good special effect but thst's it.
October 21, 2013
Thank gosh I listened to a few friends. Totally predictable and a mesh of Independance Day (connecting to the aliens and seeing their plan), Iron Man (but in giant form), and Godzilla. The creatures were unique but why, oh why, did the giant iron men have to wait for their big guns to fire and hope they kill the creature?? The only thing that worked underwater and everytime (strangely as a last resort) was the swords!! If you have over 2hrs to kill mindlessly then go for it. BAD ACTING to the max.
October 20, 2013
This movie kept me on the edge of my seat, it was jam-packed with action, and I just can't get enough! I can't wait to see if another movie comes close to topping this one in the next couple of years - A difficult battle indeed.
October 18, 2013
awesome movie, the haters here just don't understand what a good movie is. This movie rocked and I'm glad to own it on blu ray dvd combo pack. Hell, if you want a bad movie, go watch the purge or the bling ring, those are the worst ever, boring and stupid. Go Pacific Rim! I love Charlie Day! He's hotter without a beard!
October 17, 2013
Probably the worst movie i have seen this year. the storyline didn't make any sense and Jurassic Park had better visuals than this. This movie was a complete waste of time. So disappointed!!
September 16, 2013
The movie was original in its action and the action never stops If your looking for an acadamy award winner this isn't it if your looking for fresh and dynamic what a movie.
August 25, 2013
Disappointing.You must be kidding. Japan's cartoon into movie.
August 11, 2013
An unexpected surprise. Suspend disbelief for 2 hours and become a 10 year old boy with a toy robot in his hand again. Big, brash and fun, with just enough plot and background to satisfy, good pacing and a nice mix of characters. Special effects are beyond reproach and the sets are massive and detailed. Tons of fun. Don't think too hard, don't look for plot holes, grab some popcorn and watch monsters get the crap kicked out of them by giant robots. No really offensive language or love scenes to make parents feel awkward either. This film should be seen on a big screen. What a romp!
August 10, 2013
As a pure action flick, I would have given it the full 5 stars. As a regular movie, however, the acting is simple and appropriate, but the plot and characters are somewhat formulaic, so it offers few surprises. So I am only giving it a 4 star rating.
July 29, 2013
This was the best action move I have seen. Makes transformers look like tele toon. This movie is a must for those that like robot vs monster action. I can't wait for pacific rim 2
July 28, 2013
Meilleur film de l'anne.
July 24, 2013
Pacific rim around the toilet going down the pipes with my money ( i don't know how people rate this a 4 star ) boring and specially a disappointment waiting a whole year to see this, a real shame too because with a real good idea coming like it was from a Japanese cartoon and also good visuals, but failing to deliver in many places as it should of been better specially coming from Warner bros, thanks bro for nothing as i should of rented this flick instead, blahhh :P
July 23, 2013
amazing visual and special effect, i was in awe of how we could make movie like this.
July 23, 2013
What a lousy movie, the acting sucked and dumb story line
July 23, 2013
It was great !! action pack, I think one of the best movies in the genre...
July 21, 2013
The only good thing about this movie is the action, so if you are going to see if you may as well pay extra for 3D
July 21, 2013
An extraordinary film that was not so pretentious to play a monster vs robot theme too seriously. The humor made all the impossible stuff digestible. No other director could have pulled off this plot theme so wonderfully. Not to mention, a spectacular thrill ride. Thank you Del Toro!
July 20, 2013
It was ok...kinda loud and headache inducing, but I was expecting that. Pretty much like watching Transformers meets Godzilla. I like the 'daytime' creature shots (what few there were) and wish they would have done more of those. The nighttime fight scenes in the rain were hard to follow in some parts. Oh, and I liked the girl, she was really cute! So, Hollywood...we all get that you can do amazing CGI, but please, can we see something different now?? Thanks!
July 20, 2013
lots of action. special effects are great!
July 19, 2013
For fans of kaiju and mecha this is gonna be one of the best movies you will see, just know go in say "I wanna see giant robots fighting giant monsters!" and you will in no way be disappointing
July 17, 2013
bored as hell...I dosed off a few times and my friends have to wake me up and that's how bad it was.
July 17, 2013
Ironman meets Godzilla via Independence Day... A fairly entertaining movie, with cool visual effects.
July 16, 2013
It is ok for kids, for grown up it was boring.
July 16, 2013
Not that great. Pretty boring, actually.
July 16, 2013
A damn fun original summer film amid all these sequels. The fact that grown-ups 2 made more money last weekend is an embarrassment to the movie going audience. WTF is wrong with you?
July 15, 2013
A straight up unapologetic summer adventure popcorn epic - awesome and a ton of fun ! Superb visuals, and believe it or not, good acting from the leads with a solid plot. Well done Mr. Del Toro ! :)
July 15, 2013
Great story, great characters and great giant robot vs. giant monster action! Really enjoyed this and if you like a great action flick, go see this!
July 15, 2013
I too enjoyed TO CATCH A THIEF! You can't go wrong with Hitchcock!
July 15, 2013
Great Graphics, Its was Like a Power Rangers Movie lol. Del Toro is one of the best directors and he didnt disappoint with this movie
July 15, 2013
I just hope the video game looks as much like a video game!
July 15, 2013
Quite possibly the worst movie ever made with atrocious acting and cumbersome plot.
July 14, 2013
Great movie! Loved the 3D, must be seen in the theatre. If you love action with Monsters vs. Robots (Japanese movie). You will love this movie. Guillermo is a genius, I was on the edge of my seat with all the action scenes. The story was original and great acting. I will see it again for sure.
July 14, 2013
Best video game of the year so far!
July 14, 2013
the best action movie I have seen in a while, very entertainin. Solid story, acting and action sequence. I had more fun watching this than man of steel!
July 14, 2013
Epic fights and story was pretty good there where some plot holes that make you go really that just happend but overly great flik and would buy it Blue Ray
July 13, 2013
Neat idea. Nice visuals. Bad acting. Worse dialogue. No good looking women. Nearly unbearable. Thank God I didn't pay for 3D.
July 13, 2013
Lots of action & also a pretty decent story about the characters. It's dark & seeing it in 3-D does make it somewhat more difficult to see details. The fights start right away so you don't have to wait long to see the Kaiju (the monsters) You can see where they spent the $190 million. A mindless summer popcorn movie.. kind of fun! I'd give it 7/10!
July 13, 2013
This movie is exactly what the trailer portrait the movie to be. Shut your mind down, get a bag of popcorn and enjoy.
July 13, 2013
Better than any movie you're comparing it to.
July 13, 2013
Very entertaining, didn't take itself to seriously but I completely enjoyed it.
July 13, 2013
Great, awesome , wow, this is how a summmer action movie should be.
July 13, 2013
On Sunday I turn 60. For two hours on Friday, watching pacific rim, I felt like a 9 year old. What a blast!
July 12, 2013
well done, action scences are pretty cool...fun summer movie... although i left thinking why didn't they do this,or that... but still fun and enjoyable.. and why do they always get british actors and make them play american..why is it always americans that have to save the worlds? why could they not be british? just a thought.
July 12, 2013
One of the best summer movies this year Hands down! The story draws you in, and the action holds you through the length of the film. Great fun!!!!
July 12, 2013
Amazing ansd visually spectacular!!!
May 17, 2013
I cannot Believe that at this day and age I would be one of those lucky souls witnessing the greatest sci-fi Movie ever made. Hands down Pacific rim has answered all the questions humanity had what if giant monsters attacked earth. What shall we do? Very well done Del Toro. You are the best!