Pain & Gain - User Reviews
Thank you for rating this movie!
Read your review below. Ratings will be added after 24 hours.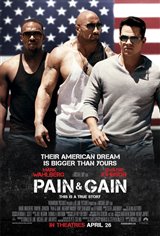 ---
Please rate movie 1 to 5 stars
Showing 1 to 50 of 57
March 30, 2014
Yolanthe Cabau hot and sexy!
October 25, 2013
It was good. Not excellent but good.
September 30, 2013
not very good - other than THE ROCK, who was great!
September 12, 2013
Hilarious ! Excellent movie :)
September 09, 2013
very dissapointing movie....The Rock was funny, but the movie was silly and dumb
July 11, 2013
Hilarious from start to finish
May 27, 2013
this movie was great, i had no idea i never even heard of it, i just wanted to see a movie so took a chance, im glad i saw this one, really good and i thought the acting was great too, one reviewer said he didnt think the rock made for a convincing christian, maybe so, but i think he made a convincing coke fiend trying to get over it by being a christian. plus i think it was meant to be somewhat comedic in some aspects. i really liked this movie, go see it and decide for yourself.
May 26, 2013
Save your money. I forced myself to stay longer but could not take it anymore by the end of the movie so I just left. Bad story, bad acting and just plain boring movie.
May 14, 2013
Initially a pleasant enough watch, but toward the end I found that it was based on a true story and my attitude shifted. Not once did I wince at the torture scenes (because I thought it was humorous caracature), Dwayne Johnson did not make a very convincing "Christian" and not once did I think this was portraying reality. Thus I would have to rate it very poor acting but a pleasant enough watch if you don't think very hard.
May 13, 2013
I was disappointed in the script; can't believe the good actors and the poor script. sorry guys it just didn't do it for me!
May 13, 2013
it's a TRUE story !
May 13, 2013
i loved it !!
May 12, 2013
Rate this movie as a minus 1. One of the worst!
May 11, 2013
i loved it from start to finish.
May 11, 2013
Don't listen to critics, be you're own critic. THIS movie was AMAZING !
May 10, 2013
This would be a 0 star if I could give it. I expected a bit of a comedy / action film but not the gore, it's a crappy B horror pic. We walked out , give me my money back please!
May 10, 2013
Hated it, it was like I paid to torture myself. Left the movie in the middle of the show
May 10, 2013
it went from ok to bad very fast
May 07, 2013
TOTAL WASTE OF MONEY!! A few laughs but otherwise demented a nd not to mention STUPID plot. Rather amusing it says its a true story..who would actually do that????
May 07, 2013
High gore and violent content. Not what I was expecting from the Rock. True story? What a sad statement on humanity. Would not recommend.
May 07, 2013
I waste of time! not to mention money!
May 07, 2013
I would like to give it a zero but that's not an option. one of the worst movies of all time. great actors wasting your time on crap! the theater should have a policy of returning your money when the movie is this bad!
May 06, 2013
Sucks don't waste your time or money
May 06, 2013
"Worst movie EVER !!! Disgusted that it was even thought of. One of the only movies I've ever left." I 100% agree with this poster!! What actor tells a group of Children, that when a Woman walks by, that they can have "that", when they grow up? FIRST time I've heard of that??? 0 stars!! I wish there was 0 stars! I've lost all respect for Mr. Wahlburg. One star is for the Wedding.
May 05, 2013
excellent crazy story of low-brow crimes that needs to be told, and plenty of lessons for those who would contemplate the deluded acts of stupidity these three perpetrated. life is truly stranger than fiction. worth the see.
May 01, 2013
Surprisingly very entertaining, however a bit too long.
May 01, 2013
not worth the hype
April 30, 2013
Worst movie EVER !!! Disgusted that it was even thought of. One of the only movies I've ever left.
April 30, 2013
I'm No Judge, Jury, Executioner.. I Say This Because Most People Think By Judging A Movie Like This One Is Poor Or Whatever Their Thoughts May Be? Well In My Own Opinion I am A Fan of Mark & The Rock When They Make Good Movies.. So For Those Who Are About To Write Something About This Aaaaaawesome Movie Keep It To Yourself...
April 30, 2013
This was a good a movie! Sadly this movie and true story go to show that people are willing to do whatever it takes to get that "american dream" It was very entertaining!!
April 30, 2013
I thought this was a terrible movie. I lost a lot of respect for Wahlberg that he would waste his time with such a poor movie. The beginning was kind of funny but then it just got worse and worse. The most shocking part was that people took their children to see it.
April 29, 2013
A little slow at times but an alright movie on the whole. Anyone who gave this movie 1 star is partially retarded in my opnion.
April 29, 2013
some people laugh at anything..
April 29, 2013
I would laugh out loud at times and would have to remind myself this was a true story - the humour - very dark humour was surreal!!! A really great job in keeping things alive from the opening scene on, especially when you know they are all going to get to caught in the end.
April 29, 2013
Hilarious and entertaining! I had so many good laughs from the funny 1 liners. Don't understand why so many hated this movie. What were your expectations? Based on true events and you can't make this stuff up! Good job mark Walberg and The Rock! I totally recommend this movie for anyone down for a few laughs and entertaining movie.
April 29, 2013
You can't go wrong with a Michael Bay movie.
April 29, 2013
This is the first time I have ever walked out on a movie before it was finished. I pity the stars who were in this vulgar and disappointing film.
April 29, 2013
omg.. i contributed to this being the best movie this weekend by goin.. BRUTAL MOVIE
April 28, 2013
Probably one of the worse movies I've ever seen
April 28, 2013
Awsum movie! An early contender for next year's Oscars.
April 28, 2013
Garbage, horrible acting as well. Don't waste your money or time!
April 28, 2013
Not Sure why Soooo Many People are hating on this movie, This movie was quite entertaining and the laughs were pretty good as well. If you were expecting a oscar winning movie from Michael Bay you dont know your Sh!T. H8ters gonna hate..
April 27, 2013
Worst movie ever. Just wasted 2 hours of my life that I'ii never get back! The Rock owes me $9.95!
April 27, 2013
This movie was amazing go see this movie
April 27, 2013
aweful aweful and some of the worst acting ive seen in some time!
April 27, 2013
a true story !! you can't make up this stuff. group of idiots ,in over their heads. lot of funny moments, thou. not for everyone , but worth it.