Paranormal Activity - User Reviews
Thank you for rating this movie!
Read your review below. Ratings will be added after 24 hours.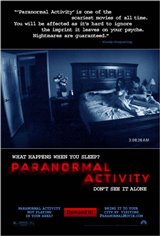 3.44 / 5
User Rating
Based on 617 votes and 190 reviews
---
Please rate movie 1 to 5 stars
Showing 1 to 50 of 190
April 30, 2011
I am so confused since i have watched the second one, where kate is in it. Come on people if you get shot you would end up dead, at the end of the first one where kate gets shot by the police and she dies. So how on earth would she be alive, for the 2nd and 3rd one. Yes its freaky.
July 15, 2010
First of all, I liked this movie. Is not ground-breaking, is not the best horror film ever, but it is a very decent take on demonic possession and faux-documentary movies. The acting was very good (specially Katie.. Micah I felt was a little overdone) and the first half of it promised a lot horror-wise, IMHO. What I mean by this post's subject is that this movie did exactly what the people who dislikes TBWP criticized that movie for NOT doing. The main criticism I've heard of TBWP is that there's almost nothing in the whole movie to be scared of. Sticks and stones are moved around overnight, the film crew gets lost in the woods, they freak out over noises from the woods... other than the fin
June 15, 2010
that movie is awesome lol keep it going who is making that.... love it
June 05, 2010
Very cool movie, Loved it.
March 28, 2010
Just crap. Amateur footage and that's all.
February 28, 2010
Good movie,scared my girlfriend.
February 26, 2010
anybody who thought this is the scariest movie of all time either a)still lives with mom b)sleeps with a teddy bear c)wets the bed d)screams at every little noise e)all of the above. this movie was crap.worst ending ever. only worse movie i have ever seen was clover field and thats saying a lot.its just spooky noises and nothing else. why did you even make it.pure crap
February 13, 2010
To be honest, I would not even classify this as a 'movie'. The hype machine worked well with this one and after renting it, just kept watching assuming something would happen - but alas it never did. Not good, not frightening, poorly made.
February 02, 2010
this movie is definatly a love it or hate it kinda movie. I loved it tho. Very big horror fan and this movie scared me so much ive been scared 2 go 2 sleep since watching it. The actors were amazing for the longest time i thought the movie was real. no one cud act that scared or that possessed i thought. But ya Kudos to the cast and team. And for a low budget film it was prime. kinda glad to find out its not real tho...put my mind at ease:P
January 31, 2010
scary as hell
January 20, 2010
It Sucked! IF you want a scary movie to watch! Watch the Exorcism.
January 10, 2010
Really enjoyed the movie - would recommend seeing it to others.
January 04, 2010
I was very excited at first to watch it, but it was disappointing since there really was no real story, not enough characters. if they truly believed they were being possessed, they should've had an exorcism done.
January 02, 2010
Put simly.. Ridiculous!
January 01, 2010
about like the old spoof Blair Witch
December 30, 2009
This movie isn't worth the 1 star I gave it. I have no idea why people are getting scared by this cheap home movie.
December 22, 2009
This is the scariest movie I've seen in a very long time! I actually thought it was a true story!
December 19, 2009
things like this do happen
December 17, 2009
Very suspenceful, would not see it again. Very well made, but again alot of suspence.
December 17, 2009
very well made...you other chumps have no idea what your talking about.... i guess you guys would prefer talking, transforming robots and loud flashing effects over a well plotted, well produced movie.... you guys are the reason "a scary movie", and "a date movie" keep comming out with sequels...
December 11, 2009
This lacked the paranormal, and the activity. it should be called normal lying around doing nothing
December 06, 2009
This movie absolutely freaked me out :-( I had nightmares and couldn't sleep for nights after. Very well made. Definitely something that gets under your skin for a while; has that lingering effect. I'm glad to see that is IS just a movie!!! I'm 33 by the way, I should know better!!! lol
December 04, 2009
it wasn't scary but very intresting and jumpy it's a movie you didn't wanna look away from
November 30, 2009
not very scary but was definately interesting!
November 29, 2009
Those of you who think this movie is a waste of time, boring, not good, not scarry, not worth watching...have no idea what good movie making is all about. This movie is fantastic. Cudos to the cast and crew for proving that good movie making and good story telling doesn't cost 50 million dollars. This movie was very scarry and worth every minute.
November 28, 2009
As lame as The Blair Witch Project, only a lower budget. Someone made a lot of money on this one.
November 24, 2009
I thought this movie was extremely well made, clever, and FRIGHTENING!!! I am a huge horror movie buff and this one scared me the most, by far. Well done.
November 22, 2009
ABSOLUTE WAS OF MONEY AND TIME. TIS MOVIE SHOULD EARN THE WORST EVER MOVIE PRODUCED. i DEMAND MY MONEY BACK...
November 21, 2009
This movie was seriously the worst movie EVER!!!! so not scary at all, you keep expecting nothing to heppen and then before you know it the credits are coming up like wtf, sooooo not worth watching
November 21, 2009
Absolutely dump...waste of time. I cant believe it cost $15,000 to make. I would have said about $5000 for the camera and the house rental. What more is there? There was no lighting....dumb, dumb, dumb...
November 20, 2009
worst movie in thhhhhhhhhe world
November 20, 2009
people only go to see this movie becuse they were misslead and believe it to be a true story when u have no credits at the beginning the writing says thank to the family and police department for releasing and at the end were it says in memory of those two. well its miss leading so people will go see it. cheep way tyo hype your movie. there was no altering of this movie bull shit rip off. word of mouth ya lies is all it was hype.scammers. were does it say katie plays herself credits it dosn't missleading times must be hard when you try to scam movie goers
November 20, 2009
Absolutely terrifying! I was deliciously scared and that says a lot because movies have been crappy as of late.
November 19, 2009
LOL this movie isn't scary. But sure is funny. People were running out, not because they were scared but because it was SOO bad. The end.
November 19, 2009
This was a legit scary movie, the best i have seen in a while. It sneaks up in you in a really cool way, not so predictable.
November 19, 2009
the worse movie i have ever seen and i have seen some bad ones over the years
November 15, 2009
First this movie might make you nauseous due to the shaking camera footage not the plot. HA! Plot that's funny since other than what the title implies there is none. This is the worst movie ever. Honestly I was deciding between sleeping and cracking jokes with my friend to pass the time.
November 14, 2009
I cannot ever rate this piecde of crap......not bad for a first time director but over all bad storyline and not at all belivable.
November 14, 2009
Not as scary as expected. Slow start, repetitive and predictable. Some ideas taken from TV shows like Ghost Hunters and Paranormal State. The Blair Witch Project was actually scarier.
November 14, 2009
Kudos for the makers of this film. Using their imagination, they managed to make a scarry film with very little money and enriched themselves overnight. One jarring note: the reason for unsteady camera work is obviouus, but then you wouldn't expect a tech-savvy guy to be incapable of holding a camera steadily!
November 14, 2009
This movie was okay. I love movies about ghosts and demons, but this movie just didn't deliver. The pace was way too slow and it didn't live up to all the hype it received. There were no special effects what so ever. You don't see any ghosts in this movie, just doors and bed sheets being pulled by strings. Oh let's not forget loud banging sounds. It was almost as if the movie took place in a lame haunted house. Oh and on a complete side note – a message to all you tweens out there. Like OMG, like this movie is so like scary, but can you like, not keep like saying that 100 times while the movie is playing. Like seriously. If anything guys, wait for the rental if you really want
November 14, 2009
If you actually believe in ghosts and demons (grow up.. just kidding.. not really) then you'll probably be terrified. If you don't, then you should at least find this movie interesting unless hollywood blockbusters are more your thing. I thought it was very well done and very creepy. I can absolutely see how people might go home and have trouble sleeping after watching this. If you believe in ghosts and/or demons that is. Great movie.
November 13, 2009
Jeepers Creepers - verrrrrrrrrrry scarey!! Loved it! Some people ran out of the theatre because they couldn't stand the suspense!!
November 13, 2009
stupidest thing ever ...
November 13, 2009
Worst movie ever made! Please .. if you want to watch this movie - DON'T!!!! NOT EVEN SCARY!!!!
November 12, 2009
Scariest movie ever! Literally made me cover my eyes and break a sweat! I don't understand how some people said it was boring. No blood and guts, but it makes you wonder what will happen next.
November 12, 2009
One of the WORST movies I've everrr seen!!! It put me to sleep and would not recommend it even on a dvd rental!
November 11, 2009
I've seen scarier stuff in the crappy Niagra Falls haunted house..... and everyone knows it sucks
November 11, 2009
Definitely a hit or miss, i thoroughly enjoyed this movie. It had me thinking all sorts of spooky stuff while lying in bed. A precursor for a rough night sleep for those with an active imagination.
November 10, 2009
I've been waiting a long time for a movie that makes afraid to fall sleep...and this is it!. Excellent job for a low budget movie, two thumbs up