Percy Jackson: Sea of Monsters - User Reviews
Thank you for rating this movie!
Read your review below. Ratings will be added after 24 hours.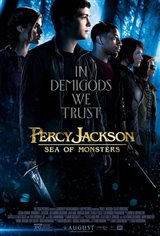 ---
Please rate movie 1 to 5 stars
Showing 1 to 39 of 39
April 18, 2016
Little off from the books but great movie.
January 05, 2014
Can't believe Jackson went from Lord of the Rings to this. :(
January 04, 2014
Decent visuals and good performances. It would have been great to see the Olympus Gods.
November 13, 2013
The movie as always does not do the books justice. The story is great as well as the visuals. However, it is obviously directed at teenagers in its script. It is an enjoyable film to relax to if you've got time to kill.
November 10, 2013
This long awaited film is a great , much better than the first one. The special effects are better. It is different from the book, but it still works out perfectly and can still be understand by those who have not read the book. There is enough action to keep the viewers into the film. the ending makes you want to see what else will happen to the characters, I have to say when the next film comes out I will go see it as soon as I can.
November 08, 2013
The movie was amazing and follows the book really well. went to see it once with my wife then a week later took my kids to see it.
November 07, 2013
very well done sequel
November 03, 2013
Great for the kids!
November 03, 2013
Found it to be boring, immature and it strayed from the book a little too much with small detail, it was very disappointing in comparison to the first one which they did a great job on.
November 01, 2013
Adult show, little boring but if you take the kids.....they loved it. Very exciting for the kids.
October 31, 2013
Much better than the first one! After reading the books, I thought that the first was such a let down, but they greatly improved for this one!
October 31, 2013
The first one was good, but this one is awesome!!
October 31, 2013
Absolutley loved it - better than the book.
October 30, 2013
I'm a big fan of the books, and the movie lived up to all my expectations. I just love the cast. Douglas Smith is an amazing addition.
October 29, 2013
It was boring. The first one was way better.
October 29, 2013
Bon film d'action!
October 29, 2013
LOVED THIS MOVIE IT WAS A FREAT FAMILY SHOW LOVE ALL PERCY JACKSON
October 29, 2013
It was ok but kinda finished way to easy for a deadliest enemy to be taken down so easily
October 05, 2013
This was an alright follow-up to "Lightning Thief." Though not as good as the first installment, it was still enjoyable and had a decent story.
August 27, 2013
I didn't find the movie great at ALL. Hardly any action, next to nothing for Sea Monsters (2), like the title of the movie and it didn't have the greatest story line. The ending should have been an amazing fight with all the gods and not just Percy. It just wasn't worth my time or money. It took forever to get to any action scenes. I think it was poorly done.
August 26, 2013
I found that this movie in particular was action packed, eventful and followed the book in an exceptional way. I strongly suggest this movie.
August 20, 2013
that was awesome.
August 20, 2013
It's RAIDERS OF THE LOST ARK for the now generation. Five stars are not enough!
August 20, 2013
Good action movie!!!
August 18, 2013
Rating of D for DUD ..... Basically No action, Sea Monsters???? What Sea Monsters other than a few. The Comedy wasn't funny, took forever to get to any action which was boring, Acting was very very poor compared to other Percy Jackson. Waste of Time and Money . Not buying this one in DVD, blueray or 3D for sure.. Dud , Dud, Dud.. Did I mention it's a DUD !!!
August 16, 2013
good effects. Fun to watch
August 14, 2013
Awesome movie. The 3d effects. We're awesome. The special effects were awesome the actors were awesome Tyson. Was good go see percy Jackson. Sea of monster
August 11, 2013
Loved it!!!!!!!!!!!!!
August 10, 2013
So exiting saw the trailer it is gonna be awesome it's a must see movie but what happend annabeths hair is suddenly blond wasn't in the first movie but is in the books and I hope they will make the hole series think I might see it today!!!!!!?????!!!!!
August 10, 2013
Story good. However, made more for the younger ones.
August 08, 2013
See it in IMAX for the full effect.
August 08, 2013
There hasn't been a movie this thrilling since Raiders.
August 08, 2013
Harry who?
August 07, 2013
amazing...
July 29, 2013
Why did we have to wait four years for a sequel to the epic that was PERCY JACKSON & THE LIGHTNING THIEF?!
July 28, 2013
The most awesome movie you will ever see!
April 04, 2013
I will always love the movies and the books! Let's hoep they make The Heroes of Olympus series!!
April 03, 2013
I'm a huge fan of Jackson's LOTR trilogy, so naturally I'm pumped for this one.