Phantom Thread - User Reviews
Thank you for rating this movie!
Read your review below. Ratings will be added after 24 hours.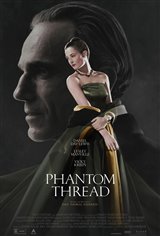 ---
Please rate movie 1 to 5 stars
Showing 1 to 22 of 22
March 02, 2018
Anything Daniel Day Lewis is in I enjoy. Phenomenal actor.
February 26, 2018
Really enjoyed it. Superb performances; an intriguing telling and outstanding depiction of obsession, disfunction AND brilliance. Heavy. Didn't foresee the ending. Wow! Not for those who just expect entertainment.
February 24, 2018
tedious & boring!
February 20, 2018
Did not find any of the characters likeable. Very strange plot overall ,distracting musical score. Glad I saw it on cheap night.
February 18, 2018
Acting, script, plot, cinematography, music, costumes all wonderful ! But pay attention - this movie is not lightweight, though VERY ENJOYABLE to any real movie lover.
February 15, 2018
I left wondering if I had things to pick up from the store on the way home. I thought about chores, dishes, shopping, and washing the car, but not a moment reflecting on the movie. Forgettable.
February 06, 2018
The acting in the movie was superb! Daniel Day Lewis was outstanding (Oscar worthy performance). The movie is not the typical main stream kind, so if those are the types of movies you enjoy, you would feel disappointed after watching it.
February 06, 2018
This was a movie where you felt entertained when you left. That's why I go to movies, whether or not you agree with the message, or understand it. Daniel Day Lewis is always good, selective in his choice of roles, and it gave you a look into life unknown to ours in Anchorage, where blue jeans is the look of the day, everyday. The unlikely ending was just there to see if you were still awake. . .
February 05, 2018
The story to this movie is buried so deep you'll never find it. When the credits were rolling, my wife and I looked at one another and went WTF was that?
February 01, 2018
1 star is to be avoided 2 star is at best an evening out 3 star is reasonably good, and worth a venture 4 star is a great movie and highly recommended 5 star is fantastic, award winning and fan favorite. Hyperbole is common these days, but seriously, save your money. This is not even a good movie to watch at home.
February 01, 2018
Yawn. Zzzzzzzzzzz Phantom what? Phantom story was what my wife said. What was the point of this? I really did fall asleep as this thin just dragged you from one scene to the next without any impetus.
January 31, 2018
I liked this movie - Acting was great - deep. The ending wasn't what I expected and I left feeling a bit confused but it did make you think and the setting was different and beautiful. Not for everyone but I enjoyed it a lot.
January 30, 2018
The movie was not what I expected. I did think Daniel Day Lewis was great. He made the movie interesting to watch. I'm still not sure what the movie was actually about. It was a very artsy movie and definitely not for everyone.
January 30, 2018
What a strange movie! Not at all what I expected. Disappointing.
January 29, 2018
A good "art" movie. As "art" movies go, they are not suited to all tastes. A narrow view into the life and attitude of an highly skilled professional, dressmaker, that gets to be dominated by his muse. Doesn't that get you all excited? Daniel Day Lewis's performance is different from the other characters he has portrayed. His performance makes this movie; the other artists play very shallow characters. The question for you intellectuals that saw the film, is: Did you find the "phantom thread" of the story ?
January 24, 2018
Daniel Day Lewis no less than epitomizes the character in each and every role he's ever played, including this one. All of the actors and actresses did an excellent job in their respective role. I found the first three quarters of the movie quite interesting and easy to follow. I admit, I thought the movie was heading in a different direction than where it ended up. And it was disturbing when I realized at the end that the story is about a strange, wierd, dysfunctional, unhealthy kind of relationship. I did not see this end coming (the last quarter of the movie). Like others have said, who doesn't know of a dysfunctional couple. Despite that, this movie was altogether interesting. And I enjoyed the clothes models scenes and production back office scenes depicting what it took to get high end designer outfits to very important customers. Daniel Day Lewis is convincing as a dressmaker. His acting was outstanding. This story does an excellent job developing the characters. I recommend this movie.
January 23, 2018
It saddens me to see the bad reviews. Ok, its not a silly Hollywood movie with vulgar jokes but the characters and story is rich. It's about a beautifully dysfunctional couple and don't tell me you haven't met one of those!? Daniel Day-Lewis's acting is phenomenal. If I was an studying to be an actress, this is the only actor I would want to learn from.
January 23, 2018
I'll give it a 5 but it not for everyone. Its weird and disturbing... but the characters are deep and Daniel Day-Lewis most definitely deserves an Oscar.
January 20, 2018
If you look at how many theaters this movie is showing in, you get a pretty good idea of how well the production company thought it would do. One theater, one star, one week. You will find yourself wondering why you're in the theater as the story is weak and plods along for almost two hours which seemed much longer in reality. Good actors, but terrible story. Paint drying bad.
January 20, 2018
Not a movie that you would want as your last picture before retirement, but so it goes. Phantom Thread is pointless. Phantom life perhaps? Phantom Plot? I always liked Daniel day Lewis but he picked a dud for his last hurrah.
January 19, 2018
HORRIBLE HORRIBLE
December 30, 2017
Outstanding film, thank god DDL came out of retirement as there is no other actor in the last 50 years that comes close to the talent he exudes. this film grabs you forcibly, floods every part of the soul with emotion, and takes your mind on a ride that will it not soon forget. It is a must see!