Pirate Radio
Thank you for rating this movie!
Read your review below. Ratings will be added after 24 hours.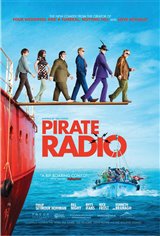 ---
Please rate between 1 to 5 stars
Showing 1 to 19 of 19
March 19, 2014
funny and entertaining flick
December 31, 2010
really good film and interested to find out that its based on a true story
October 10, 2010
This movie started off well - some good laughs, but it puttered out. Bill Nighy was the best part of this flic. Glad I didn't spend the money to see it in the theatre.
September 04, 2010
Movie was okay - movie was to take place in 1966 - yet there was some music that was played on the movie sound track from 1972 -----????? silly I would say -
June 23, 2010
I really liked this movie. I thought it was smart and funny. WHile it was a bit long, it was worth it. I liked the performances and, of course, the music.
April 27, 2010
the other ratings must have been subitted by the cast's mothers --- unbelievably bad.
April 19, 2010
Very funny and entertaining!!
April 13, 2010
EXCELLENT....what a funny movie about friendship, music and growing up - very entertaining!!!
November 29, 2009
Very funny. Very entertaining. Good performances, especially by nightly and hoffman.
November 27, 2009
"We're not teachin' Radio, Radio's teachin' us." 5/5
November 27, 2009
Terrible.
November 19, 2009
Loved it, Simply Put!!
November 18, 2009
Pirate radio ships changed UK radio forever. Great movie.
November 18, 2009
Brilliant film. I grew up in the UK and when I was a teenager in the sixties I listened to actual pirate radio all day every day. The movie brought back loads of great memories. A lot of the movie is true. Some of the actual djs went on to work for the BBC after pirate radio ended. There were about five radio ships that we listened to back then. Pirate Radio is funny, light hearted and made me laugh. Rock on.
November 16, 2009
I enjoyed it. Fun movie, very entertaining.
November 15, 2009
Great from start to finish.
November 15, 2009
Great fun. Light hearted and very enjoyable. 5 stars.
November 15, 2009
Sure it didn't have a great big complicated plot. Bunch of guys on a boat playing music, but great fun to watch and lots of fun to listen to the music. Can hardly wait to buy the sound track. Would recommend it!
November 14, 2009
I think the movie accomplished what it was intended to....to entertain and to celebrate rock n roll. The acting was bang on, making the characters endearing and hilarious, and the music was fantastic! Surprisingly, there were some really touching moments in it as well, overall, we thoroughly enjoyed it!