Pirates of the Caribbean: Dead Man's Chest - User Reviews
Thank you for rating this movie!
Read your review below. Ratings will be added after 24 hours.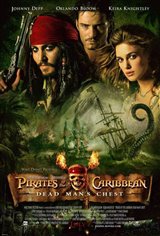 4.23 / 5
User Rating
Based on 15710 votes and 1582 reviews
---
Please rate movie 1 to 5 stars
Showing 1 to 50 of 1582
March 02, 2018
It´s not as good as the first but it is still funny and very creative. The Kraken was just the Kraken I´ve always imagine in pirate movie.
May 06, 2009
the most colorfull movie i ever seen this its fun i enjoy the entire movie and i looooooooooooooooove it!
April 15, 2009
thi movie its perfect
September 02, 2007
stupid.tough great effects.
March 28, 2007
It was great but the ending was weak, sure they have to keep the suspense holding until may but that was not a good way to do it. It was really dark too, but Johnny depp (as always) did a great job in entertaining every one and the rest of the cast were great too. The action scenes were great and the effects were too but like I said, the ending ruinned it.
January 30, 2007
4/5 is what i`ll give it because it wasnt enjoyable as the first and i dispise cliffhanger endings because its an excuse to bring people back to watch the third and most of the time its a dissapointment. sadly though i will be there to watch the third one hoping that ITS GOOD!
January 12, 2007
I love it .great acting more excitment and the ending just left me with ahhh i got to watch the next one for sure oh and the effects were wild with that octopus wow ,where do you guys come up with this stuff EXCELLENT movie i would watch it again and again cant wait for the next one and Johnny Depp is a great actor so is orlando bloom!!Aperfect 10 from me.
December 19, 2006
Eh, it was ok. I still liked the first way better. But, this one was still enjoyable. I`m just hoping that the third will be way better!
December 11, 2006
Excellent! Just can`t take my eyes off of Jack!!
December 05, 2006
It liked it a fair amount, though the comedy seemed forced out and repeated from the first one. Good job actors... umm, that`s about it. I give it 4 out of 5, cuz I never give 5 for 5, cuz I`m just like that. 5 out of 5 would be the Matrix (just giving an example- a little of who I am). Anyways, I like Pirates 2, especially the fantastical (fantasy) action scenes, tentacles- GOOD!!!!! (:|
November 18, 2006
I`t was awesome!!!!!!!!!!!!! the end is the best part because it tells you what will happen in the next movie. Extreamly Better than the #1.
November 17, 2006
better than #1
November 15, 2006
Loved it, and can`t wait for the third installment.
November 14, 2006
I lov`d this move
November 12, 2006
Fantastic! A must see for all! JOhn (I can call him that), you did a great job!
November 07, 2006
Stupendous. I liked the comedic turn it took against the first one!
November 07, 2006
it was the best pirates movie yet never mind johnny depp was the best i give this movie an extra star ****** good job johnny . jahvon and mom
November 01, 2006
It was amazeing Johnny Depp never fails on captavateing the viewers.This movie was well done and in the end it kept you wanting more.
October 30, 2006
I absolutly hated the whole rain and she being alone and getting arrested like that, totally not real, even to the story it just didn`t make sense, and the cliffhanger at the end, you gotta be kidding me just frustrating, good action though, certainly would want to see the third, but it could have been better, so i can see why some hate it and why there is also those who loved it.
October 25, 2006
Not quite as good as the first one but this is still good for quite a few laughs
October 25, 2006
Not up to the first one. Many of the jokes are reruns from Pirates One: the first time is funny- twice is deja view. It seems that the tale is just a money grab to set you up for another flick. Depp keeps it from being a total disaster but even he looks bored at times with the weak plot.
October 24, 2006
it was the cool movie dep was at his usual best not to mention about keira ..she is just enchanting
October 20, 2006
That movie was awsome i can`t wait for the next one!!!! Johnny Depp is SOOOOOOOOOO hott!!!!
October 14, 2006
They should just put the camera on Johnny Depp for 3hrs, just to look at the genius that he is; Jack Sparrow is what makes this movie work! I absolutely dispised Keira Knightley in this movie - learn to act! Acting tip number one: if you`re a girl disguised as a sailor -LOWER YOUR VOICE! Acting tip number two: close your mouth once in a while becuase pouting can only take you so far before it becomes bloody annoying. I liked the development of Will Turner in this sequel. I think the distance, both physical and emotional, between him and Elizabeth allows him to be more like the pirate that he is. In conclusion, Johnny puts the "Pirates of the
October 14, 2006
Arr....Matey it was great...I`d give it an eight.....what more do you want from a dead man`s chest...they tell no tales.
October 14, 2006
I love this movie! ( not love,love ) I think its the best!
October 11, 2006
The kiss was hot between jonny and keira... PIRATES 2 was awesome!!!!
October 11, 2006
I found that in the first one the lines were funny. But for the sequel I found it overdone somehow. I`m not really sure if that`s what I didn`t like about it or not.
October 10, 2006
Superb!!!!!!!!!
October 08, 2006
many short comings,story laboured despite star calibre appeal
October 07, 2006
it is funny it was the best film i have senn.
October 03, 2006
i couldnt put my finger on exactally what was wrong with this movie but i absolutely hated id, one of the longest movies i have ever seen it felt like 4 hrs. This movie was comparable to superman returns but several order of magnitude worse.
October 02, 2006
Johnny Orlando and Keira was frecking funny!!!!!
September 30, 2006
Story was too long and very boring. What a waste of talented actors like Depp and Bloom. Find these gentlemen a better script for the 3rd Pirates!
September 25, 2006
Pirates was the best movie I have ever seen ever. Johnny Depp`s acting as Captain Jack Sparrow was very good. I thought Davy Jones and his crew was very realistic. Great CGI. And I thought the comedy was actually funny.
September 25, 2006
If you haven`t seen this movie you don`t know what you`re missing. The best movie since the last Pirates. For you people who fell asleep during the movie or say that it sucked you need to get a life. If this movie is so terrible why are they still playing it in the theatre almost three months after it came out? You are the minority not the majority. Captain Jack Sparrow a.k.a. Johnny Depp steals the show. 5 stars.
September 23, 2006
This movie is totally awsome but again Johnny Depp`s character Jack Sparrow steals the show. Not that I`m complaining.
September 21, 2006
SOOOO bad compared to the first one.
September 20, 2006
the special effects are awesome!
September 19, 2006
Loved it. Highly entertaining and I can`t wait to see the third one!
September 17, 2006
loved it thought the ending was annoying tho
September 16, 2006
I would happily spend thousands in amy movie about the Caribbean Pirates if Johnny Depp was to remain the star of the show. And indeed, a star he is. Thanks Johnny, you done good!!!!
September 16, 2006
i though this was a HORRIBLE movie just like the other POTC. it has NO plot and is just an excuse for girls to gawk at johnny depp and orlando bloom. its ridiculous. two hours of my life i will never gett back.
September 15, 2006
Completely AWESOME!!! Easily one of my favourite movies. A MUST SEE!!!
September 13, 2006
This is the worst movie I`ve ever saw. Barney`s Great Advenutre was better!!!
September 12, 2006
this is jerry breichemer at his finest! it is an incredible, astonishing, remarkable, fantstic movie! ABSOLUTEY AWESOME!!!!!!!!
September 09, 2006
awesome
September 07, 2006
Da Bomb ROCKS
September 07, 2006
Super Movie