Pitch Perfect 2 - User Reviews
Thank you for rating this movie!
Read your review below. Ratings will be added after 24 hours.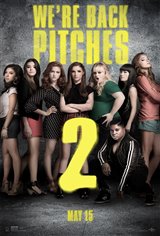 ---
Please rate movie 1 to 5 stars
Showing 1 to 26 of 26
May 13, 2017
I wanted to love it, i really did, i was a huge fan of the original but this one just.. sucked.
September 27, 2015
We had a few good laughs. I loved the singing.
August 16, 2015
The first was great. Campy, unpretentious and suprisingly fun to watch. This sequel was "called in" and pretty much a cash grab.
August 13, 2015
Thin storyline. The 1st one was way better. Seemed like they just wanted to ride the coat tails of the original and cash in. All jokes seemed to be crowbared in. Didn't flow... fail
July 28, 2015
Loved this movie! Even better than the first part! Great singing and entertainment with a cute story.
July 03, 2015
Having recently watched Pitch Perfect 2, I was disappointed with the representation of the only Asian female character (Lilly Onakuramara) in the movie; although she is supposed to be a main character in it, her actions and interactions are problematic to that end: she doesn't say or do anything of substance at all! When she does speak, it is in nonsensical and random whispers, which everyone then ignores whilst shaking their heads.
June 18, 2015
Film had some great moments in it, though there were times I felt distracted when the story dragged a little...
June 18, 2015
Worst movie ever, might be good for teenagers!
June 04, 2015
Waste of time!
June 01, 2015
What a waste of time and money. Somebody must be paying people to write all the glowing reviews because they are B.S. Rating should be minus 5 stars. My wife and I went with another couple and all 4 of us thought it was terrible.
May 30, 2015
Never saw the first one, but really liked this one. Love rebel Wilson - she is hilarious. Fun movie with good music.
May 30, 2015
Great time watching this movie! Well worth going to go see! Wayyyyyyy better then the other shit that's out there
May 30, 2015
Based on the amount of laughter my family produced during this film, this movie deserves a three star. Really got attached to the characters as we realize hey are all graduating and growing apart. Songs weren't as good as the first one but he jokes and the acting made up for it. All and all an equivalent compared to the first Pitch Perfect. Well worth going to go see
May 28, 2015
Great fun and terrific singing for the whole family. Hint, stay for the final credits. Lots of fun.
May 28, 2015
fun movie even though predictable.
May 25, 2015
I really think you should make a pitch perfect three !!!!!!!!!!!!!!!!!!!!!!
May 25, 2015
LOVED IT!!!!!!!!!!!!!!!!!!!!
May 25, 2015
Great job on this film could not wait for this one to come out loved the first on too
May 23, 2015
Very funny and the quality of the singing was great.
May 22, 2015
Enjoyed the first movie - thought this was a waste of time and money. Wanted to leave half way through but my wife was interested in staying. Really liked Anna Kendrick, until now. Rebel Wilson is funny!
May 21, 2015
Planned on 3 rating but factoring in my laughter (lots and lots of it) thought I should give it more. Don't know what it is about Rebel Wilson exactly, but she sure is funny.
May 19, 2015
Great Movie!! I actually found myself laughing harder in this movie than I did in the first! The music in the first one was better, but it would have been very difficult to be that good again! Excellent movie!
May 18, 2015
i didn't see the first movie, but this one's really good. the singing is great and a great story about the underdogs going up against the front runners. great family film, with lots of suspense and no violence. love Fat Amy's character.
May 17, 2015
I loved it!! The first one was way better, but this one is very cute! I will watch it again! I must say, the whole theatre was really into the Flashlight Song.. We all took our phones out and used them as flashlights for that song!
May 15, 2015
Not as good as the first movie but it was entertaining.