Planet of the Apes - User Reviews
Thank you for rating this movie!
Read your review below. Ratings will be added after 24 hours.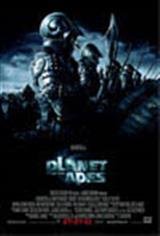 4.28 / 5
User Rating
Based on 10417 votes and 48 reviews
---
Please rate movie 1 to 5 stars
Showing 1 to 48 of 48
August 24, 2018
The series reaches its apex.
March 23, 2012
tim burton's masterpiece!
August 09, 2011
A delight!
November 17, 2009
It was like seeing old friends again! 10/10
November 14, 2009
Great to see Cornelius and the gang back on the big screen! If you love great sci-fi this film is a must!!!
July 16, 2009
The one movie this summer you cannot miss!!! I give it a 10+!
July 15, 2009
Classic sci-fi with one humdinger of an ending!!!
February 09, 2009
Pure awesomeness from start to finish! By all means, GO!!!
December 20, 2006
I think the movie turned out to be the best. I think the main hero can play better than he did it. It wasn`t so exciting to watch his face of stone. I`m from Russia, surprised?
October 14, 2006
The only reason I liked Planet Of The Apes was because I love Mark Wahlberg. The whole concept wasn`t good back in the 60`s and it`s not good now. But if you do watch it, you have to take it for what it is. But the actors playing apes, you won`t even recognize them.
March 22, 2006
a very poor screenplay, too many expextations and at the end a simple and boring commercial production..it should be forgotten for ever... On the other hand leeta and nova are two incredible and sexy beauties that amazed me!
March 02, 2006
Nothing to write home about.
January 15, 2006
Excellent movie with a horrible ending. Still, two thumbs up!
June 26, 2005
This movie is REALLY GOOD!!!
July 21, 2004
Umm... this was really, terribly bad. Except for Tim Roth. But not even his great acting skills could save this monumental train wreck of a film.
April 10, 2004
I was delighted that the movie was not a continuity of the several others. But, since I have read the novel of Mr Boule, it was a pretty good and different/same version of his novel.
May 13, 2003
I thought that the movie was ok. I hate to say this because i adore Tim Burton and think that he has such a vision with many of his works, but with this movie, i was sort of disappointed. It was good, but something was lacking.
October 07, 2002
It was good up to the ending....but then it just got weird...like he`s a good actor but who came up with the stupid idea of him going back to earth where apes rule the planet?
September 22, 2002
Suks, admit the movies stupid, Mark Wahlberg and the rest of the cast cant beat the first
September 04, 2002
The special effects are good, but on the whole not a great movie. It has some good action and I suggest you see it. 2 stars, but that`s only because it provides some good laughs.
August 30, 2002
When I saw the ending. Were he went to the present year, but still a planet of apes. I new it needed a sequil.
August 27, 2002
I think it was an awesome movie. It`s one of my favorite movies of all time. But, with that type of ending, they better have a sequel!
July 16, 2002
it was good but the ending is stupid!
July 15, 2002
Better than the first one.
July 12, 2002
Didn`t leave much impact.
July 07, 2002
This movie was inferior to the original. A cheap imitation!
June 05, 2002
A great thriller. When Captain Leo Davidson went to a planet at the end where the apes live in a world like ours was surprising.
May 05, 2002
It was exciding!
April 04, 2002
The special effects were the only thing that kept me going!
March 29, 2002
It does not beat the original. It was great to see Charlton Heston paly the part of an ape. Mark Wahlberg was sooooooooooooooo hot!
February 21, 2002
One of the worst movies I`ve seen. Pedestrian plot. Couldn`t wait for the movie to end.
January 31, 2002
Scary movie! Well done, but not realistic!
January 19, 2002
I absolutly loved this movie. The action was great and it way better than the first ones! Mark Wah;berg is wonderful!
January 15, 2002
i really enjoyed the movie. With the original, i was always aware of humans playing apes in the new one (except for bonham-carter), you could believe that there were apes on the screen
December 19, 2001
Very bad movie. I loved original and I had high expectations for this one. I would not recommend anyone to see it. The only good thing about the movie was a make-up and special effects. Not worth it, overall
November 26, 2001
BIG Disappointment, Tim Burton is always Hit and Miss this was definately a Miss.
November 24, 2001
Tim Roth delivers a "Once-In-A-Life-Time" preformance!!!!! THE ENDING OF PLANET OF THE APES IS "KNOCK-OUT CLIFF-HANGER" THAT PROPELS YOU FROM THE EDGE OF YOUR SEAT TO A DISTANT PLANET!!! ESTELLA WARREN IS THE MOST ATTRACTIVE AND SEXIEST SEX-SYBOLE ALIVE!!!
November 23, 2001
Special effects for the sake of special effects - the story was an after thought.
November 19, 2001
Aided by a sympathetic chimpanzee human-rights activist (Bonham-Carter) and a small group of human rebels, Davidson races through a barren landscape called The Forbidden Zone, where an ancient temple holds the key to mankind s salvation.
November 10, 2001
THE BEST MPVIE OF ALL TIME
November 08, 2001
Tim Roth was Amazing!
November 07, 2001
Aided by a sympathetic chimpanzee human-rights activist (Bonham-Carter) and a small group of human rebels, Davidson races through a barren landscape called The Forbidden Zone, where an ancient temple holds the key to mankind s salvation.
October 22, 2001
The Best Sc Fi Of the year better than the orignal ***** 5 STARS Tim Roth was amazing
October 19, 2001
To keep it a secret, director Tim Burton filmed five different endings so that even the cast didn t know how it would end.
October 19, 2001
Great Film, beats the orignal some will say. The only way some people cannot like this film is if they havent seen the original. Tim Burton conquers the movie industry with his artistics.
October 15, 2001
Great movie.
October 03, 2001
I believe the taboo topic of Human-Simian relationships should have been explored more...I hope this is the case in the sequel.
October 03, 2001
Perfect depiction of the fickle convictions of populations as man and ape unit in the end with such a simple premise to do so. It s unfortunate that populations require some sort of catalyst for change when there already exhists a propensity for it.