Pope Francis: A Man of His Word - User Reviews
Thank you for rating this movie!
Read your review below. Ratings will be added after 24 hours.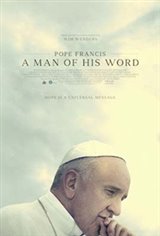 ---
Please rate movie 1 to 5 stars
Showing 1 to 11 of 11
February 03, 2019
What a load of crap. Just like the fake positive reviews here on this board.
October 18, 2018
Nowhere in the Bible does it mention a pope but it does mention there will be deceivers, wolves in sheep clothing. The popes are nothing but satanic Illuminati. And this one is their best deceptor yet.
September 18, 2018
The Pope is indeed a man of his word and his word is that he is a life long Communist. He also reefuses to admit that the sex problem in his church is one of homosexuality. Those are altar boys not altar girls.
June 01, 2018
A beautiful documentary - for people of all faiths!
May 31, 2018
The Pope raising the issue of poverty: 20% owning 80% of the world wealth!!
May 31, 2018
With the great wealth inequality today and resulting large scale despair, starvation, and various situations ending in premature death, we cannot be reminded enough of our obligation to the children and humanity of the world.
May 30, 2018
This excellent film by the noted German film maker Wim Wenders is an interview with the pope in which he promotes his Franciscan approach to the great crises we face today: war, environmental degradation, migration, poverty, inequality - deftly interspersed with vivid scenes of his encounters with the mighty and the powerless.
May 28, 2018
beautiful film....it is exactly what our beaten down world needs to see right about now......
May 27, 2018
Should be a TV documentary. Most of it had been on TV news. Not entertaining.
May 26, 2018
One of my favorites for the year. Amazing man