Prometheus - User Reviews
Thank you for rating this movie!
Read your review below. Ratings will be added after 24 hours.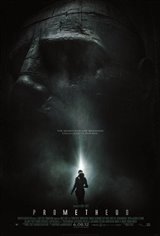 3.47 / 5
User Rating
Based on 428 votes and 138 reviews
---
Please rate movie 1 to 5 stars
Showing 1 to 50 of 138
April 06, 2015
I can't believe some people didn't like this. I thought it was very well done. Fun movie!
October 17, 2013
I usually like Ridley Scot movies, but this was a stinker.
December 11, 2012
awesome!!
November 12, 2012
smart and intelligent film. A good movie overall.
November 11, 2012
I thought this was a really good movie and love the ideas and plot. If you like Ridley Scott Movies, you will like this one. I think this plot was pretty original too. I listened to the naysayers and didn't watched it in the theater, I regretted that.
November 10, 2012
Rated a 3 just for those who like this type of movie, like my husband... I thought it was typical and corny and would have given it a 2
November 07, 2012
Some weak characters, but overall an excellent addition to the Alien(s) story. If you're a *TRUE* sci fi aficionado, you will enjoy this one. If you're not, stay away - firing neurons are required for comprehension.
October 30, 2012
Just goes to show that the originators of these movies are losing their ideas and just rehash the past with some useless roundabout ideas. Oh and the new ones are no better just fresher, in any case I love the visuals which is basically the only reason i see movies.
October 23, 2012
Are you kidding? Dumbass piece of crap
October 23, 2012
very good movie!!
October 18, 2012
an excellent film...Fassbender is creepy and great!
October 17, 2012
a very good, solid and smart movie. Really enjoyed it!!
October 15, 2012
The most underrated movie of 2012
October 12, 2012
None can doubt the veracity of this artilce.
October 11, 2012
Amazing!
October 10, 2012
The worst Ive seen this year. Do yourself a favour and don't watch it. Garbage on a whole new level.
October 09, 2012
Remarkably bad movie. Charlize Theron is there only for publicity. Plot is weak. References to "Creator" in the sci-fi movie are unacceptable. Nothing scary about any scene. Just plain garbage.
October 04, 2012
Absolutely amazing. A masterpiece!
October 01, 2012
Pretty linear story line, to much religious undertones. It's a nice spin on the Aliens franchise, but it is a far stretch.
October 01, 2012
didn't enjoy this movie, not much character development
October 01, 2012
I no it's not the popular opinion, but I thought it was brilliant.
October 01, 2012
I am on the fence after seeing this one, I am still not entirly sure what it was all about and what the purpose was.
September 30, 2012
Very good
September 28, 2012
A pretty amazing movie, but the aliens look too much like humans and the story of the link between alien and humans was weak and contrived.
September 26, 2012
Not a great movie!
September 26, 2012
Great prequel to Alien. Awesome.
September 25, 2012
This movie is so rampant with the type of plot holes we've come to expect from Lindelof and his ilk that my ignorance of them in the face of the beauty of the film should be a testament to how genuinely intriguing it is. It's not going to answer your questions about the Aliens, but it will entertain you
September 25, 2012
i loved seeing lots of new technology even if it was a pretending futuristic "tech." (maybe a bit of it was real). it was very interesting!
September 21, 2012
really good sci-fi flick.
September 20, 2012
3d the only way to see this movie. explained a lot that was missing from previous films.
September 17, 2012
this movie is so small in the shadow of the original alien!
September 13, 2012
good action movie...great prequel to 'alien'.
September 09, 2012
it was . . . ok. maybe a tad underrated.
September 09, 2012
awesome!
September 07, 2012
i really enjoyed this movie but it was a little long and it seemed to be setting up a sequel.
September 02, 2012
this movie is just an extremely good sci-fi movie
September 02, 2012
good explanation, but not enough action
September 02, 2012
it was ok
September 01, 2012
good movie...great prequel.
August 28, 2012
disappointing
August 26, 2012
love the backstory to alien!
August 22, 2012
expected more, the characters were terrible and it was anticlimactic
August 20, 2012
there were notable contradictions or confusions in the plot.
August 20, 2012
okay movie, have to like alien movies
August 18, 2012
waste of time
August 17, 2012
very borrring, no plot
August 11, 2012
i'm giving this 4.5 stars. the movie was definitely intense, but it wasn't as scary or suspenseful as the first two alien movie were. the acting and action was very well done. and i wouldn't spoil anything, but the very final scene of the movie is a big hint (or start) to a popular franchise, and that is worth the price of admission
August 09, 2012
first thing i would say is "hello michael fassbender!" i have been an alien fan so this movie has a sentimental value for me. i'd also say that it is noomi rapace how makes this movie feel so realistic.
August 06, 2012
disn't live up to its hype in my view. still a good movie if unbelievable in parts