Public Enemies - User Reviews
Thank you for rating this movie!
Read your review below. Ratings will be added after 24 hours.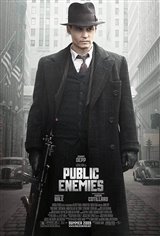 ---
Please rate movie 1 to 5 stars
Showing 1 to 50 of 96
April 10, 2013
awesome!!!!!!!!!!!
October 25, 2011
What a mess ! Everything is bad about that movie. Johnny Depp is not in shape again in a non-bizarre film. Some classic should be left alone.
December 16, 2009
A great bit of acting on Depp and Bale, but over all the plot felt very stiff and used to me. The story didn't hold my interest for very long, and it was a chore to sit through it.
December 12, 2009
I though this was a terrific movie, being a huge fan of mobsters and outlaw movies and stories, i literally think this was one of the best with the historical accuracy and attention to detail. Could see why some people might not like it because it not non stop action, and spends more time on story telling and drama. Thats why they invented brainless action and superhero movies. Only problem i see with it is some times the scene is hard to see because its too dark.
December 10, 2009
On the whole it was an engrossing movie-however, at times it was very difficult to watch because of the "shaky" camera work.
December 08, 2009
Depp's Oscar-winning performance makes this historical epic a real nail-biter!
October 18, 2009
This movie was just okay. Pretty much average in every way. I can't say it was bad exactly, but there was nothing about it that made me feel like it's anything special either, which is really surprising considering the cast. The characters weren't developed at all, the love interest really didn't develop either so I didn't have any strong feelings towards their sutuation. I was completely underwhelmed by this movie. Again, it's not bad, per se, it just isn't particularly good either. 2.5 stars.
September 22, 2009
worst ****ing movie I have ever seen. Waste of time. Can't believe Johnny Depp and Christian Bale would have wasted their time with such a terrible movie.
September 07, 2009
Good movie, wouldn't expect anything less from Johnny Depp
September 01, 2009
Definitely an Oscar nominee for Johnny Depp!
August 23, 2009
best movie i have seen in a long time!
August 13, 2009
Not what was expected. Looks like a low grade movie.
August 09, 2009
this movie was great
August 07, 2009
Awesome Depp! Oscar nomination for sure!
August 07, 2009
Excellent-Johnny Depp at his best. Great job on showing Dillingers life as it was. RLB
August 06, 2009
Terrible movie. Left half way through. Amazing cast however
August 04, 2009
A great gangster flick with a awesome cast, great director and beatiful plot. Two Thumbs Up
July 30, 2009
We're not sure why people made negative comments. The movie was a very good story, sound was fine, and the pace was good. It didn't feel like a 2 hour movie. We will be recommending this movie to friends. XX M
July 29, 2009
I think people are expecting a slick summer action movie. This is a realistic account of the life of Dillinger, and if you like Michael Mann movies, you'll love this! Shot in beautiful high definition and the sound was fantastic!! Best movie of the year!!
July 26, 2009
I would imagine Harry Potter fans would love this.. but I found it good, not great.. a bit slow in spots..
July 25, 2009
For its potential...it was really lacking. Depp is fantastic but he couldn't even save the film with the poor story line. Extremely boring the first half.. but things picked up a little near the end. Summer flicks are turning out quite poor this year.
July 20, 2009
Action flick with too much mushy stuff. Worth seeing.
July 19, 2009
I loved this movie! It was full of actin, heart touching romance, and Jonny Depp did a fantastic job of playing his main Character; John Dillinger- Public Enemy #1.
July 16, 2009
Johnny Depp was greatbut the story had no intrique and no depth to it. Too much shooting. Too bad the role was so bad as it didn't bring out Mr. Depp acting skills. Boring.
July 16, 2009
I love Johnny Depp as an actor but even he could not help this long and drawn-out plot. I thought it was boring. The final scenes had the potential of having a lot of tension and suspence. Too bad it didn't live up to it. The best movie of this genre still is "The Untouchables" by far. Now that was a gangster movie!!
July 16, 2009
Gripping and intense, this is the best gangster movie since Bugsy Malone.
July 15, 2009
Wayy too boring, felt never-ending
July 15, 2009
Boring. Too long. I felt nothing for the characters. Johnny Depp usually plays in pretty good films, but not this one. Michael Mann has not put out a good film since Heat.
July 14, 2009
Would have been better if they'd shortened by 30 minutes and cut out a lot of the 'filler'
July 14, 2009
Disappointed - had a lot of potential but EXTREMELY slow moving plot line. Don't waste your money - wait for the history channel to air it.
July 13, 2009
I thought that it was relatively boring! I was quite disappointed. The volume was turned up WAY too loud and several people had to cover their ears when the shooting happened. Usually movies with Johnny Depp and Christian Bale are very good -- this was sub-par in my opinion.
July 13, 2009
A perfect 10! Better than all the PIRATE movies put together!
July 12, 2009
Was expecting way better, very slow moving story line, very dissapointed
July 11, 2009
not that great...sleeper
July 10, 2009
Dont believe the hype.....watch gommorah thats a gangster movie not this...lame and seemed like it would never end..hated it
July 09, 2009
A wonderful, energetic look at the latter part of Dillinger's life. Well filmed and acted. It felt as though you were really there. I would recommend this movie.
July 09, 2009
Poor picture quality, poor sound quality. Slowly moves along never making you feel anything for any of the characters. I was glad when they died. Depps love interest didnt make a whole lot of sense. "I bought you a jacket, we had sex, no we are a unbreakable couple". Loud gun shots in lame shootout scenes. Also Christian Bale cannot act. He does have three faces though, maybe slightly better then Keanu Reaves. SAVE YOUR MONEY! (and your time)
July 08, 2009
excellent film with drama, comedy,romance and thrills
July 08, 2009
Too long and it turned out to be a love story instead of a cop and gangster action movie.
July 08, 2009
Big mistake, very disappointed, could of a been a good action movie instead it was a love story with a little action.
July 08, 2009
Very slow and they made it a love story instead of a slid cop action movie.
July 08, 2009
Could have been a way better movie if they didn't turn it into a lame love story, way to ruin what could have been an awesome cop action move!!!!!
July 08, 2009
This great man deserved a better movie.
July 07, 2009
brutal i fell asleep
July 07, 2009
Enjoyed movie. Played true to that era.
July 07, 2009
Slow and boring. Not worth it. Poor cinematography. Boring story. A real waste of talent. Should make for an okay rental though.