Public Enemies - User Reviews
Thank you for rating this movie!
Read your review below. Ratings will be added after 24 hours.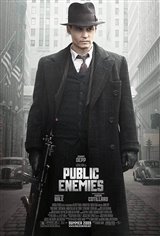 ---
Please rate movie 1 to 5 stars
Showing 51 to 96 of 96
July 07, 2009
Wow.. I'm sorry but this movie was terrible. I think lots of people are going into this movie thinking its going to be action packed and fun. The truth is that it's slow, and boring. The action parts are pretty lame and the camera is so terrible that you can hardly tell whats going on sometimes. I feel like this movie had all the action in the trailer, and all the boring stuff that makes up most of the movie left out. Poor movie, I'm dissapointed in you Johnny!! 1 Star..
July 07, 2009
great Film!
July 07, 2009
well filmed but the story was too slow
July 07, 2009
well dressed, but slow and constipated, this movie plays like two plus hours of detention. even the gun battles, hard to tell who the character are shooting, and who is shot. a real disappointment and miss, given the cast and crew.
July 06, 2009
Don't listen to any of these bad reviews, cinecamera's were very good, easy to follow, great cinematography to capture an authentic feel, loud guns & fantastic action, a classic movie. Acting on Depp and even Bale were outstanding. This movie is very similar to The Assasination of Jesse Jame, with Brad Pitt which got nominated for best picture in 2007.
July 06, 2009
Too much plot and character, not enough action and violence.
July 06, 2009
I really love it except the shaky camera really hurt my eyes
July 05, 2009
It was really boring. Very little action. Great acting though. horribly filmed. Johnny Depp should get some sort of big award for this movie cause he makes it the slightest bit enjoyable.
July 05, 2009
it was very boring despite the good actors.
July 05, 2009
not emotionally engaging and hard to watch with the damned shakey cam. I didnt care for the charactors like alot of others on here
July 05, 2009
they should have banned all gangster movies after goodfells.....and of course.....jurassic park.
July 05, 2009
An awful movie. Seriously. Looked like a cheap BBC production shot with a $50 Casio camera. Did it have any plot development? Nope. Did characters learn anything? Nope. Were there way too many effing extreme closeups? Yup! Did I realize Christian Bale really isn't a great actor? Yup! I'll give this movie two things: Depp was pretty good as usual, and Marion Cotillard is smokin. Other than that, terrible.
July 05, 2009
Good movie, boring at times, could have been way better and the camera work was awefull.
July 04, 2009
do you actually believe naysayers? Go See It!
July 04, 2009
Best Picture Oscar for sure!
July 04, 2009
I enjoyed the movie about 50% of the time. So I give it 2.5 stars. At times, I felt like I was watching a cheap Discovery channel documentary with the camera shots and all. Too drawn out and boring. I agree with others...I wanted to leave at parts.
July 04, 2009
A very good movie.
July 04, 2009
sorry, but this movie was so boring
July 03, 2009
excellent movie..edning is a little bit strange
July 03, 2009
Wasn't that great, it had great potential, but like others have said it lacked heart. I found that when characters died, I didn't really care. I wasn't drawn into the story either, found myself checking my watch near the middle. I guess it'd be a good rental if you want to listen to gunfire for about 2 hours lol
July 03, 2009
best movie every Johnny Depp was alsome
July 03, 2009
Technically perfect but utterly lacking in heart.
July 03, 2009
Had a few intense moments but over all seemed drawn out and lacked enough interest grabbing scenes. Camera shots were very jittery for those who don't like that.
July 03, 2009
Most of the rave reviews are coming from young people (16 - 25) who have likely just discovered Depp or only knew him previously from his Pirate movies. They're novices when it comes to such things. Take it from me the movie is very mediocre and Depp's acting is well below his own standard. He must've needed the cash !
July 02, 2009
Interesting movie
July 02, 2009
excillerating
July 02, 2009
This was aweful! Johnny Depp Sucked bigtime. His acting was not persuasive of an intelligent or charasmatic individual. Bale did ok but i feel he is holding his cards for BATMAN. I wanted to leave because of the useless scenes and slow ass plot. Shooting scenes and cinematics were free cam style jutting and hard to watch. 1 out of 5. Everystep Bale took Johnny took 3 backwards and ruined this movie. DO NOT ENJOY! BOYCOTT!
July 02, 2009
This is not Michael Mann's best movie...but it definitely was a Michael Mann movie. Mann likes to tell stories that are not black & white but usually varying shades of gray. The good guys aren't always that good and the bad, not so bad. Overall, a not so likable movie but very good none the less....
July 02, 2009
YES! I agree as well with the two people before me, Johnny Depp deserves an Oscar for this movie! Best Actor in a leading role for the 5th time!
July 02, 2009
i thought public enimies was amazing~ JOHNNY DEPP WAS FANTASTIC AND EXTREMELY SEXY <33 WHAT A TALENTED MAN !! i would recommend it to everyone good action and romance scenes :)
July 02, 2009
The message of the movie, crime does not pay, it sucks to be a gangester. I can't say I really liked the movie, because the robbery seens were all abrupt, you don't know what was planned and why they trusted each other...the girl paid a hefty price for sleeping with the Chocolat man :)...
July 02, 2009
honestly i have to agree with the guy below johnny should get an oscar for this and the movie was amazing
July 02, 2009
2 stars max. Poor sound quality, slow pace, improbable story line at times hurt the authentic portions and Depp certainly wasn't at his usual dynamic best.............don't waste your time and money...signed....GWH.
July 02, 2009
This movie was as real seeing the real thing happening right before our eyes. Johnny Depp was superb, so was the rest of the cast. I'd go see it again. Melvin Purvis looked like the real pictures I've seen of him, so did Dillinger. Great work, this movie will definitely be one of the best for this year. MY OPINION ONLY.
July 02, 2009
Great movie. However, I do think personally that gangster Pretty Boy Floyd should definitely take more roles in the movie like Baby Face Nelson, which is also another gangster in the movie!
July 01, 2009
amazing! Good story line and action. Depp was great!
July 01, 2009
For the first 2 hours, the movie is excellent from all aspects. Then the story goes off hand for the last 30 minutes, where it spends 20 minutes at least showing Johnny Depp sitting in a theatre and watching a movie. If this movie can be cut to a shorter length, it would definitely be a flawless movie indeed!
July 01, 2009
i had pretty high expectations for the movie, so I might be biased. But I saw it with my girlfriend, and we both agreed it really wasn't that great. Johnny Depp was ok, there really was no character development or any real plot. Just wasn't that great of a movie.
July 01, 2009
Slow pace! Couldn't always follow who was who.
July 01, 2009
Not a "must see" film,but an entertaining movie.Surprisingly little tension but the last half hour is worth the money.
July 01, 2009
bad sound (loud guns but incomprehensible dialogue)and jumpy camerawork - a difficult movie to watch - I wanted to like it, was looking forward to it, but unfortunately it was an entire waste of time and money
July 01, 2009
Masterpeice
July 01, 2009
BEST MOVIE EVER!!!!!!!!!!!!!!!!
July 01, 2009
Good movie...keeps your attention even though it's fairly lengthy. 4 stars.
June 30, 2009
This one may get Depp his first Oscar!