Punch-Drunk Love
Thank you for rating this movie!
Read your review below. Ratings will be added after 24 hours.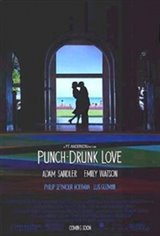 4.28 / 5
User Rating
Based on 1935 votes and 66 reviews
---
Please rate between 1 to 5 stars
Showing 51 to 66 of 66
October 30, 2002
The worst movie I have seen in years....the only good thing about it were the previews.
October 30, 2002
not too great.. made no sense... i actually think it sucked.. totally not a adam sandler movie.. this movie is gonna bring him down
October 30, 2002
3 words... WASTE OF MONEY!
October 30, 2002
THIS MOVIE SUCKED!!!
October 30, 2002
WORST MOVIE ONE CAN EVER SEE! IT HAS NO THEME OR ANYTHING, The beginning totally throws you off, we walked out of it becuase it was just so damn bad :/
October 24, 2002
Two other friends and I went to see this movie and had to leave halfway through because we just couldn`t see what was going on?!?!?!? No plot, no theme, no purpose?
October 23, 2002
What can I say. Can`t go wrong with good old p.t.anderson. this is definatly a oscar worthy product.
October 22, 2002
amazing movie. one of my all time favorites.
October 21, 2002
i Really think this film will make me fall asleep if I was to go to threatre an d watch it, the music for sure has to go. A remake of the movie should be done over.
October 21, 2002
really good. adam did a great job
October 21, 2002
The movie was just ok. If you are looking for a date movie, skip. You wont find a single opportunity to get close to the girl you went with. Also... while the acting is superb, the movie does not feel satisfying as the ending is rather abrupt and not very well done.
October 20, 2002
Weird... I certainly don`t think it rated a 4.98. There was some funny moments, but it was a strange movie.
October 20, 2002
Adam Sandler needed something to get his career back on track. That something is Paul Thomas Anderson. Punch-Drunk Love is the definition of originality, creativity, and the stuff that makes a real artful,entertaining movie. One of the best films in recent years. PTA has outdone himself, giving this movie what he does best. Coinisedence, chance meetings, humorous situations, brilliant acting and a sense of not knowing where the viewer is headed. Punch-Drunk Love is Anderson at his best.
October 18, 2002
it was a typical adam sandler movie... funny in a dumb way. If you are in the mood, the movie is great. If you are in more of a serious mood, DON;T WATCH IT!
October 15, 2002
HILARIOUS!!!!! Sandler`s funniest yet! Overall the film is not bad, its not exactly great, not too much of a story, but each scene is shot very well and the humour is just way too funny. 4 Stars
October 12, 2002
A romantic journey into the human psyche, brilliant!!! Sandler and Watson have never been better. 5 Stars.