Push (2009)
Thank you for rating this movie!
Read your review below. Ratings will be added after 24 hours.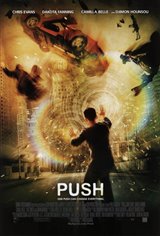 ---
Please rate between 1 to 5 stars
Showing 1 to 43 of 43
July 28, 2009
It is great action
July 24, 2009
One the most sickest movies ever it was awsome
July 16, 2009
Not very good. Lacked a good storyline. Ending was terrible. 1.5 stars
May 23, 2009
Wonderful Movie. Yoe will enjoy alot of actions and a few great twist!
April 03, 2009
This was an entertaining movie. If you like superhero movies such as 'X-Men' or television shows like 'Heroes', you would probably like this. They condensed a lot of action and story into a few hours and it works out well!
March 27, 2009
Alright movie, entertaining in any case. Although everything works out a little bit too perfectly. So as long as your not the type to question the validity of movies you should enjoy this one.
March 22, 2009
Really good, Dakotas turning out to be a great action star
March 17, 2009
dont waste your time or your please !!! for the love of GOD dont do it
March 16, 2009
awesome movie
March 14, 2009
it was so bad do not go see it.
March 07, 2009
i really liked this movie... it was really good
March 04, 2009
I was hoping that the bad reviews were false. But, alas tis was a very crappy movie, lol!!
March 01, 2009
Worst. Movie. Ever.
February 28, 2009
Disjointed and inane. Like watching a movie from inside a washing machine.
February 26, 2009
This movie was so cool go see it.
February 24, 2009
It was bad enough I wasted my money, but that's 2 hours of my life I will never get back. I wouldn't watch this again if someone paid me. PS they should put a zero star rating just for this movie.
February 17, 2009
Wow! I was amazed how much I loved this movie.
February 17, 2009
VERY VERY BAD. NOT GOING ANYWHERE EVEN TILL THE MOVIE ENDS. WASTE OF TIME
February 16, 2009
It was a very slow movie and the plot in regards to its ending wasn't entertaining. I was disappointed with Dakota Fannings acting.
February 16, 2009
This movie is bad. The only thing I can say is... if you are a chris evans fan then see it, but he's not that hott in it. Dakota Fanning was really good though, otherwise, lame! All lame!
February 15, 2009
horrible movie. Waste of time, watch it at home. The plot sucked
February 14, 2009
it was awsome movie go and see it
February 13, 2009
Great movie, action was really well done. I especially loved the whole last "final battle" scene.
February 12, 2009
fantastic movie,and dakota fanning was great
February 12, 2009
movie was really boring, actors were good, but the plot was a waste of my time
February 11, 2009
This movie was crap! Period
February 11, 2009
BOrrrrrrrrrrrrrrrrrrrrrrrrrrrrrrrrrrrrrrrING!!!!! this movie sucks so bad i hated myself for watching it through hoping something irredeemable would happen. believe me i could go on a very long rant at how bad this film is . but i haven't got the time or patience.the best thing about this film was Dakota fanning period!!!!....... N.D
February 10, 2009
I walked out after the restaurant "pin the guy on the cieling" scene. I can't believe this movie actually made into the theatres tpo waste everyones time and money. I wish I had that hour of my life back. I would have had more fun watching Coronation Street.
February 09, 2009
interesting film i would watch again
February 09, 2009
horrible movie
February 09, 2009
Still waiting for something to happen. Very slow and all of the action was in the trailers. Don't waste your time.
February 08, 2009
Idea is great, but the movie was filmed in a very confusing way and the scenes were quite choppy. I do not recommend this movie.
February 07, 2009
FAVORITE MOVIE OF ALL TIME <3<3<3IT i wanna see again love dakota
February 07, 2009
Great Movie alot of action i definetly recommend it but i would say 9 years old and up
February 07, 2009
Very well done movie! Spectacular special effects and very interesting plotline, however it did get confusing in some parts. But all in all it was a fantastic movie. It was like X-Men meets Jumper, terrific!
February 07, 2009
A little slow but still good
February 07, 2009
I actually liked the Pop Chinese girl, I think she is cute, haha! Anyways, the movie is good, but very slow going. Overall, it is sort of like another version of X-Men, definitely recommend this if you are a Marvel superhero fan.
February 07, 2009
Could have been cut by 40% . Too long too boring and nothing new with little or no chemistry between the actors.
February 06, 2009
Very slow. Not enough action. Story line was okay.
February 06, 2009
CAMILLA BELLE IS HOT!
February 06, 2009
incredible visual effects. and Camilla Belle was hot in this film!
February 06, 2009
Jumper meets Fantastic Four!