Quantum of Solace - User Reviews
Thank you for rating this movie!
Read your review below. Ratings will be added after 24 hours.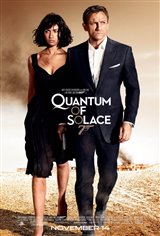 2.95 / 5
User Rating
Based on 9489 votes and 252 reviews
---
Please rate movie 1 to 5 stars
Showing 1 to 50 of 252
March 08, 2016
Thought It was great . kept me on my toes and intrigued. Craig was great
November 04, 2012
I think you can tell by many comments that many don't realize these movies are prequels to the Bond that we now know and have come to love...was great
July 30, 2011
when did 007 become a baby why are they doing this whole broken hearted thing
July 30, 2011
one thing Bond is not is bland. but since this isnt bond... its bland
February 20, 2011
i saw quantum of solace and found nothing wrong with it
November 05, 2010
garbage, not even james bond
May 16, 2010
do you smell that???... smells like CRAP
May 16, 2010
I walked out it was that bad
May 16, 2010
I agree Brosnan was 100x better
March 21, 2010
bring back Brosnan
December 20, 2009
The best Bond film since Die Another Day.
December 15, 2009
as a bond movie i'd give it 0 stars as a typical action movie i'd give it 1 star
October 06, 2009
1 1/2hrs felt like 5
September 15, 2009
Quantum of Crap terrible action scenes, the editing is to fast combined with the Jason Bourne (total rip off) shaky camera makes the action hard to watch. How much longer are we gonna have to watch James Bond heart broken?
September 15, 2009
just because it says its a James Bond movie does NOT make it so
September 15, 2009
avoid at all costs
August 18, 2009
what the heck were they thinkining. bring back Bond the way he was... the way he should be
August 12, 2009
Couldn't help but to laugh at this movie it's that pathetic
July 16, 2009
I did not like this movie as much as Casino Royale. Bond was dwelling too much on the fact that his previous girlfriend had died when previous Bonds had been more casual lovers. Not well elaborated, but action sequences were well done. 3 stars.
July 07, 2009
One of the Best James Bond movies ever awsome action scenes Olga Kurylenko was hot
June 23, 2009
this movie is right up there with blindness and speed 2 cruise control as the worst films ever
June 23, 2009
what happened to the real James Bond
June 11, 2009
bring back Bond
May 31, 2009
Very good action movie and a nice change of pace from previous visions of this franchise.
April 10, 2009
this has to be the worst Bond movie I have ever seen. It was just a run of the mill action movie that really flopped!!!
March 31, 2009
Cons : No Q, no car, he doesn't bed the Bond babe, no wise cracks and a revenge-driven Bond? Pros : Still a Bond flick, good action sequences, good acting all round. Although hes a little more realistic, this is not why we watch Bond - hes an escape from reality ...
March 30, 2009
could of been better, it seems like they forgot to include bond gadgets and the cool stuff, I miss the brosnan days! hahaha
March 28, 2009
Worst Bond movie ever. Story was strange, scenes were choppy but the actors did a good job.
March 26, 2009
Well, I am happy I watched this free online, not true to bond at all, no fancy toys, no cars, bad acting, and the ending was like.... thats it? 1 star, very sad about this.
March 26, 2009
Action Scenes were decent, seen alot better in other bond movies, story line was crap, didn't really mention anything, mentioned Quantum like 2 times in the movie.. Could have been alot better.
March 18, 2009
Are you people out of your stupid minds?! It was the dumbest bond ever! WRITE BETTER SCRIPTS FOR THE LOVE OF HOLY GOD!
March 14, 2009
could they screw it up anymore
March 11, 2009
One of the worst Bond films in years. I think I will watch it again on Blu Ray just to make sure but very dissapointed.
February 17, 2009
James Bond Rules!!!!!!!:P:P:P:P:P:P:P:P:P
February 16, 2009
way to fast in the action scenes it also had some huge holes in the story(surprise surprise) but I want to watch it again so 4 stars Based on that.
February 16, 2009
Huge James Bond fan and Daniel Craig fan, but definitely dissapointing movie. It was missing so much of the traditional "bond-ness!"
February 11, 2009
This is not your typical classic Bond film - Craig lacks the charm of his predecessors. This is just another action packed thriller with unrealistic special effects. If this is what want, you will not be disappointed.
January 29, 2009
had to see it for myself - most comments have been 50/50 - I thought it was great - fantastic action - found the story line very good - especially when the British Gov't. suspends Bond! everyone has their own favourite Bond - mine is generally Sean Connery - but I have to say - I am just happy to see the Bond legacy continue - I think Craig is excellent - people should NOT try to make comparisons...if you knew nothing about Bond and watched it for the first time - I believe you would find it to be excellent...all the comments about the quality of the cinematography were exagerated - had no problem following all the action - it was just very fast paced - which I did not mind either...all thin
January 26, 2009
its very good
January 24, 2009
One of the Best Bond Movies...too bad Daniel Craig isn't that hot...
January 19, 2009
Fantastic movie. It may not be as good as Casino Royale but what is? It is a very high quality move and for the first time ever Bond doesn't get to show a female spy his secret weapon!!
January 17, 2009
The Good- Daniel Craig plays an excellent Bond. The Bad- Plot is ridiculous, no fancy gadgets, no fancy cars, villain might as well be mickey mouse, no "Q", all action sequences look like they were shot during an earthquake. Summary- James Bond is supposed to be a spy, not Rambo. Take away everything that makes the previous bond movies away and you are left with this. A "B" action movie saved only by Craig's acting and the beautiful women around him.
January 08, 2009
the worset of all bond movies
January 08, 2009
I love Daniel Craig's protrayal of Bond, a little rough around the edges, it's more believiable as a double O. However, a different director would have been better, this one too closely resembles one of the Bourne action films.
January 06, 2009
loved it
January 06, 2009
This isn't a Bond film. Enjoy your Bourne Identity 4 starring Daniel Craig.
January 06, 2009
There you have it. The true Bond fans who grew up with the francise dislike this movie. Craig isn`t the problem, though he`s no Brosnan or Moore; All the class and suaveness is gone. A new character has emerged and its not James Bond.
January 03, 2009
I give it twelve out of twelve stars! QOS may well be the best Bond since CASINO ROYALE.
January 03, 2009
quite disappointing. It was a good movie with no real ending; just stops. As well, Bond goes back to his wimpy Walter PPK, and abandons the much better Walter P99.
January 02, 2009
daniel craig is best bond after connery