Quarantine - User Reviews
Thank you for rating this movie!
Read your review below. Ratings will be added after 24 hours.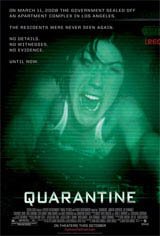 2.24 / 5
User Rating
Based on 840 votes and 105 reviews
---
Please rate movie 1 to 5 stars
Showing 1 to 50 of 105
March 28, 2009
not bad for a cheap thrill; however, shaky filmaking at best and a plot that mirrors 28 days later far too closely. it was totally predictable and I'm glad I waited for video on this one.
March 19, 2009
Blair witch with a bunch of blood. Poorly made with no acting. Don't waste your time. Glad I waited for video. $4 was enough wasted cash!
March 11, 2009
Great movie, a little bouncy/shaky at times but still scary and i do beleive way more un-predictable that most of these movies!
March 08, 2009
total waste of time,got a headache from the bouncing,and thought the acting was horrible,save your money and your time
March 07, 2009
Worst movie i have ever seen ....
March 04, 2009
Fiercely intelligent and original!
February 22, 2009
Bad Movie...Gave me a big headache!
February 22, 2009
So predictable, hard to see anything because it was always dark. Didn't explain much. Most of the time I was wondering how did that guy get there?
December 10, 2008
I went to cinema with my girlfriend, was telling her the preview was cool and should be interesting. Everything seems fine until the camera started to shake ....juz like "blair witch". My girl went to the ladies and puked fot real.I was dizzy as well but I love the story, imagined i was playing game. They should hv shot it in normal camera mode...too bad
December 09, 2008
H-H-Horrible
December 01, 2008
the worst movie ever, so predicatable
November 27, 2008
very good movie. lots of jumps and suspense. dont listen to anyone who says its crap.. see it for yourself. it is worth the money.
November 24, 2008
it was awesome and scary
November 01, 2008
a complete yawnfest. My wife fell asleep and spilt popcorn all over the place. A monkey or a neanderthal could make a better movie. JJ.
November 01, 2008
it's a repeat technically of dawn of the dead or zombie movies but go watch it by yourself and you may just shit yourself. i jumped so many times and my sis when she went to go see it she screamed pratically the whole movie! it's the scariest movie i have seen by now.
October 30, 2008
this movie was terrible, i wasn't scared at all. Waste of money, take what people tell you, dont go see it
October 30, 2008
I have watched so many scary movies and this is the WORST movie i ever watched which makes me fall asleep in the whole movie.
October 29, 2008
I had just eaten dinner, then tried to watch this dumb movie. I guess it could have been better, but it was in "Blair Witch" style, which caused us both to get motion sickness. I asked for my money back... Folks save your money.
October 29, 2008
Everybody hates this film because it was the scariest that i have seen in my life. Walking out of the theater was hilarious. People were trying to leave with there dignity,,,haaha
October 29, 2008
Everybody hates this film because it was the scariest that i have seen in my life. Walking out of the theater was hilarious. People were trying to leave with there dignity,,,haaha
October 28, 2008
i would have to say this movie was really good. For me that is.....of course the 1st 10mins was her just hanging out the firemen getting to know them. Now once you get into the film its good and i was hoping for more explanation about the thing in the attic or thing in apt at end man...like what was that or who????
October 28, 2008
MOVIE WAS AMAZING, DONT LISTEN TO ANYONE. GO SEE IT, IT'S BEEN A WHILE SINCE I HAVE BEEN TENSE IN A MOVIE THEATER!!!!
October 27, 2008
This "herky-jerky" type of filming has run its course.It is no longer a novelty and adds little to a lame story.A waste of time and money.
October 27, 2008
Have to say one of the dumbest movies ever made. Would never recommend anyone to waste an hour out of their lives to see it.
October 26, 2008
couple scary moments, found myself laughing at how brutal the violence was. Surround sound made the movie though
October 26, 2008
Although there was a couple of jump out of your seat moments....a big disappointment ..will not be going to see Quaranteine 2.
October 25, 2008
I find that this movie could have been executed way better. Though I would consider it part of the horror genre, I believe the storyline should be re-written, because the original concept does have opportunities.
October 25, 2008
bit of a twist for a zommbie movie i liked it
October 25, 2008
I thought this was a terrible movie. I love horror/suspense movies, but this one was horrible to watch, lacked in depth (did not even explain the point of the movie) and did not explore its capabilities.
October 24, 2008
not bad. shaky camera was a litle hard to understand at times. but over i liked it. it was an action shot it was supposed to shake
October 24, 2008
not bad,wont see it twice tho. as far as being the worse movie ever, ha, nothing could be as worse as The Happening. M Night needs a pucnh squarely in the face!
October 24, 2008
i went to get my ticket refund in 10 mins. i couldn't sit there any longer... it's the worst movie i have ever seen...
October 23, 2008
great movie, people don't seem to understand that it's supposed to be live action almost. of course the camera will be shakey, if you were running around (like they were in the movie) the camera would be bouncing all over the place.
October 22, 2008
this is the worst movie i ever saw
October 22, 2008
THIS MOVIE WAS THE BIGGEST WASTE OF TIME SINCE THE BLAIR WITCH PROJECT. I dont suggest anyone pay money to see it EVER!
October 22, 2008
I loved everything about this movie.......when is Quarantine 2 out?
October 21, 2008
it was alllriightt!!!
October 21, 2008
just as bad as cloverfield
October 20, 2008
This was one of the worse movie I've ever seen!! I am so mad I wasted my money on it , their should be a warning before you watch this movie saying it will cause headache and nausea!! The movie was out of focus and soo shaky the whole time you couldn't see anything. The only time that it was focused was at the end for a few seconds!! A ten year old kid could of made a better movie then that!!
October 19, 2008
horror movies are just going down hill lately :( this one had a dumb plot and was about as scary as Disturbia... there are far better movies in the theaters right now, go see them.
October 19, 2008
this is like clover field meets terrible horror movie. wasn't scary till the last 5 minutes really
October 19, 2008
It was really poorly filmed made me sooooooooooo nautious everything else about it was great, acting was believable. The quality was also awesome, the shaky camera idea was not.
October 19, 2008
Shot for shot remake of [REC], which was an awesome movie...but Quarantine is GARBAGE!
October 19, 2008
WORST MOVIE EVER........Low budget!!!what a waste of money...Do youself a favor..."""Don't Go!!!""
October 18, 2008
Movie was entertaining, kept me off my seat screaming at times!! The only thing, I don't like movies that don't leave you satisfied at the end, and this is one of them!
October 18, 2008
terrible
October 18, 2008
Wish I could slap the director who decided to film this movie. Almost puked, can compare the feeling to headspins from drinking, or the feeling you get when reading a book in a car. Continue to read the rest of the reviews, you will notice very similar comments, those ones are the most honest reviews for this movie.
October 18, 2008
I understand they wanted to give a cloverfield and blair witch project kind of movie. But this was just horribly done. The camera was always zoomed in and you never knew what was going on. A few good pop ups. But besides that. Pretty Bad.
October 17, 2008
AWFUL!!!!!!!! Wait till it comes out on video if you really much see it.
October 15, 2008
finally a horror movie that doesn't put you to sleep in the first 30min. Really well done and executed.