Rambo
Thank you for rating this movie!
Read your review below. Ratings will be added after 24 hours.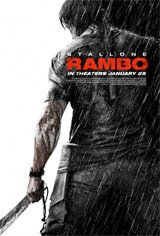 3.65 / 5
User Rating
Based on 22178 votes and 145 reviews
---
Please rate between 1 to 5 stars
Showing 1 to 50 of 145
May 25, 2015
The fifth installment of the popular series will focus on whatever became of Col. Trautman's niece. Should be a good one.
August 27, 2012
awesome movie, love u rambo
August 30, 2008
it was the best movie for this year 2008. stallone look more mature and wise in this movie, sly is always hot and sexy God bless him, love you sly forever.
July 10, 2008
One of the years best. A must have movie.
June 26, 2008
It is a fantastic reload. But as Mario Kessar and Andrew Vajna give a shape to Rambo 1,2,3 this part is not so good in comparitive to the previous parts. From Gaurav Padalia INDIA
June 19, 2008
Worst piece of garbage since all the other Rambo movies. Totally aimed at pleasing steroid filled idiots with brawn and no brain.
June 07, 2008
WOW!!! Rambo!!!!! awsome movie 5/5
June 03, 2008
I really liked it, I thought that Stallone was back in his element where he should be.
June 02, 2008
This is RAMBO. Every one of his shots hits the mark (unlike the enemy's). Lots of blood and guts. The special effects were very well done. Unlike the last Rocky, I would watch this again someday. 4****s
May 29, 2008
WORST MOVIE EVER!!!
May 27, 2008
Movie was pretty good but I thought it ended quite abruptly.Not a good ending.
May 24, 2008
Really enjoyed it. Except for an over the top climax, the violence was treated more seriously than in previous films. Best Rambo since the first film.
May 22, 2008
That was the most realistic movie about war this side of Saving Private Ryan. The first three Rambo movies were good (pedestrian), but this one reaches a whole different level!!!!
March 23, 2008
I wish I could claim that this movie was any good. It wasn't and I wasted my money and my time.
February 29, 2008
It was filmed brilliantly i would say,and this movie does show and represent some of the cruelty being done to people in 3rd world countries like Burma, Kenya etc....
February 26, 2008
Basically, a love story.
February 23, 2008
Sucha a terrible waste of money,.. there is too much Rambo in Rambo...
February 23, 2008
Brought tears to me eyes..its worth seeing in the theares
February 22, 2008
EXCELLENT!!!!! *****
February 20, 2008
Nice not too long movie. Picture's good. Action looks good. Film is good quality. Sly is very cool and manley, doesn't say too much. Some people in my theatre cheered at one point. Liked it.
February 18, 2008
Best movie I've seen in years!!!!
February 15, 2008
This Movie Kicked Ass! If you're looking for a cuddly lovey-dovey movie that Hollywood seems to be pumping out every other day, this is not the place to see it!! This was true to the Rambo form, fitting in nice with the rest, and no political correctness involved, as there isn't any in Burma when you're staring down the blade of a machete. Real!
February 14, 2008
SO GOOD!!!!!!!! A MUST SEE MOVIE!!!
February 12, 2008
Best Rambo ever!!!
February 12, 2008
VERY GOOD movie. Everytime I think it's ridiculous that sylvester is doing these types of roles at his age and can't possibly pull it off, he shoves my own foot right down my throat. The guy is an acting god, it's crazy. This movie was very REAL, that's the best way to describe it. 5 stars!
February 12, 2008
Incredibly amazing from start to finish! I love this movie so much that i wish they make afith installment. Cn't wait until the DVD release!
February 12, 2008
A thrilling adventure with lots of intence scenes. Fan with love it because of its faithfulness to the original. Make sure you are ready for blood though when you see it. All in all a great way to spend some times with your guy friends.
February 11, 2008
One of the best Rambos to date. Very fun to watch.
February 11, 2008
It was a very well done movie!
February 09, 2008
The movie was exactly what was expected. It was action packed, and to its credit only had one cheezie line in the whole movie - "Better to die for something, than live for nothing".
February 09, 2008
T'was an epic movie.
February 08, 2008
Best action movie of 2008. I saw it twice and loved every minute of it.
February 07, 2008
It rocked-I have not seen the original and really didn't want to go but my husband took me and it was great!
February 05, 2008
I Love RAMBO so much , I think this movie it over and over rate . I do like it.
February 04, 2008
So intense... very well done. 7 stars
February 04, 2008
great movie.
February 04, 2008
A 5 star movie in my opinion.
February 03, 2008
I don't why some people complain about this movie so much. Watch it as a stand alone rather than comparing it to the other Rambo movies. Gosh seriously those that whine so much about movies like these, grow up seriously. It's easy to criticize it on how bad it is, but then again how about you schmoes that complain try and make a movie like this. I personally loved it, and how successful Sly shared the screen time with other actors and played across some messages effectively. Great movie, loved the action, loved the music, whiners cut some slack and get a life for once. It's just a movie, don't need to get bent out of shape for it. Enjoy the movie as it is.
February 03, 2008
A lot of heads being blown off and a movie to be stamp onto your Man's card. If you're looking for a good plot go get a book. All you Rambo fans would appreciate this movie. To sum it up I enjoyed this movie. AR
February 02, 2008
If anyone was expecting something else going to this movie other than a RAMBO movie...then why did you go? 5 Stars all the way, True to the rambo history. I hope he makes another
February 02, 2008
IMPRESSIVE. Considering how old he is to be playing a role like that, Stallone was incredible. The movie was very good. Much better then I was expecting. Very good on the big screen. Lots of blood and hardcore violence. Worth a look.
February 02, 2008
Great movie, if you love Rambo and the concept of people getting blown away, this is the movie for you. It delivers on action and a plot that "works", if you want action this is the film for you, extremely gory, if your weak in the knees steer clear as people quite frequently get decapitated or blown to bits. Worthy of the calling itself Rambo. -The Methos
February 02, 2008
HUGE Rambo fan, LOVED IT. See it!
February 02, 2008
Sly is the man!!!
February 02, 2008
HORRIBLE THE WORST OUT OF THE 4, BAD PERFORMANCE,BAD ACTION (SEEN BETTER) AND NOTHING ORIGINAL.. THIS FILM GETS A ONE OUT OF ME!!!!
February 01, 2008
This movie was awesome! They don't make these kind of movies much anymore. It's not often when you get to see absolutely horrible people get EXACTLY what they deserve. And John Rambo hands this out in spades.
February 01, 2008
If you liked the other Rambo movies you will love this one. The blood and violence may seem over the top at times but it is really not any worse then a video game in detail. The big difference in this movie is there is not a specific villain for Rambo to set his sites on, that and he never takes his shirt off.
February 01, 2008
JASON + TERMINATOR = RAMBO. I have never seen anything like that, super action movie. Really liked the sniper shot results.
January 31, 2008
Amazing. I had alot of expectations for this from the trailer. The movie was actually BETTER than I thought it would be. Sly really knows what his target audience likes. Worth every penny.
January 31, 2008
Great film with lots of action. I hope they make another one, just a kick *** movie overall. 5+ stars.