Ratatouille - User Reviews
Thank you for rating this movie!
Read your review below. Ratings will be added after 24 hours.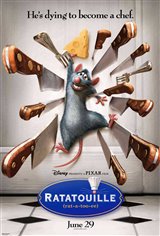 3.90 / 5
User Rating
Based on 1589 votes and 99 reviews
---
Please rate movie 1 to 5 stars
Showing 1 to 50 of 99
September 24, 2020
Probably my favourite animated movie. Cuteness overload, fun, original setting... Who didn´t want some pet rats after this movie has no soul.
October 11, 2018
Ratatouille is terrific moviemaking with magnificent new characters because this animated movie is about family, friendship, embracing your true identity, and the true meaning of working together! Not everyone can become a great artist, but a great artist can come from anywhere!
February 10, 2018
My favourite animated movie! Rats are just cuuute (even real rats!), how can anyone not like them? Funny, original plot and...have I mention the rats are cute?
May 18, 2009
it was fun the little mouse was so lovely and humor perfect
December 13, 2007
it was amazing, great stroy and really entertaining
December 05, 2007
A wonderful movie, animation/story line/comedy all top notch. The best animated movie this year, A MUST SEE for any age group and a unique plot that sets it above the usual cookie cutter disney story line. 5/5
December 03, 2007
I dont get whats with everyone and this movie. I guess if you have high hopes then go see a movie, it dost seem that great.
November 16, 2007
Cute as the dickens...
November 10, 2007
Not your typical Disney type of movie,with enough action,humor and story line to keep almost anyone's attention from beging to the very end. Probably the best animated movie of the year.
October 22, 2007
very nice movie i really enjoyed!! even though I dont like rats, I fell in love with Ratatouille...
September 02, 2007
like the sweetest animated movie of the last few years! funny too!!! i recomend it for sure!!! the best animated movie of the year with the simpsons (tough much different!)!
September 01, 2007
Intelligent and delightful. Deliciously crafted.
August 29, 2007
AWESOME!!!!!!!!
August 27, 2007
It is okay.
August 20, 2007
Marvelous !! -- Clever, well-paced and funny -- and you heard it here first -- Ratatouille gets an Oscar nomination (win?) for best (musical) score !!!
August 19, 2007
Hilarious! What A RIOT!!
August 19, 2007
A very funny movie which had me laughing even when I was tired. Cheers to Ratatouille!
August 19, 2007
Horrible. Absolutely horrible. I hated it. The storyline was stupid, the characters were stupid and everything was stupid. I do not suggest seeing it. Dont waste your time on a movie as worthless as this one.
August 17, 2007
Funnier than I expected. A good family movie for kids and grown ups. Worth seeing on the big screen, although I doubt I will buy the dvd.
August 10, 2007
the movie was not what i expected
August 08, 2007
extremely entertaining. well done to pixar for trying new 'tastes' both comic and cultured. great set of characters as well.
July 31, 2007
Was not what i expected at all. The movie producers could have done much better
July 30, 2007
really funny, but a lot of mixed emotions!
July 29, 2007
My wife and I both enjoyed this immensely. Predictability is really not an issue with this movie - the storyline is more than adequate for the wealth of charterization, humor and food stuff in this eminently enjoyable animated gem. Ideally a 4.5 rather than a 5, but when options are limited, we would rather average above in this case than down.
July 29, 2007
great movie, one of pixar's best
July 27, 2007
the best this sammer
July 25, 2007
it was great i brought my lill bro last night tues jult 24/07
July 23, 2007
pleasently suprised... great origional story..
July 23, 2007
very good. it was great hearing kids and adults laugh and the audience gave it a round of applause at the end.
July 22, 2007
EXCELLENT!!
July 22, 2007
another wonderful pixar movie, well worth seeing and enjoying
July 21, 2007
This was a good movie but a little long for me.
July 17, 2007
Very entertaining. The story is touching. The script is well executed, and the animation is excellent. It is a perfect movie for all ages. 5 stars.
July 15, 2007
Ratatouille was a good show. It is good for adults and kids but I would not take a child under 5 to it as it is a little to much for them to get. Otherwise it was very well done. Wouldn't want to see it agaon and again.
July 14, 2007
This was an incredibly cute and funny movie. It also has amazing animation throughout the film. A movie that can be enjoyed for adults and children. 5/5 : )
July 13, 2007
great movie - truly enjoyed it!!!!
July 13, 2007
One of the best animated films in a long time. Enjoyable for both adults and children. Loved the Parisian music and background. Hilarious
July 12, 2007
My wife and I loved it... including my 8 years old... great movie... very funny !!!
July 12, 2007
really cute and enjoyable. A fun movie for both adults and kids
July 12, 2007
If you like cooking and the romanic city of Paris you'll love Rataouille. The unlikely story of a rat who loves French cooking. A heartwarming and funny tale of a rat's dream to cook.
July 11, 2007
This is a really intelligent and cute movie; I LOVE how they made Remy look like Ringo Starr!!!
July 10, 2007
A very good Disney classic! At first i wondered how they could craft a movie around a rat cooking. But i was wrong to doubt Pixar. It was funny, creative, full of heart! and even some action. Don't miss out on watching this one!
July 10, 2007
BEST ANNIMATED MOVIE EVER
July 10, 2007
i want a remy for myself! sooo amazingly cute!
July 09, 2007
it is one of the best
July 09, 2007
an amazing experince, it have all the action, a tiny bit of suspence,a bit of love and action and sadness and a lot of comendy. at first i thought this movie was "just a way to make money" but know i know that it is am amazing movie that has a good plot and alot of meaning! go see the movie RaTaToUiLlE!
July 08, 2007
I thought this was a great movie, very funny and exciting
July 08, 2007
Great fun, great underlying messages. For the whole family, including my teens!
July 08, 2007
Fantastic job by Pixar again. Fun for adults as well as children.