Ray - User Reviews
Thank you for rating this movie!
Read your review below. Ratings will be added after 24 hours.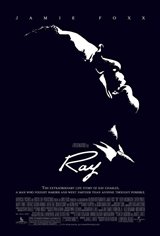 3.76 / 5
User Rating
Based on 5379 votes and 86 reviews
---
Please rate movie 1 to 5 stars
Showing 1 to 50 of 86
December 15, 2005
i liked they movie Ray but it was to old fashion for me.
November 01, 2005
I thought ray was off the chain
May 28, 2005
Foxx was unbelievable. He was so "dead-on" it was scary. My only complaint is that the movie spent way too much time on the drug addiction and rehab. With a music career of over 60 years, they should have had lots of other material. See the movie for Foxx`s acting.
May 03, 2005
I love "Ray"- this is one movie that did live up to the hype. I do take exception to one of the users who said this movie has nothing for anyone born after 1975. You are certainly entitled to your opinion, but I respectfully disagree! I was born in the mid-70s and found the movie a great testament to music, music history, social history, and the magic of a true genius. I think it may be difficult for some people to understand just what Ray Charles did contribute to our culture. I myself do not know the world without "Hit the Road, Jack," or "Georgia On My Mind," or "Unchain My Heart." Those of us born more recently tend to forget j
May 02, 2005
Phenomenal acting by the entire cast. Jamie Foxx proved that he is an awesome dramatic leading man.
April 05, 2005
THIS IS A BEAUTIFUL, INSPIRING, TRUE STORY OF A WONDERFUL MAN WITH GREAT TALENT AND GREAT SADNESS. THIS IS AN IMPORTANT PIECE OF HISTORY NOT ONLY OF THE MAN BUT OF THE TIMES. IT HELPS US SEE WHERE WE WERE, WHERE WE ARE AND HOPEFULLY WHERE WE WILL MOVE UPWARD IN OUR UNDERSTANDING OF EACH OTHER IN FAR GREATER ASPECTS INCLUDING OUR SPIRITUAL SELVES. THANK YOU TO ALL WHO MADE THIS TOUCHING, STORY COME TO LIFE. ROSE
March 18, 2005
ray was ssooooooooo good!!!! even if you are not a fan of ray charles you will still enjoy this movie!!!!! i can tell why it was nominated for best picture award at the oscars!!!
March 15, 2005
This probably one of the best movies ever!
February 28, 2005
The movie was truly an inspiration. Jamie Foxx`s role in this movie is soul touching and unforgettable. When I watched the movie, I forgot that he was Jamie Foxx. This is the best movie since the Color Purple. God bless Ray Charles and his family and also congratulations to Jamie Foxx for doing such an amazing job with this film!
February 28, 2005
I THINK JAMIE FOXX PUT HIS ALL INTO "RAY". THE MOVIE WAS FANTABULOUS!!! ****** 6 STARS TO "JAMIE". HE TOTALLY DESERVES AN OSCAR WIN, OR TWO!!!!! EXCELLENT!!! EXCELLENT!!! ECELLENT!!!
February 25, 2005
Just so great. I am a fan of RAY CHARLES. MR FOX did a great job.I have watch the tape like 4times already. Iwill go to show and watch it.
February 24, 2005
I GIVE THIS MOVIE TWENTY STARS IF THIS MOVIE WASN`T OUTSTANDING IDON`T KNOW WHAT IS
February 22, 2005
Jamie Foxx was born to play this movie. If Foxx don`t win a Oscar, I will never whatch the Oscar`s ever again.
February 20, 2005
Amazing movie, i just watched it tonight and it has to be the best movie i have seen in a long time. Jamie Foxx is an amazing actor and he was great in this role, i hope to see more of him soon cuz i think he is a great actor.
February 19, 2005
Outstanding. Amazing Reflection of Ray Charles`s life....Jamie Fox rules!
February 15, 2005
Excellent!
February 11, 2005
Im not a Ray Charles fan because I knew very little about him including his music. But the movie gave me a great insight of his life and I enjoyed it. Despite his flaws, which everybody has some in life no matter who you are. He proved to be an inspiration and a fighter no matter what kind of curve balls life and people throw you. Rest in peace Ray and God Bless.
February 10, 2005
I think that Foxx did a wonderful job, I didn`t think it could have beed none better by anyone else.
February 08, 2005
Sharon Warren did a magnificient job. Please tell me if she is working on a new movie?
February 08, 2005
This was a fantastic movie.Jamie Foxx was terrific. The music and the other actors really brought it to life. I bought this movie the day it was released on dvd an have watched about 10 times already. Thank you for such a heartwarming performance.
February 07, 2005
Absolutely Magnificient!!!!! Jamie Foxx blew me away...What a talent!!!
February 04, 2005
Actually, I thought this should have been a made-for-TV movie. Yes, Foxx is terrific, but he could have portrayed Stevie Wonder, James Brown, Little Richard, or Marvin Gaye and he would have been just as great. He is a gifted mimic, and he knows how to reign himself in. As for Oscar, I think that this is Leonardo DiCaprio`s year.
February 03, 2005
Foxx is amazing...but the movie itself is average
February 02, 2005
Outstanding
January 30, 2005
Bravo. Excellent movie.
January 28, 2005
it was cool
January 20, 2005
it was a great movie with an awesome moral!!
January 10, 2005
just saw ray last night. the best movie i have seen in a long time. jamie foxx is excellent and makes you believe he is ray. the ending was disappointing. flashbacks to his life as a child with his mother give you a great insight to his childhood. excellent movie that portrays mr charles warts and all. oscar for jamie foxx.
January 10, 2005
A great performance by Jamie Foxx. You reaallly get a good appreciation of Ray Charles` life in front of and beyond the entertainment stage.
January 02, 2005
A beautiful movie of a beautiful life..... Jamie Foxx is unbelievable as Ray. Deserves the Oscar, as it`s the best performance I`ve seen this year.
December 31, 2004
There is only one word you can say about this movie, Breathless.
December 30, 2004
This movie was so good. I know nothing of Ray Charles and his music and yet the story and real aspects of Ray`s life was amazingly portrayed. Jamie Foxx is absolutely fantastic as well as the supporting cast.
December 28, 2004
Amazing!!!
December 27, 2004
After seeing Ray you gain an amazing insight into the life of a truly wonderful entertainer,Ray Charles. Jamie Foxx is great as Ray,and will most likely be nominated for the academy award for best actor this year. Great film all around.
December 24, 2004
Don`t waste your time on this. Overly long, boring, simplistic bio pic. Wretchedly directed. Great acting from Jamie Foxx, Regina King & Kerry Washington can not save this bloated mess. Only catch this if you`re a devoted Ray Charles fan.
December 24, 2004
Excellent and heartbonding movie with Jamie Fox One big show in a warm heartfilled film That is called Ray Best movie with Jamie Fox Coming to a fire hearted film that well move your seat
December 11, 2004
GREAT MOVIE!!!!!!!!!!! JAMIE FOXX NEEDS A GRAMMY FOR THIS MOVIE....
December 04, 2004
excellent
December 01, 2004
Loved Jamie Foxx. A great performance
November 30, 2004
it was ok for a rainy day with nothing else to do. I would not recommend this movie to my worst enemy.
November 28, 2004
Unbelievable movie. Very realistic. Jamie Foxx was incredible.
November 28, 2004
Jamie Foxx was absolutely amazing. Though there are some story issues and some questionable dialogue in the film, the performances make the film well worth taking in. Go and see Ray.
November 27, 2004
Outstanding!!!!!!!!!!!!!!
November 24, 2004
I thought Ray was a good movie. Much like Ali, it gives you only a small look at the artist`s life. It was a little drawn out (very long) but otherwise it was a good movie.
November 23, 2004
Excellent movie! Really makes u think but enjoyable as well. 2 hour movie and i didnt even get bored. I recommend this movie.
November 23, 2004
I think Ray is the best dramatic film of not only the year, but in 20 years. Not since The Color Purple have I seen a movie this moving, introspective, and poignant. Gold stars to not only the star of the movie, Jamie Foxx, but to every actor and extra in this film. The performances in this film are untouchable and right on the money and as Ray would say "Hello!".
November 21, 2004
Good movie, bad ending
November 19, 2004
Excellent movie. Shows the `good, bad, and ugly` side of Ray Charles. Outstanding performance by Jamie Foxx.
November 18, 2004
an amazingly versatile and poignant performance by jamie foxx. Ray Charles must be smiling down and hugging himself in absolute, estatic approval.