Red Dragon - User Reviews
Thank you for rating this movie!
Read your review below. Ratings will be added after 24 hours.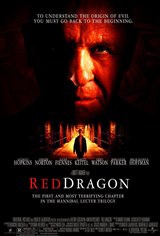 3.77 / 5
User Rating
Based on 3310 votes and 106 reviews
---
Please rate movie 1 to 5 stars
Showing 1 to 50 of 106
March 01, 2018
Very good thriller. I felt sorry for the killer who was turned into a monster because of abuse during the childhood.
April 11, 2010
red Dragon was a great film, Ralph plays a brilliant part as a serial killer !
June 04, 2007
Interesting. I enjoyed it,ery gory though. Overall good movie. Anthony Hopkins again gives a powerhouse performance!
October 14, 2006
Nothing beats The Silence Of The Lambs. So the sequel and the prequel just don`t cut it. I did like Red Dragon more than Hannibal, but not much more. I liked at the end of the film, it connected with the first one. But that`s about it.
September 10, 2006
i think its on of Anthony Hopkins best movies and dont forget ralph fiennes and edward norton. Anthony hopkins is my favorite actor and all his movies are great to to me.
January 07, 2006
This movie is absolutly awesome!!!!
September 27, 2005
I loved it and all of anthony`s movies
July 27, 2005
The best movie I ever seen!
January 22, 2005
this movie is my favourite, ralph is just so ace. all those who hated it need thier heads cheacking!!!
November 20, 2004
superb....................
July 22, 2004
it was the best movie out of all the Hannibal movies
April 16, 2003
Excellent movie!
February 24, 2003
I believe Red Dragon was an excellent movie and ties in with Silence of the Lambs beautifully. There was an amazing cast, and I loved Anthony Hopkins (as usual) and thought Edward Norton was very likeable as Will Grahem. I couldn`t have made a better movie, and since Hannibal was not the exceptional movie, this was a great movie for the Hannibal trilogy.
January 17, 2003
Best Hannibal Movie Yet!
November 10, 2002
Meh... it was as good as I thought it`d be. I mean, everything was so expected. For example, near the end, when the little boy runs ALONE into the house... OH PLEASE! C`mon, that`s just telling us something is going to happen. It really wasn`t that well done, though I did like Anthony Hopkins performance. It was actually quite funny.
November 09, 2002
Much better than Hannibal. Ties into Silence of the Lambs quite nicely.
November 08, 2002
great movie. I was very disapointed with the movie and book Hannibal.On the other hand Red Dragon was both excellent reading and great viewing. I would recommend it for everyone except my sister who would have her eyes covered for most of it, while she tugs on my sleeve asking "can I look now??"
November 06, 2002
The adaptation fits for screen-requirement; but would be better if Will displays more original thinking rather than the panel of "so called" experts.
November 05, 2002
the movie was great!
November 04, 2002
Have you ever seen the movie manhunter?.... with hannibal in it and the exact same charaters and plot and story line. Dont get me wrong it was a good movie but what happened to originality? i give it 3.5 stars
November 04, 2002
The re-make was no better than the original. And why did they keep the crappy eighties horror music? If you want entertainment, read the book and skip the movie.
November 04, 2002
It was the best of the trilogy, even though Silence of the Lambs won an Oscar. This is a movie I would definitly buy for my DVD collection. There was lots of twists and turns, and it kept you on the edge of your seat from the beginning to the end.
November 04, 2002
Ralph Fiennes should win the Oscar that he has been robbed of in the past. The movie was suspenseful, psychological, and well-acted in general. However, it is Ralph`s portrayal of D as a human being as well as a killer, humane as well as insane, that elevates the movie above the level of a formulaic thriller. You are able to feel for him even as you loathe and fear him. Mr. Fiennes demonstrates why he is easily the best actor in Hollywood today. I will see it again and again.
October 31, 2002
It put the pieces together from the past movies "Slience of the lamb" and "hannibal".
October 29, 2002
Faboulous!! :) Enough said!
October 26, 2002
It was awsome!!!!! I loved it. Everyone should go and see it!!!!!!!!!!
October 26, 2002
I loved it!!!! Hannibal was too gory and I thought it would be hard to beat Silence of the Lambs, but it does!! Amazing acting and a super scary plot. I also liked the way it tied into Silence of the Lambs. It couldn`t have been better...
October 26, 2002
awesome! awesome! awesome!!!
October 26, 2002
it was as entertaining as Silence of the Lambs. Norton and Hopkins were amazing together. Would advise everyone to see it.
October 26, 2002
better than silence and hannibal!
October 25, 2002
A classic masterpiece and a true thriller. Ralph Fiennes is awesome!
October 24, 2002
read the book years ago, far better than the movie
October 24, 2002
the best movie 2022
October 22, 2002
I read the book before I saw the movie and as soon as I finished the book I could not wait to see the movie. The movie was incredible and I have seen it many times. It is a very very good prequel to Silence of the Lambs. Norton and Hopkins energy together was extrodinary.
October 20, 2002
better than the last movie very entertaining a little scary
October 20, 2002
It was back in the ball game of Silence of the Lambs, as opposed to the other one.
October 20, 2002
brought the frist two movies to a close...
October 19, 2002
Very nicely Done. Great performances by all actors. Truely suspensful.
October 19, 2002
Very well done. Much better than the last one (Hannibal, yuck). Edward Norton is great as usual, and of course so is Anthony Hopkins, just as convincing as he was in the other ones. Harvey Keitel has a strong roll too. I recommend it.
October 19, 2002
excelent stayed true to the book altough it was mising some things but there were alot of thing aded in
October 18, 2002
borring ever.........
October 18, 2002
fab! Ralph was brilliant and Emily Watson, superb, to say the least. Anthony Hopkins, as Lecter, had witty lines. Dark humour gave the edge as well. although some devices were cliched, they still worked, mostly because i wanted to believe in human goodness (hope), and i think the scheme of the movie was capitalising on that.
October 18, 2002
It kept both my wife and me on the edge of our seats. We enjoyed discussing the plot and characters after the show. Head & shoulders ahead of Hannibal and the tie-in to Silence of the Lambs was great!
October 18, 2002
Red Dragon is a very well done, entertaining movie with very fine acting by everyone involved. Same story but difference take from Manhunter, another very fine movie. I had high expectations and was not dissapointed.
October 16, 2002
Ummm (number 2)...it was already a trilogy. Red Dragon was made into Manhunter about 15 years ago, so, technically, Hannibal was the end of the trilogy.
October 15, 2002
a disgrace and no where near the audacity of silence of the lmabs. shame on hollywood for trying to squeeze in another trilogy in our already overflowing remake culture
October 15, 2002
Umm...in the book, Hannibal Lecter WAS a sideplot. Of the trilogy, only in "Hannibal" has Lecter been the main character. In both Red Dragon and Silence of the Lambs, he is contacted by the FBI to provide information on other serial killers. That`s why I could never understand teasers like "the beginning of Hannibal Lecter`s reign of terror" and other such things. It`s not about him!
October 15, 2002
Not enough scenes with Hannibal! He was like a side plot. I was disappointed.
October 14, 2002
Ralph Fiennes is amazing!