Resident Evil: Extinction
Thank you for rating this movie!
Read your review below. Ratings will be added after 24 hours.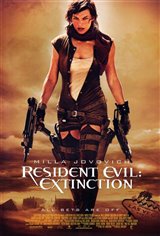 2.78 / 5
User Rating
Based on 1069 votes and 73 reviews
---
Please rate between 1 to 5 stars
Showing 1 to 50 of 73
December 08, 2008
it was awesome
December 01, 2007
I love Zombie movies... not as many Zombies as I hoped for. mostly crazy " humans".
November 13, 2007
excellent
October 24, 2007
Was basically just a run-of-the-mill zombie movie, but with a lead character that has vague supernatural powers that she uses maybe twice. So.. yeah, typical zombie flick. Wasn't bad. 3 stars.
October 24, 2007
Really enjoyed the movie. Its non-stop action but seems to lull before the big confrontation at the end. Once again, Oded Fehr puts in a great performance. If his name were more American, I'm sure he'd have a bigger film career.
October 15, 2007
My husband never even watched the first 2 movies but was able to get right into this one, and he doesnt even really like these type of movies. I prefered this installment better than the last one, things are starting to get really interesting now.....
October 14, 2007
pretty cool
October 09, 2007
I thouht that the protaganist in this movie was way to violent it should be at least an "R" movie as there are many nude monster scenes.
October 07, 2007
AWESOME MOVIE
October 06, 2007
It made me jump ALOT. I don't think it was as gory as the first one if I remember correctly but if you've seen the other Resident Evil Movies this one is extremely similar. You'll like it if you liked the predecessors.
October 06, 2007
Unlike other zombie movies filmed at night this one is in broad daylight. I can see what is going on. The zombies move fast and aggressively. They do not shuffle like in other movies. Great action.
October 06, 2007
By the end of the movie I found myself not confused, or lost I was severly disappinted! This movie was horrible, the worst part was the end it left me wondering how much more hollywood will crusify the reminents of this movie.
October 05, 2007
i personally loved this film, i love her tight tops and holsters is it just me or would you pay the price of admission to watch some sexy supermodel mow down a bunch of zombies, loved it, you will too
October 05, 2007
you know i love resident evil games this movie never followed the game but on the other hand mmmm milla still this series was awsome cant wait to see her again oops i mean the next movie
October 05, 2007
love the resident evil most of all the character
October 04, 2007
ive been really let down by this movie series, the characters have been switched around and their roles changed. these movies are nothing like the games and its very apparent they wanted nothing to do with the games when creating the movies
October 03, 2007
good action, no story and waste of money...it is like watching somebody shoot zombie's for 2 hours and nothing else...
October 02, 2007
I liked it... even though it went away from the video game series but still entertaining for the true RE fans!!! 4/5
October 01, 2007
Great movie, worth watching at the theatre
September 30, 2007
awsome movie
September 29, 2007
best movie ever
September 29, 2007
AMAZING
September 28, 2007
Those darn zombies! I love Milla...
September 27, 2007
Fans of the RE series should enjoy this movie. It had decent special affects and action and it moved the story along enough to keep me interested when the next one comes out in a couple of years.
September 27, 2007
it was a great movie
September 27, 2007
the best one yet
September 27, 2007
So far I liked the first two, but this 3rd movie... Had action but sorry it I didi not like it. Story line soso action so.. And did the group ever reach Alaska????
September 27, 2007
It is the most amazing sequel so far. Brilliant story line & special effects. If you haven't seen the first two RE movies, it is recommended. Wow!! Edge of ur seat action!! Can't wait till it comes out on DVD
September 27, 2007
If you are expecting Citizen Kane, you are an idiot but if you are expecting an action filled zombie movie with a contrived plot that is just fun to watch with your brain turned off, then this movie is great!!
September 27, 2007
this really killed the Resident Evil trilogy. I was expecting so much after the second one.
September 25, 2007
I'm giving it 5 stars because it was still a very good money. I watched it to the end and I stayed at the edge of my seat the whole time. Not much better then the first two but quite good. YOu will jump a lot during the movie.
September 25, 2007
I give it 2 stars for the action and a half-star for the plot itself which has so many holes in it you could shoot a field full of zombies through them. It's like they had to edit it down / chop into a short 100 minutes or so. Predictable plot ideas develop enough to create some intrigue then fizz out. Climatic fight ending is about the same as the 2nd movie. Also, it's incredible that in a food-short apocalyptic sun-baked Road Warrior environment the key players even after a few years still have perfect makeup and skin tone. I could go on and on… You'll like it if you're under 15 with short term memory loss.
September 24, 2007
horrible movie, save your money
September 24, 2007
Resident Evil: Extinction like it's predecessor's is always on the verge of a really good movie but never quite finds it's way...mainly because the script and most of the actors are in the same boat. Without Milla Jovovich, it would most certainly be a doomed franchise. The desire to embrace the story and Millo are enough to keep you watching it to the end but eventually you can't help but feel a little let down. Die-heart fans will find something to discuss after the movie, but a regular movie goer looking for an action -thriller will forget what they went to see, 2 min after leaving the theatre.
September 24, 2007
awesome movie. scary, unlike the other 2, but soooo good!!
September 24, 2007
i loved it
September 24, 2007
awesome movie. nothing satisfying killing dead people(zombie). but it lacks a little bitmore action.
September 24, 2007
Not a very good movie. I don't know why people are saying its awesome. I thought it was boring. If you're a fan of the series, honestly wait until it comes out on video. I don't know what else to say. Even deathproof was better then this.
September 24, 2007
missing a lot of aspects of what a resident evil should be about
September 24, 2007
it wasn't like first & second one. but have to follow the next one,to see what's happen next.we didnt like alises super power thing.
September 23, 2007
Really Freakin Good Movie, nothing bad to mention!
September 23, 2007
Seriously this movie is sooo bad it makes Nemesis look like an Oscar contender. If you think I am kidding, waste the money and find out for yourself.
September 23, 2007
Another sad case of the previews being better than the movie...so disappointed
September 23, 2007
excellant movie
September 23, 2007
This one is ok but the plot is a little bit weak. It's worth to watch and Mila rocks.
September 23, 2007
way better then the first two!!
September 23, 2007
like totally amazing and super scary
September 23, 2007
Although not an original plot, nor does it possess killer character development. This movie rocked it out. Movies snobs will probably not enjoy it, and I am sure the reviews by the professionals may be weak. For the person who goes to the movies to be entertained for an hour or so and loves to jump at suspense thrillers and takes and odd pleasure in the shock and horror of what special effects artists can do with makeup and props and never tire of zombie movies and spectacular "kill them all fighting moves". Check this one out.
September 23, 2007
HOT!!!
September 23, 2007
I love this movie! I liked how it made us sit on the egde of our seats then come out with a unexpected surprise.