Respect - User Reviews
Thank you for rating this movie!
Read your review below. Ratings will be added after 24 hours.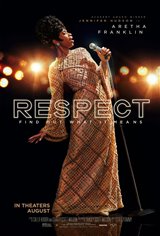 ---
Please rate movie 1 to 5 stars
Showing 1 to 21 of 21
September 23, 2021
Greatest movie ever
September 07, 2021
Well done. Jennifer Hudson was outstanding. Costumes, Music, Actors were all 100% on point. Movie brought tears at the end. I loved every minute of it and will see it again.
September 06, 2021
Story, singing and costumes were excellent
September 02, 2021
Really liked RESPECT, the actress was awesome. The music and the voices was uncreditable, awesome. brilliant. I am a movie goer, this movie was one of the best I have seen in a very long time, I will see it again!
September 01, 2021
If you enjoy her music you will not be disappointed. I appreciated learning more about her skills and life. While she had her life challenges the movie did not shy away from them nor over focus on them.
August 31, 2021
Jennifer Hudson does a magnificent job of portraying Aretha Franklin's complicated life and genious. The movie both educates us and celebrates the meaningful music created by Aretha Franklin.
August 31, 2021
Jennifer Hudson's well researched portrayal, Forest Whitaker's stellar performance and Marlon Wayans well acted, out of his genre performance.
August 29, 2021
Bringing an incredible mix of gestural subtlety and musical power, it cannot be said enough what Hudson achieves here by transmitting a rich sense of interiority, staying true to who Franklin was in private with every look given, word spoken, and melisma sung
August 29, 2021
Outstanding movie along with Respect Soundtrack. Jennifer Hudson performance is superb and Oscar worthy.
August 21, 2021
Spectacular! This word almost describes the impressive work of Jennifer Hudson.
August 21, 2021
Hudson brilliant. Music great. About 15 min too long.
August 21, 2021
Aretha had wanted Jennifer to play her in a movie and omg..did she ever!!!!
August 21, 2021
Descent movie, but not an award winning one.
August 20, 2021
I will be most disappointed if Jennifer Hudson does not get an academy award for her role as Aretha Franklin in this movie, her acting is superb.
August 20, 2021
Jennifer Hudson was outstanding in her role as Aretha Franklin. This movie was so well done, so many facts that so many probably were not aware had happened to this brilliant singer/songwriter in her young life. Many of her songs were written because of things that had happened to her in her life and that is why she put so much feeling into her songs. Many today could not even begin to cope with an iota of what this woman went through before she was able to even know how to be a child. A lot of us have demons to deal with but this woman had 'DEMONS' in her young life and dealt with them daily.
August 14, 2021
It gave me an insight into Mrs Franklin's life. Never knew she was that close to Dr. Martin L. King. I enjoyed it. Well done to the cast.
August 14, 2021
…story I knew little about and performance by Jennifer Hudson that is F-A-N-T-A-S-T-I-C! No wonder Franklin chose her to play her shortly before she passed.
August 14, 2021
There is so much more to this iconic woman, but Jennifer Hudson, Marlon Wayans, Mary J. Blige, Marc Maron and Myk Watford were all great.
August 13, 2021
Sad but true story, Aretha is definitely Queen of Soul music.
August 05, 2021
Academy Awards time!!!