Rise of the Guardians - User Reviews
Thank you for rating this movie!
Read your review below. Ratings will be added after 24 hours.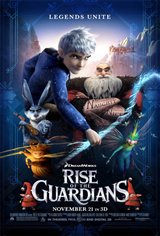 ---
Please rate movie 1 to 5 stars
Showing 1 to 27 of 27
May 08, 2013
Probably watched it about 13 times, and Im 21. THAT good!
March 03, 2013
one of the best kid shows I have seen in a long time!!
January 28, 2013
PERFECT for all ages! Definitely my first choice recommendation
January 19, 2013
it is a great movie to see
January 06, 2013
Simply amazing. The animation was brilliant (the scenery...just wow), the characters were amazing, and the storyline was fun and exciting! I recommend this to everyone of all ages.
December 30, 2012
Excellent fun movie
December 29, 2012
I really liked this movie. Saw it with my niece. The characters were great, story line was fun. I would recommend this movie to everyone of all ages. Best animation movie Ive seen for a very long time.
December 28, 2012
wow. just wow this is one of the best movies, like ever
December 20, 2012
Amazing movie!!
December 18, 2012
best movie ever!!!! :)
December 15, 2012
Overall a great movie and probably the best 3d content to date. However, it took its toll on a few kids and left partway though after messing up the floor. You may want to stick to 2d if your kid has a weak stomach.
December 13, 2012
Great movie :) can't wait to get it on DVD :)
December 13, 2012
awsome movie i loved it funny,cute,and just awsome! I went there with my 2 year old and 9 year old and they both loved it. It was definitly worth watching!
December 11, 2012
Such an awesome, funny, loving movie for all ages. Majority of the theatre was adults and everyone was laughing and loving this movie. Worth watching for sure!
December 09, 2012
it was awsome
December 08, 2012
Good movie . Makes you feel good
December 04, 2012
Wow! That's all I will say.
December 03, 2012
This movie is really good funny,cute,hilarious and good for the kids to watch. (y)
November 29, 2012
Amazing characters and great story about each and everyone of them! Very nicely tied together and some of the best 3D I've seen in an animated feature! Some of the mechanics and angle of the scenes just blew me away as I haven't seen some of the shots used in this movie as compared to previous animated features I have seen.
November 28, 2012
it was fun, cute, funny, sentimental, a visual treat. but quite a bit on the dark side (night), and scary. and childhood memories become things that can be hidden/lost/stolen/held captive (sad). as well as 'not believing' in fairytale beings. it was quite densely packed with so much visuals, it's epic, but this meant at times it could be visually wearisome for both adult and especially children. either way, even if kids get tired/miss parts, there plenty more to take in and enjoy throughout. nice story. worth the watch.
November 26, 2012
Epic really funny really cute and had a cool story "i love being put in a bag and tossed thought a magic portal" "GREAT! that was my idea!'
November 26, 2012
I gave it five stars because the kids LOVED it. I however was bored. If you want to enjoy this movie, enjoy your kids enjoying it.
November 25, 2012
Just remember this movie is for young audience and the young at heart. i think this movie nailed it for them. It explains the characters very well and the story line was great. From beginning to end i love it! Infact, once the movie ended the whole theatre clapped. You don't get that often.
November 24, 2012
I couldn't believe how amazing this movie was! I can't remember the last time I saw such a well rounded movie. I was enthralled from beginning to end!!
November 24, 2012
My 6yr old loved it!
November 21, 2012
Rise of the Guardians was one of the best movies I've seen in a long time. The animation was great, and the pace wasn't slow. A wonderfull story. By the end I couldn't stop smiling.
September 12, 2012
awesome!