Road to the Lemon Grove - User Reviews
Thank you for rating this movie!
Read your review below. Ratings will be added after 24 hours.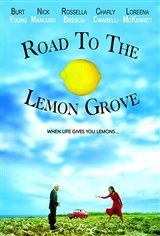 ---
Please rate movie 1 to 5 stars
Showing 51 to 90 of 90
September 02, 2019
Loved the movie my mom really loved it brought her lots of memories from Sicily. Really awesome great movie to watch. I learned alot from this movie. Very touching. It was funny and sad. Way to go everyone. ???
September 02, 2019
A very entertaining movie with such a real message imbedded in the heart of the story. Funny and true. The acting was par excellence. A must see film
September 02, 2019
Since I just came back from Sothern Italy, this movie really touched my heart. The symbol of "lemon" means a lot to those Italian people, especially Sicilian.But not only for those southern Italian people, you will realize someone's life means so much to us when you know his history.Because we are all immigrated from somewhere in this country. This film reminds me a Lemon Sorbet I had.The decease of father was sour, but recovery of relationship with his son and people around was absolutely sweet and refreshing.The beautiful scenery of Sicily makes me go back to Italy....
September 02, 2019
Really good story line together with loads of fun and laughter
September 02, 2019
Loved this movie. We laughed and cried. Great actors and actresses. Beautifu scenery. We actually saw it friday and monday. Great job guys and gals.????
September 02, 2019
Wonderfully poignant, humorous and charming! Very inspirational!
September 02, 2019
This movie was delightful, funny and heartwarming.
September 02, 2019
Great movie!
September 02, 2019
Great movie!
September 02, 2019
The Road to the Lemon Grove is a charming film about Calogero, a university professor and son of Italian immigrants tasked with completing a mission in Sicily for his deceased father, Antonio. It is a road trip, slapstick, father-son, and romantic comedy all rolled up into one with even an homage to the spaghetti westerns of yesteryear. Charly Chiarelli takes on multiple rolls for the film as Calogero, his father Antonio and other characters. The stunning Italian superstar Rossella Brescia appears as Calogero's love interest and the scene-stealing Nick Mancuso appears as the heavy. One of the biggest stars has to be the gorgeous scenery of Sicily that has been lovingly shot. It is captured so well that you would think it was shot for the island's tourism office! The story has a sincere side and Calogero makes impassioned pleas about the value of preserving one's language and cultural identity in an increasingly homogenized world. This film has something for everyone and is well worth seeing.
September 02, 2019
Great movie funny and moving.
September 02, 2019
Left the theatre with a warmth in my heart. I loved the scenery and the message it left with me even more.
September 01, 2019
Quirky ,funny and a feel good movie!
September 01, 2019
Heart warming comedy illustrating an immigrant experience, so relevant today. Well acted with beautiful scenes of Sicily.
September 01, 2019
Loved the movie!! View of Sicily was breathtaking??
September 01, 2019
Great movie!!
September 01, 2019
A very touching story. Beautifully scenic. Has a message about immigration and language. We enjoyed it!
September 01, 2019
Wonderful story, great acting, superb scenery and photography. I laughed and cried which makes for a memorable evening. Highly recommend.
September 01, 2019
Fantastic movie! A comedy/drama yes, but with a powerful message I had the pleasure of watching this movie with 4 firends and everyone had a different, but positive takeawy. Everything from superb character development, incredible scenery, shared immigrant family experience, and the power of giving and receiving acceptance. Thank you so much for such a perfectly done powerful and inspiring movie.
September 01, 2019
Finally a movie that resonates with my reality. Road to the Lemon Grove could have been my story. I'm not Italian, but the movie took me back to my childhood when I had to translate my teachers' words for my parents. Hildebrand and the cast captured the essence of being an immigrant, and the depth of a father/son relationship. I loved the humour and the exquisite cinematography took me into the heart of Sicily - a tribute beyond compare. This is the best movie I've seen in years.
September 01, 2019
Incredibly thoughtful! As a second generation German immigrant, it spoke to me on many levels; culture, language and the importance of family. Bravo!
September 01, 2019
Very nice film. Heart-warming and insightful. There are some problems with the pitch of the film, and the comedy is broad, but for an independent non -gov't funded film to get into the theatres says a ton. Well-done indeed.
September 01, 2019
Bravo to the incredible people behind this movie. It was one of the finest films that I have seen in years. It's a superbly crafted movie with a truly dynamic cast. The director, Dale Hildebrand has delivered an outstanding picture that I'm sure everyone will love and look forward to watching over and over again. The visual elements were beautiful. The story leaves you wanting more! I'd rate this movie as 8 stars out of 5 if I could!
September 01, 2019
Refreshing and heart felt - with great insight into families and the need to find a common language/experience. Finds its way past the initial brashness of some of the characters - and the challenges to relate across generations and cultures to what it really means to be a family. That coupled with the beautiful cinematography makes it a must see for all families in my view.
September 01, 2019
At last a charming movie that moves you.
September 01, 2019
After watching too any box office bombs this summer I was glad to end it with a 5 star movie. The story was cute and light hearted. The scenery made me wanting to book my next vacation to Italy!
September 01, 2019
Went to see this movie, lastnight with my sicilian parents.. A beautiful Canadian film about an Italian immigrant. Something I'm sure many of us can relate to. Highly recommend it. ??
September 01, 2019
A heart warming movie with a lovely story and beautiful cinematography.
September 01, 2019
I went to see this film opening night and really enjoyed it. It tells a story of heritage for the people. It reminds me relationship I had with my dad and struggles and misfortune they experienced in a new country. Must see and well directed.
September 01, 2019
I heard this movie is Romantic Comedy which isn't my favorite. It is not only Comedy, but also family relationship heart warming story. I am Asian, not Italian, but still I have same experiences in Canada and enjoyed this movie very much!!!
September 01, 2019
Beautiful scenery and cinematography
September 01, 2019
My partner and I went to see this movie on the opening night and was pleasantly surprised to be able to watch a delightful story that speaks to culture and tradition reminding us what it means to be a community; something lost in today's Movies which are filled with jarring extreme special effects. The visuals were amazing, the acting funny authentic and the whole family can enjoy.
September 01, 2019
This movie speaks to the Italian Canadian immigrant experience in a very comedic and also real way. The flashback scenes with young Calogero played by Tomaso Sanelli were mischievously funny and also brought back memories of helping my own parents as a child of immigrants struggling with both the language and navigating a new land!!
September 01, 2019
This movie was visually captivating. It allowed the viewer into a part of the culture and history of Italy and its people. Our family enjoyed this endearing tale of family and it's many ways they connect, separate and resolve their issues.
September 01, 2019
My son and I are from different cultural backgrounds and our relationship strained at times. Road to the Lemon Grove gave us a better understanding of our respective cultures (which, in many ways, were what we saw in the film) and it gave us a better understanding of our relationship.
September 01, 2019
This movie goes to the heart? I'd say it hits a little lower. Of the 6 people in the theatre, I didn't hear any laughs, or even snorts, just a lot of heavy sighs. I get the intent, but all the wild, maniacal gesticulating doesn't help carry it. In the vein of "there's no such thing as bad publicity", I can safely say I will never forget it.
September 01, 2019
We really enjoyed this movie and laughed all the way through. As a dad, it was fun to watch with my teenaged kids to show the importance of family bonds across the generations. Great family movie.
September 01, 2019
This movie is absolutely wonderful. We laughed, we cried and we completely identified. This isn't a superhero, edgy, recycle material like every other movie out there. This is old school story telling that goes to the heart. I've seen several recycled negative reviews and you can tell they either haven't even seen it or they are just recycling another persons review who hasn't seen it. They say the same thing "too loud" (they certainly haven't been amongst my Italian family - LOL) or "Calogero/Lead played by Nick Mancuso". As I was searching reviews, the latter you will only see in negative reviews. Well if they'd actually watched the movie. or even made the slightest effort to even read imdb, they'd see Nick Mancuso does not play the role of Calogero. This movie (obviously not targeting the 10 year old superhero market) is fun, playful, purposely plays with stereo types (yet at the same time breaks those stereotypes wide open) and the target audience this movie was meant for - me, my friends, my family and everyone else I saw in the theatre had a wonderful time and we can't wait to see it again.
September 01, 2019
Heartwarming, sweet, we all loved.
August 31, 2019
This was a dreadful attempt to mimic the Italian absurdist comedies of the 50's and 60's but it fails in every way. Overblown and almost offensively loud acting by Nick Mancuso. One of the worst movies that I have ever seen. I would actually give it no stars. This movie should have never been made. Just awlful!!! Looks like a waste of Canadian taxpayers' taxes. Who approved the financing?