Robin Hood (2010) - User Reviews
Thank you for rating this movie!
Read your review below. Ratings will be added after 24 hours.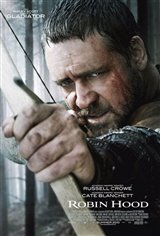 3.90 / 5
User Rating
Based on 881 votes and 254 reviews
---
Please rate movie 1 to 5 stars
Showing 51 to 100 of 254
July 28, 2010
This was a good adaptation of the Robin Hood story. It had a different twist and I really enjoyed it.
July 27, 2010
Loved the action
July 27, 2010
Crowe is AMAZING!! Blanchett PHENOMENAL!! Action packed and keeps you on your toes!! SEE IT!! IT IS GREAT!!!
July 27, 2010
Boy did this need a lot more work to pull it off.
July 26, 2010
This was the Robin Hood movie I always wanted to see. I think that the telling of this story is done in such a manner that it attempts to show the viewer the real Robin Hood and not the Hollywood Robin. Times are represented with great detail and the hardships of the foot soldier are very well done. The time in which this film is set was probably one of the hardest times for the non noble and it is depicted greatly. Bravo
July 24, 2010
I enjoyed this version of the Robin Hood story. The acting was good and the cinematography was awesome.
July 24, 2010
Very good. Took a new spin on the story which worked really well in my mind.
July 23, 2010
Great movie. Russell Crowe was great.
July 22, 2010
Not the Richard Greene Robin Hood I remember but more compelling. Russel Crowe is always larger than life. Too much violence for my taste but I guess that's what was going on back then. They did an awsome job on presenting the fight weapons with historical accuracy. I thought Crowe's portrayal was more multi dimentional than Costner's.
July 22, 2010
Surprisingly good movie. Very enjoyable storyline. Alan from Great Big Sea did an amazing job in his role!
July 22, 2010
I liked it...not what I expected but not a bad movie, certainly not very realistic but I didn't really expect much
July 21, 2010
Thoroughly enjoyed the movie! Great action and acting combined with credible set(s). I've seen many versions of Robin Hood but for my money, this was the best. Will happily watch any sequel!
July 20, 2010
It is an entertaining movie... had a bit of action and very good scenery... but the story kinda twisted all that we know of Robin Hood... All in all it was a good movie but it lacked the "Nice" charisma of the earlier Robin Hood (Kevin Costner). Enjoy
July 20, 2010
Great adaptation from book to movie
July 19, 2010
Does anyone really need the umpteenth retelling of the 13th century legendary outlaw? Russell Crowe as Robin Longstride doesn't seem to be having any fun.Isn't he a bit long in the tooth and wide of the waist to be portraying action heroes? However,Cate Blanchette is a real firecracker as a self-possessed widow,Lady Marian and the cgi effect-driven battles are wall-to-wall. It's thrilling enough ,I suppose.
July 18, 2010
An intellectual treat! Not only was this movie action packed, it also had a depth to it. I really enjoyed watching this movie and I think it's definitely worth watching!
July 18, 2010
Very intense movie. I loved it! Some parts were a little slow, but that was needed to build the story. Can't wait for the second!
July 18, 2010
Like we needed another Robin Hood movie, and Russell Crowe needed to try to be the star. Waste of resources.
July 18, 2010
Very good story. Not sure why so many people gave it a bad review. Crowe is a way better robin hood than Costner.
July 17, 2010
russel did a great job,carried the true story of robin,
July 16, 2010
This movie was kind of long...but had some good actions scenes. Not a big deal if you miss it.
July 16, 2010
I like Russell Crowe but this movie wasn't as good as I was expecting
July 15, 2010
If this wasn't the Robin Hood tale, I could be more forgiving. I don't understand why filmmakers do this. I want to make a medieval movie that's like Robing Hood, but not Robin Hood. I know, lets just call it Robin Hood and make whatever we like.
July 15, 2010
A new way to look at the Robin Hood character that took him out of the green tights he's become famous for.
July 14, 2010
Robin Hood was a solid summer film that contained great action sequences, actor performances, and storyline. Russel Crowe was great as the memorable Robin hood in his portrayal as the historical figure. The action sequences were well directed and the storyline was original. However, this movie was very long to sit through and some scenes left you falling asleep in your chair. I was also slightly disappointment with originality as it seemed to be a mix of all war movies into one average move. 3 stars for Robin Hood
July 14, 2010
Much better than the reviews said it was.
July 13, 2010
I was expecting a little more "Robin Hood" in this film. Then again it is the story of how he came to be... so it's understandable. Russell Crowe is a little too old to play this part. This is Robin Hood's beginnings and he seems much older than Kevin Costner. Some very nice action scenes though. The actor who played the "new king" did not sell the role at all. The rest of the cast was fairly decent.
July 13, 2010
Terrific, well-crafted retelling of a familiar legend. Russell Crowe and Cate Blanchett made me believe they were Robin Hood and Lady Marion. Highly recommend this movie.
July 13, 2010
I enjoyed this movie, even though it was a bit slow in places. I did have a few issues - like the pacing and the tone of the film... it was as if it didn't know what type of film it was trying to be. You should know that this isn't the typical Robin Hood story - about him and his band of Merry Men is Sherwood Forrest, stealing from the rich to give to the poor...but rather it's a story about how Robin Hood Came to be that man. Again, a fair film, though perhaps not as good as it could have been.
July 13, 2010
This movie was a twist on the usual Robin Hood tale. I enjoyed watching Cate Blanchett play a very strong Lady Marion. Oscar Issac played a nasty but weak King John.
July 12, 2010
This was a pretty good version of the Robin Hood story. It had a different twist. I enjoyed seeing Alan Doyle as the minstrel.
July 12, 2010
Great action, well acted.
July 12, 2010
Great just to watch Russel Crowe and not a bad movie either.
July 12, 2010
Men fighting, yay. An entire movie plot that is ONLY exposition: boo.
July 12, 2010
It was a good movie, not great, but good.
July 12, 2010
Excellent film. interesting story that is very well told. An interesting version to a familiar tale. Acting is great.
July 11, 2010
I enjoyed this movie from beginning to end
July 11, 2010
A lot of liberties were taken with the legend of Robin Hood. I loved Cate Blanchett but never have really been a fan of Russell Crowe. Only slightly interesting popcorn movie!
July 10, 2010
We enjoyed the movie but were a bit disappointed with Russell Crowe's performance. The grandson, aged 10, who didn't really know the story, very much enjoyed the movie. This is a good movie for families.
July 10, 2010
I would have bought into this movie as a take on a real version of robin hood - incorporating things like the magna carta into it but it was so inconsistent - I could even forgive the "modern landing crafts" but the over the top turn by the king at the end was unnecessary especially when they had already strayed from the traditional robin hood script by killing richard - shame I would have liked to have seen what the movie was supposed to be originally (russell crowe as the sherif of nottingham pursuing an outlaw robin hood - is he or isn't he a good guy) until ridley scott decided to change it and wrecked it.
July 09, 2010
another epic movie, Crowe makes the movie
July 09, 2010
Russell Crowe couldn't have done a better job. It was finally great to see how it all started, just ended too soon. Didn't like Cate Blanchett as Lady Marion, just to plain and she looked too old.
July 09, 2010
Good version of the classic story.
July 08, 2010
Kinda lame no real point more of the history lesson
July 08, 2010
An interesting perspective on the character of Robin Hood. Kate Blanchette is in fine form but I question Russell Crowe's acting "chops"
July 08, 2010
I really enjoyed this film - far more than expected. Crowe brings class, humour and roughness to the traditional Robin Hood
July 08, 2010
What was up with a 12th century D Day?! From the landing craft to the arrows flying into the water around the bodies, I thought I was watching the first ten minutes of saving private Ryan. I was actually laughing. Great movie but it gets a what the hell from me for that
July 08, 2010
Good movie but dragged a little at times
July 08, 2010
A little slow at times, but well worth seeing.
July 08, 2010
I liked how this movie focused on how he became Robin Hood. It seemed to follow the same historical plot of Rob Roy and Braveheart. I quite enjoyed it.